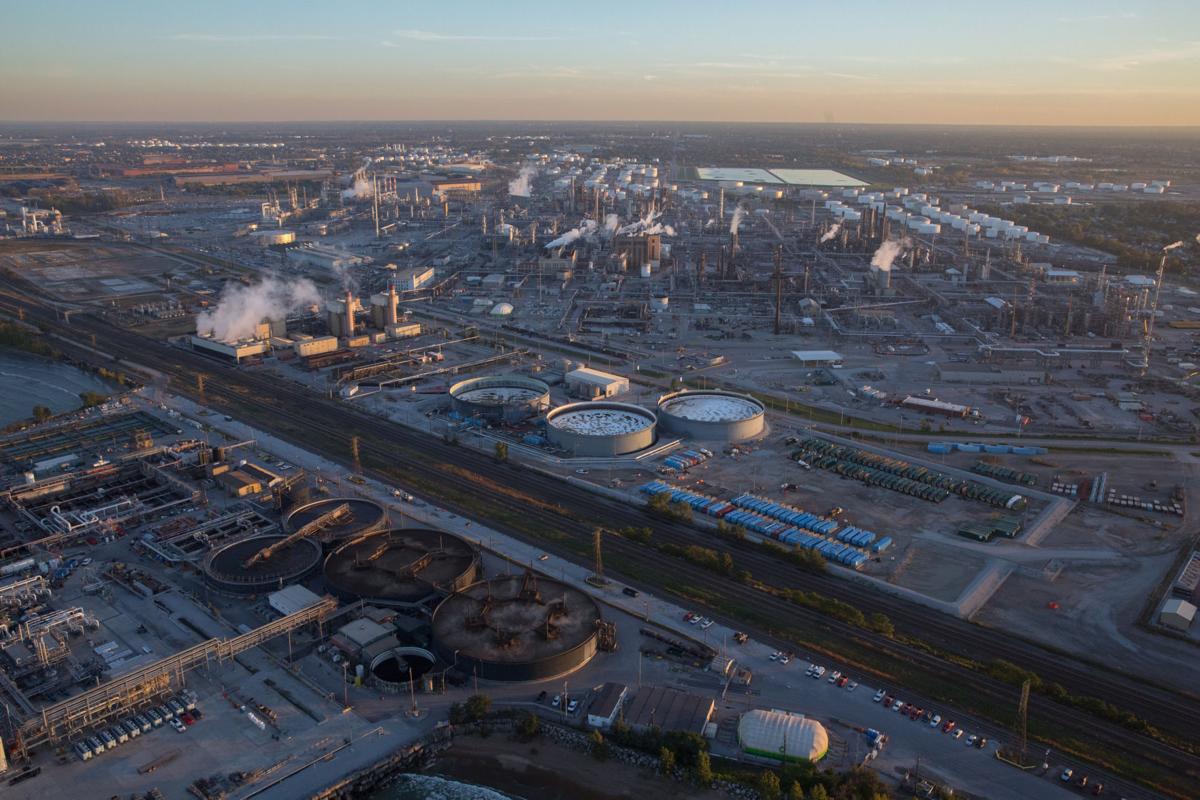 BP has been shifting away from fossil fuels to a more diversified energy mix that includes wind and solar.
But that doesn't put the BP Whiting Refinery at risk, Vice President of Refining Donnie Brown said at the Lakeshore Chamber of Commerce's recent Business Expo at the Dynasty Banquet Center in Hammond.
The former Standard Oil Refinery that opened in Whiting as a kerosene distiller in 1889 is here to stay, Brown told a business crowd at the luncheon.
BP announced plans to become net-zero in carbon emissions by 2050 and has been investing in more wind and solar energy production, including at the Fowler Ridge Wind Farm just off Interstate 65 downstate.
"BP is an oil company and I'm still surprised sometimes when I hear most of the things we're doing," Brown said. "We're doing almost everything we said we'd do already in the state of Indiana. We do have wind farms here. We have an agreement that would grow our solar here. There's growth already in the state. BP has BP Lightsource for the solar. It has BP Wind looking at that technology. We're also having discussions internally about Northwest Indiana. We've looked at this Region and realized if we made a big splash in the Region it would be the equivalent of removing the emissions of London or Atlanta. That's just Northwest Indiana alone. There's a big opportunity for us here."
BP is looking at bringing in electric vehicle charging stations and expanding its gas station footprint, he said. 
"It's preparing for the future," he said. "The refinery, however, I have to say is a mainstay. If we did anything there it would be bringing in more biofuels, to run along with the hydrocarbon and reducing emissions there. We are talking about carbon capture. We do recognize there's geology in the state that helps us with that."
BP also is looking at partnering with governments, including in the Midwest, to reduce its carbon footprint at a regional level.
"We're looking at that in Indiana now," Brown said. "We've got a lot of potential here. We're looking at partnering with different regions on what is the solution here? Is it wind? Is it solar? Is it a combination? We're looking at being that type of provider. We have a lot of potential here in Northwest Indiana so are putting together proposals to do just that."
People want cleaner energy but still need energy, Brown said.
"All we're doing is shifting forms of energy," he said. "Demand for energy continues to go up. For us at BP, we realize we're on both sides of this transition. We have to continue to produce what we're producing today in order for the world to continue to operate. We also have to shift some of that investment to the other parts, to the renewables and the cleaner energy. We're funding this ourselves, essentially."
Brown said the refinery, which now employs 1,700 mostly union-represented employees, would remain a major employer that did business with many local contractors. If anything, the existing workers would have to retrain to work with new technologies.
"What we see here in Northwest Indiana, we see jobs being stable," he said. "We don't see anything that will reduce jobs. As we grow, the only thing we anticipate is that people will need to upskill and get familiar with new technologies. We don't see a decrease in the workforce. We see an increase as the demand for energy goes up."