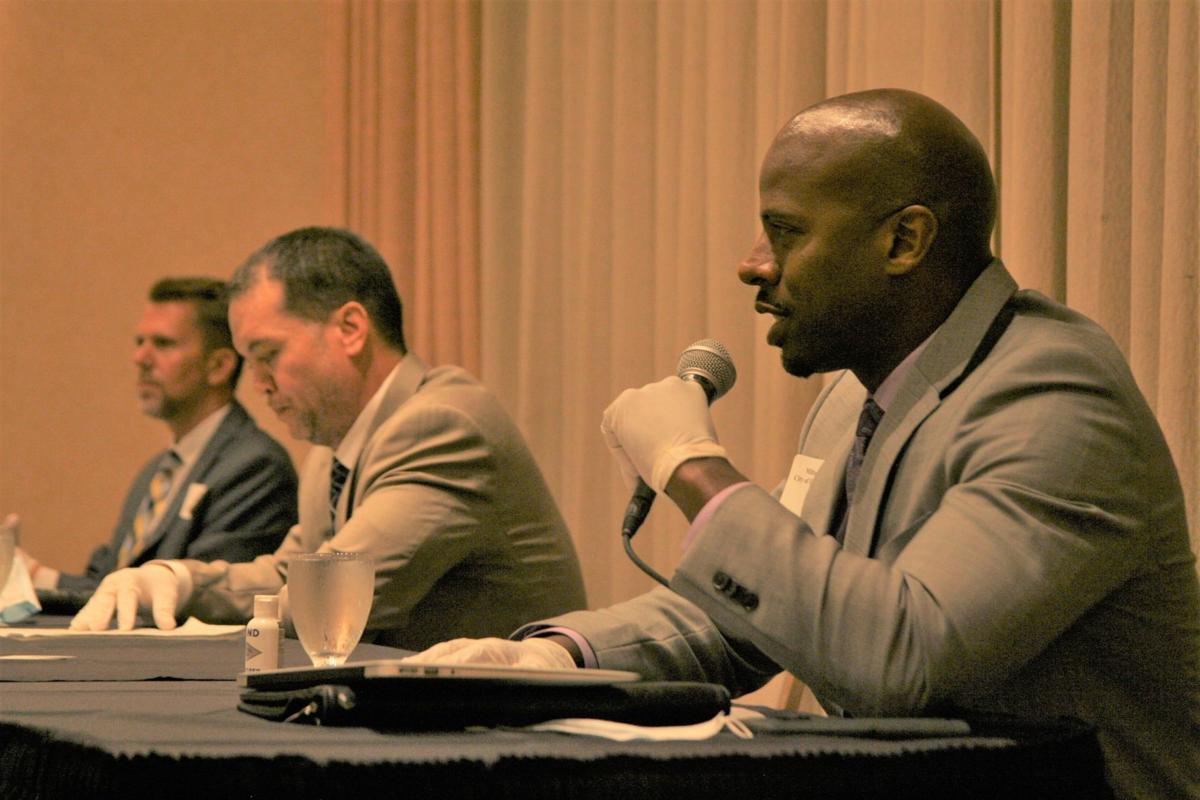 HAMMOND — "I hate Illinois," Tom Dakich bluntly told members of the Lakeshore Chamber of Commerce Thursday at Dynasty Banquets.
Speaking at a chamber meeting devoted to Hoosier attractiveness to businesses, Dakich said his company is working to add one more reason to move to Indiana — technology.
Dakich's company, Digital Crossroads, is a data center under construction at the former Stateline generating plant in Hammond. Digital is investing more than $50 million in a 105,000-square-foot facility. Dakich said the data center complex should be ready later this year.
Digital Crossroads was attracted to the Region because of technological infrastructure including fiber optic lines, access to water resources crucial to operating data centers, and an "amazing labor force."
"These can all come together in a perfect location to house, store, manage and distribute mass amounts of fiber and data," Dakich said. "We can be a small part of that."
The idea, Dakich continued, is to "transform Northwest Indiana into a major technology center."
Meeting in person for the first time in six months, the Lakeshore Chamber hosted a panel of speakers featuring Phil Taillon, chief of staff for the city of Hammond; Milton Reed, consultant for the city of East Chicago; and Pete Novak, CEO of the Greater Northwest Indiana Association of Realtors.
"This is an ideal time to move to Indiana," said Taillon, citing lower taxes, proximity to Chicago, Lake Michigan and ports, and quality education, including local universities.
Challenges, the Hammond city official noted, include contaminants in the local environment and difficulty for Illinois business owners to sell their existing property before crossing the state line.
Speaking for East Chicago, Reed said Mayor Anthony Copeland's administration is working with developers, including those in contaminant remediation, to make previously undesirable sites available. Developments, including those in the city's Harbor district, have created "great projects, great jobs," Reed said.
By beautifying the city and having a welcoming attitude, Reed said, East Chicago is changing the mentality for businesses. He pointed to Manhattan Mechanical Services, an Illinois piping and steel fabricator, which this year broke ground for a $3.5 million facility in a vacant lot.
"For years, we have been sitting on assets in Lake County," Reed noted.
Novak pointed to property taxes as one key advantage Indiana has over Illinois. He cited the example of a home valued at $205,000. In 2018, Novak said, that homeowner would have paid $4,700 in Illinois property taxes, while its Indiana property taxes would have been $1,700, or 62% less.
Another developing asset to Northwest Indiana, Novak said, is the South Shore Line's West Lake Corridor extension. With more people working from home, he said, future home buyers will be less tied to one state while seeking access to more public amenities.
The business news you need
With a weekly newsletter looking back at local history.