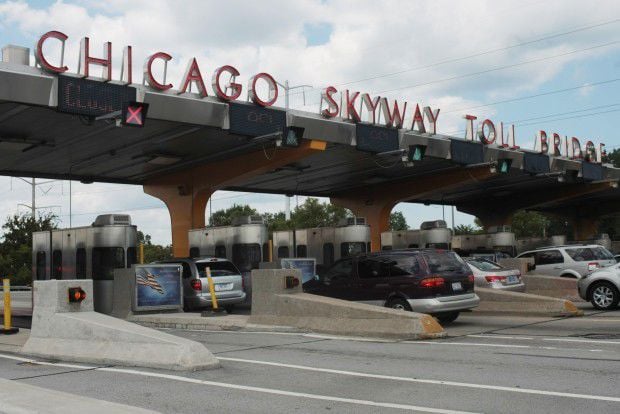 The toll was $2 to cross the Chicago Skyway in 2005 when then-Chicago Mayor Richard M. Daley leased the bridge to the Spanish-Australian joint venture Cintra-Macquarie for 99 years for $1.8 billion in the first privatization of a public toll road in the United States.
Drivers on the 7.8-mile road that connects the Indiana Toll Road to the Dan Ryan Expressway have since paid, paid and paid some more.
It now costs $5.30 to drive a car across the shortcut between Northwest Indiana and Chicago's South Side. That rate will jump to $5.60 starting on Jan. 1, an increase of 5.6% year-over-year. Under private ownership, the toll on the Chicago Skyway has skyrocketed by 280% over the past 15 years, far outpacing the rate of inflation.
In 2020, trucks with three axles will pay up to $19.70 during peak travel times, with four axles up to $26.30, with five axles up to $32.80, and with six axles up to $39.40. Vehicles with seven or more axles will cost $45.90 during the peak hours of 4 a.m. to 8 p.m. and $32.80 during off-peak hours.
The Skyway is now leased by a partnership of three Canadian pension plans — OMERS Infrastructure, CPP Investment Board and Ontario Teachers' Pension Plan — that bought the lease from Skyway Concession in 2016 for $2.8 billion, a $1 billion premium over the original price.
Drivers can pay at the Chicago Skyway Toll Plaza with I-PASS or E-ZPass transponders, credit cards or cash in designated lanes. Anyone who passes through the toll without paying has a seven-day grace period to pay online or by mail.
Towering 125 feet into the air, the steel truss Chicago Skyway Toll Bridge spans 650 feet over the industrial ships passing through the Calumet River and Calumet Harbor.
The South Side landmark, which can shorten commutes from Northwest Indiana into the heart of the city, was built by Chicago in 1958. Its iconic art deco plaza canopy was designed by Skidmore, Owings, Merrill, the same architecture firm that designed the Sears Tower.
Joseph S. Pete's memorable stories from 2019
There are too many to choose from, as I can be quite prolific, but here's a look at some of the favorite stories I covered in 2019.