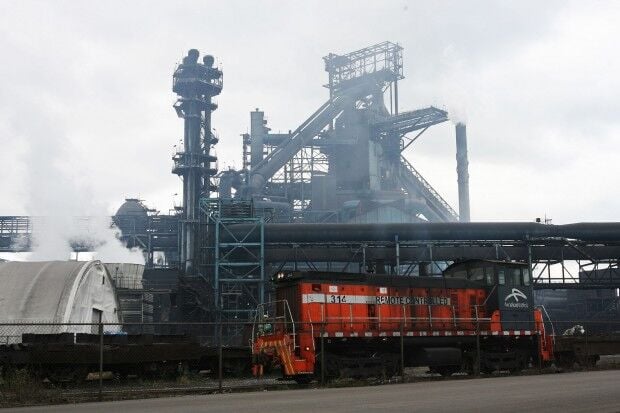 Cleveland-Cliffs will invest $100 million in the No. 7 Blast Furnace at Indiana Harbor East in East Chicago, which is the largest blast furnace in the Western Hemisphere.
The Cleveland-based steelmaker plans to update the blast furnace at its sprawling Indiana Harbor steel mill, making it more environmentally friendly and creating work for hundreds of contractors for more than a month.
"We are deploying a $100 million investment to Indiana Harbor No. 7," Cleveland-Cliffs Chairman, President and CEO Lourenco Goncalves said. "It's happening starting Sept. 1 and will last 45 days."
The largest blast furnace in North America, which produces 33% more metal per day than Cleveland-Cliffs' two blast furnaces at the integrated Cleveland Works steel mill combined, will be idled between Sept. 1 and Oct. 15 for a massive construction project
The blast furnace will be modernized to burn the new feedstock of hot-briquetted iron as well as of iron ore, which should reduce its carbon footprint. Cleveland-Cliffs has been investing significantly in HBI as a less carbon-intensive raw material that can be used in the integrated steelmaking process.
"When that furnace comes back, it will be larger, using a lot more HBI and emitting a lot less CO2," Goncalves said. "It's already very good. We use massive amounts of HBI and we inject natural gas in the furnace."
Blast Furnace No. 7 at the former Inland Steel mill in East Chicago was built 41 years ago and can forge as much as 11,500 tons of iron a day, according to the Steel Market Update. It was last relined seven years ago, when then-owner ArcelorMittal invested $70 million in it.
"We're changing what we do with the furnace today," he said. "On the inside of the furnace, we're going to be able to use more HBI. You're going to start seeing contractors out there soon." 
Steelworkers who work at blast furnaces are typically moved to other parts of the steel mill during planned outages. United Steelworkers Union District 7 Director Mike Millsap said no temporary layoffs would take place at the mill during the No. 7 Blast Furnace project.