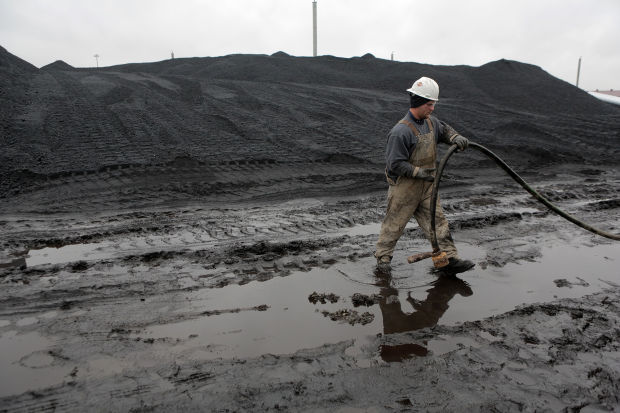 EAST CHICAGO — Canadian National has withdrawn its petition that would have made way for a rail yard expansion the city says was designed to temporarily store petroleum coke from BP's Whiting refinery. 
On Feb. 11, a consultant project manager informed the Indiana Department of Environmental Management on behalf of CN's subsidiary, Wisconsin Central Ltd., that the company has withdrawn its Oct. 3 application to discharge dredged or fill material into isolated wetlands. 
"The customer for which this project would serve has reevaluated their current logistical needs and has identified a more efficient transportation for the movement of commodities out of their Whiting facility. WCL's capital investments follow the needs of their customers and therefore, the Whiting Branch Double Siding Project is no longer needed at this time," the letter to IDEM states. 
City officials previously said the permit would have allowed CN to build out a rail yard along its line at 149th Street in East Chicago and store dusty piles of petcoke from BP's Whiting plant in the city's Calumet neighborhoods.
It effectively would have created a "transfer point" — what is in effect a rail yard for the storage of the tar sands byproduct produced at BP, the city said. 
BP confirmed to The Times on Friday that the company notified CN it would not support the proposed project. 
"BP confirms that it notified Canadian National Railway (CN) that it will not support the proposed rail yard project. If CN decides to proceed with the build-out of the tracks, it will not be to service BP. BP's involvement in the project was never about building a petroleum coke storage facility. BP's interest was solely related to improving rail traffic in and out of the Whiting refinery," BP spokesman Michael Abendhoff said Friday. 
Despite CN's withdrawn petition, activists and environmental groups like the National Resources Defense Council said they still have concerns about the rail transport of petcoke through the already environmentally overburdened neighborhood.
If petcoke is stored in an open rail car, it's bound to blow around the neighborhood, Gina Ramirez, Midwest outreach manager for the NRDC, said.
Black, dusty petcoke, which is produced at BP as a byproduct of refining Canadian tar sands oil, blew all over Chicago's Southeast Side neighborhood when it was previously stored in open piles, Ramirez said. 
"People would be having picnics and their potato salad would turn black," Ramirez said. 
In a statement to The Times last month, CN denied any plans to store petcoke at the site, saying the expansion project underway is only to facilitate the staging of 120 "empty cars" to safely and reliably service local customers. 
NRDC had decried the announced plan, saying it brings petcoke far too close to a residential area and a heavily contaminated USS Lead Superfund site. The West Calumet Housing Complex in the Superfund site was evacuated in 2016 as a result of an emergency order. 
The site is near an Indiana Department of Natural Resources-regulated wetland and the Grand Calumet Restoration area, which also was recently remediated.
Carolyn Marsh, a local activist, spoke out against the project in a letter to IDEM, saying it would have further degraded the area's fish and wildlife populations near the Grand Calumet River. 
"It is unacceptable to store petcoke that will inevitably release dust into the air and settle in the ground and impact humans and wildlife in wetland habitat. Wetlands that are under a federal and state restoration plan must be protected from further pollution ..." Marsh wrote. 
City Attorney Carla Morgan did not respond to requests for comment by deadline.
Gallery: Recent arrested booked into Lake County Jail