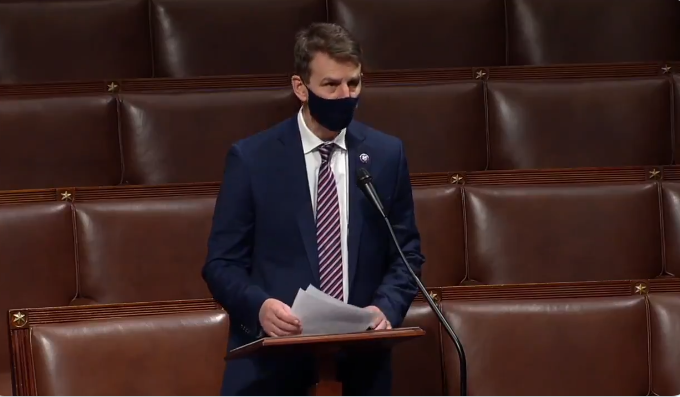 The Congressional Steel Caucus, a bipartisan group that supports the domestic steel industry, is urging U.S. House of Representatives leadership to support Buy America policies in any infrastructure and recovery bills.
"Any federal investment in our public infrastructure must be used to support American workers and American steel and manufacturing industries," Co-Chairman Frank J. Mrvan, the congressman from Northwest Indiana, said. "I look forward to continuing to work with the House leaders and members of the Steel Caucus to expand and strengthen Buy America requirements in forthcoming legislation to invest in our economic recovery."
More than 50 members of the Congressional Steel Caucus sent a letter to Speaker Nancy Pelosi and Minority Leader Kevin McCarthy saying that "as the House works to enact measures that will support a robust recovery, it is essential that public infrastructure investments be directed to U.S. production and American workers throughout the steelmaking supply chain."
"Rebuilding our infrastructure starts with a commitment to American workers. Buy America is a commonsense commitment to our critical domestic industries, including steel and manufacturing, that provide family-supporting jobs in districts like mine instead of sending them overseas to China," Co-Chairman Conor Lamb said.
The letter noted America's steel industry has been responsible for supplying highways, bridges, rail, airport, public transit, energy construction and other vital infrastructure all across the United States for more than a century. But it noted U.S. steel mills face unprecedented threats from subsidized and dumped imports as a result of global steel overcapacity, especially from China's state-run steel industry that produces more steel than market forces would justify.
"Investing in the American worker begins with an updated infrastructure system that utilizes American-made steel and iron. Our manufacturing industries have proven to be resilient in the face of challenges brought on by unfair steel dumping and the COVID-19 pandemic," Co-Vice Chairman Rick Crawford said. "Buy America standards are critical to shoring up our economy and supporting the American steel industry. I implore House leadership to include this important standard in future legislation."
The Congressional Steel Caucus called for closing any loopholes that would allow tax dollars to be spent on foreign-made steel and called for an "all manufacturing processes" standard that would ensure all steel used in federal infrastructure projects would be made by American steelworkers at steel mills in the United States.
"As we continue to recover from COVID-19, it is vitally important that we support American companies and workers. When American taxpayer dollars are being spent, we must prioritize spending them on products manufactured by American workers using American material, especially when it comes to the iron and steel industries," Co-Vice Chairman Mike Bost said. "Strong Buy America policies will help ensure that this is the case."