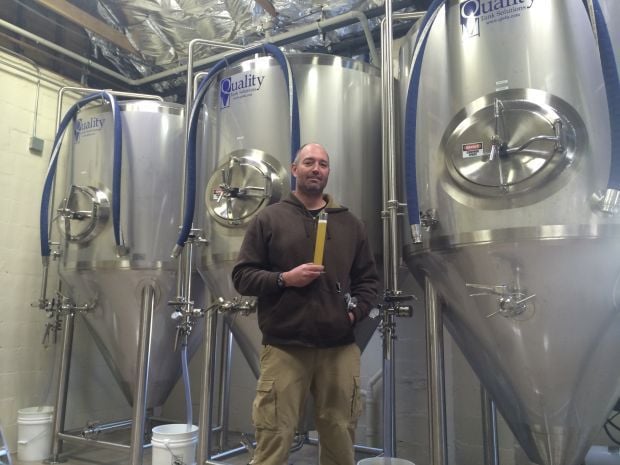 GRIFFITH| After a decade of homebrewing, Dan Lehnerer left behind corporate America to turn his passion into a career and ply his craft professionally.
The Lansing native, now a Munster resident, has spent the last year completely gutting and renovating two buildings — one a former resale shop, the other a former floral store — on Main Street in downtown Griffith. With the help of family members and high school friends, he filled 30 dumpsters during the extensive demolition inside buildings that date to the 1930s.
"I was basically the lowest paid construction worker in the history of the world," said Lehnerer, who used to work in food distribution.
But all of Lehnerer's hammer swinging and sweat is now close to paying off. His craft brewery, New Oberpfalz Brewing, is expected to open its 1,800 square-foot taproom Thursday at 121 E. Main St. Lehnerer has invested more than $600,000 in the brewery after securing a U.S. Small Business Administration-backed loan.
New Oberpfalz focuses on largely German-influenced brews, such as an Octoberfest that will be available year-round. Pints, 4-ounce samplers and 64-ounce to-go growlers will be available in an uber-modern beer hall that features a lot of wood and open space. 
"We took a minimalist approach because it should be about the beer," he said. "We're not trying to be a sports bar. You won't find any Bavarian kitsch, any cuckoo clocks, in the building." 
Craft breweries are booming in the region as consumer tastes generally have shifted more toward local and artisanal and away from mass-market and mass-produced. The number of craft breweries statewide jumped to 63 at the start of last year, up from 46 in 2011. Two other craft breweries — Pokro Brewing Co. and Wildrose Brewing — also plan to open in Griffith soon.
New Oberpfalz differentiates itself from the crop of craft breweries that have recently opened in Northwest Indiana, including Four Fathers in Valparaiso and Burn 'Em Brewing in Michigan City, with its Bavarian theme.
Rauchbiers, altbiers, kolschs, and other German styles will dominate the tap, which will feature up to 12 beers on draft. Lehnerer hopes to have a regular rotation of four mainstays, four seasonal beers and four experimental beers.
The brewery has a family seating area and will offer a limited food menu, including Bavarian pretzels. Lehnerer plans to build an outdoor seating area lined with cedar planter boxes on the side of the building.
European-style benches are meant to encourage conversation among strangers. The brewpub has a television, but will not show any sporting events unless a physical trophy — like the Super Bowl trophy, the Stanley Cup or the Monon Bell — will change hands. 
"People who like craft beer tend to be friendly and interesting," he said. "When you're not sitting at a two-top or four-top, you can meet new people and share information. Pubs were the Internet of antiquity."
New Oberpfalz hopes to capitalize on its proximity to the Erie Lackawanna Trail. Several bike racks are outside, and Lehnerer is in talks with other members of the Northwest Indiana chapter of the Brewers of Indiana Guild about creating a craft brewery trail where cyclists could earn bike trinkets or stickers for making stops. One could easily bike on trails between New Oberpfalz and Crown Brewing in Crown Point or Shoreline Brewing in Michigan City, he said.
The brewery will be open from noon to 9 p.m. Thursday, Friday and Saturday.