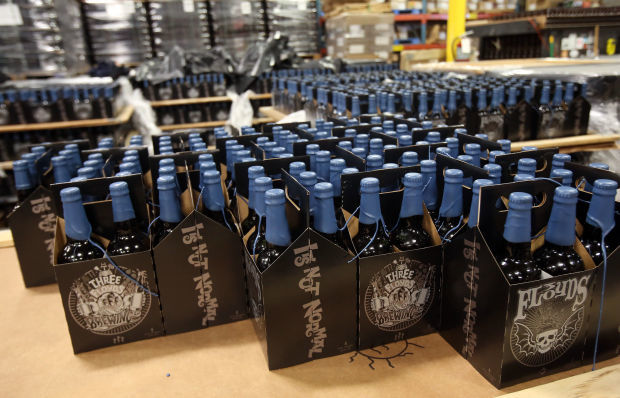 If you hope to get your hands on some of the most coveted beer in the world, you'll have your chance to buy Dark Lord Day tickets at noon on March 31.
3 Floyds is bringing back its increasingly popular Dark Lord Day from 9 a.m. to 9 p.m. May 19 — a week later than last year and a month later than when it had traditionally been held. It's the only time all year it's possible to buy the "demonic Russian-Style Imperial Stout brewed with coffee, Mexican vanilla and Indian sugar" that clocks in at 15 percent alcohol by volume and 50 international bitterness units. 
But the Munster craft brewery, which is plotting a massive expansion that would place its brewpub under a man-made hill for al fresco drinking and dining, throws a bottle release party like no other. It's a craft beer festival with a full lineup of heavy metal bands that attracts 8,000 to 9,000 craft beer lovers from across the country to the unassuming industrial park in Munster where 3 Floyds is based.
3 Floyds started celebrating Dark Lord Day in 2005, and the event has grown along with the popularity of the elusive Russian-style imperial stout, which can fetch more than $400 a 22-ounce bottle on the secondary market and has been repeatedly ranked as one of the best beers in the world by RateBeer.
Tickets to Dark Lord Day cost $180 each, which includes four bottles of Dark Lord, one bottle of a rare Dark Lord variant, admission to the day-long festival and a tote bag to haul around the prized craft beer.
People can only buy two tickets each to the 21-and-over event, and refunds and transfers are forbidden. Don't try to game the system, or the Dark Lord will be displeased.
"The name on your ticket must match the ID of the ticket holder," 3 Floyds said in an online post. "If you purchase two tickets, your name will be associated with both tickets. Your second attendee must enter with you — no exceptions. Dark Lord bottle allotment is per person not per ticket. You cannot use two tickets to double your allotment."
50 craft beers of the South Shore