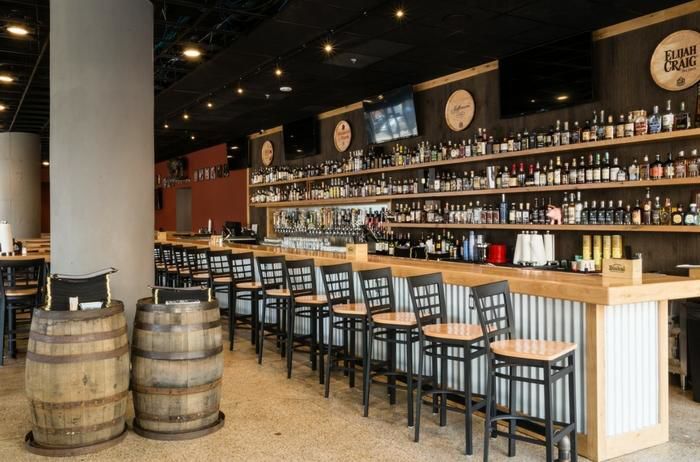 Doc's Smokehouse and Craft Bar in Dyer, an authentic southern-style barbecue restaurant, opened a downtown Milwaukee outpost in 2017 a few blocks from the Fiserv Forum that was then under construction.
"We were the first restaurant on that street," owner and chief barbecue officer Brent Brashier said. "For a while, it was just us and the Capital Grille, and we're not really competing with their $100 steaks."
Doc's Milwaukee location, known as Doc's Commerce Smokehouse, has benefited from the rise of the Bucks, fueled by two-time Most Valuable Player Giannis Antetokounmpo and a talented supporting cast like Khris Middleton. 
But it has remained closed from the coronavirus pandemic while the Bucks play in the NBA Finals, with an additional 30,000 fans cheering them on in the Deer District outside the stadium.
"It's slated to reopen in August," he said. "We thought about rushing it back to get a little business out of the 30,000 fans outside the stadium. It's definitely missing out, but the impact is not as significant as you would think."
That's because the Bucks' Deer District is self-contained with plenty of food and drink options.
"They quadrupled the size of it temporarily for the playoffs," Brashier said. "They have a beer garden and brought the indoor food services outside. On average, people aren't going to go across the street to a restaurant. It's unfortunate the Milwaukee location isn't open, but we had to plan a timeline of opening four restaurants in three states. We looked at trying to expedite it, but it just wasn't possible."
In addition to Dyer and Milwaukee, Doc's also serves its brisket, pulled pork, ribs and Usinger's sausages in locations in south suburban Mokena and Madison, Wisconsin.
The Milwaukee location does a robust pre-game business whenever the Bucks or the Milwaukee Admirals — the Nashville Predators' minor league affiliate — play at the nearby Fiserv Forum or UW-Milwaukee Panther Arena. People dine there or grab some drinks at the bar before the games.
"It can be tremendous," he said. "Parking is spread all across the downtown, so we have a lot of foot traffic pass by. People will stop in and grab a few beers."
The fanbase's enthusiasm has been growing since the Bucks appeared in the Eastern Conference Finals in 2019, Brashier said.
"It's a championship-caliber team," he said. "The fans are very excited, and it's fun to be in that environment."
Doc's likely will benefit from frequent sellouts when the NBA regular season returns this fall if the Bucks end up winning it all this year, Brashier said. 
"They've been growing the fanbase among the Milwaukee public," he said. "Even if they don't win it and are runner-up, it will be a net positive. The core of the team is coming back. We do pretty well anytime they have a game, whatever day of the week it is. But if they become NBA champions demand will go through the roof. Every game will sell out."
It's pretty easy to see the public's enthusiasm around Milwaukee and Wisconsin, Brashier said.
"It's pretty common that if you're at a grocery store in Wisconsin on a Sunday, everyone who's shopping and working there will be in Packers gear," he said. "But anecdotally, we're seeing a lot more Bucks gear and Bucks jerseys. We're definitely a beneficiary of the team and their vibrant facility. I just got to say, 'Go, Bucks!'"