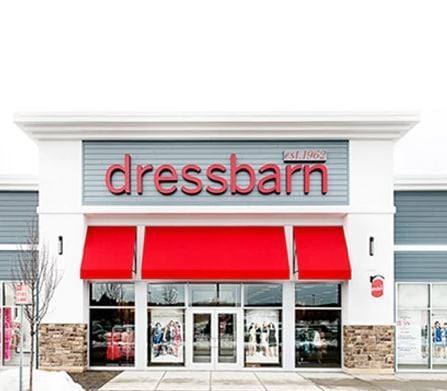 After nearly 60 years, the women's clothing retailer Dressbarn is going out of business and winding down its operations.
The 57-year-old New Jersey-based retailer is closing all 650 locations, including its stores in Schererville and Valparaiso. Dressbarn has a store at 1525 U.S. 41 in the Crossroads Shopping Center at Indianapolis Boulevard and U.S. 30 in Schererville and in a 7,500-square-foot space at 91 Silhavy Road in the Valparaiso Walk open-air shopping mall in Valparaiso.
"From working women to mothers on the go, we have been there for our customers — for their everyday needs as well as their most special occasions. On behalf of the entire Dressbarn team, we would like to express our deepest gratitude for your loyalty and your business," CEO Gary Muta said in a letter to customers. "It has been our pleasure to serve you, making it all the more difficult to let you know that the decision has been made to begin winding down the Dressbarn business. This means that we will eventually be closing all of our stores."
The retailer is now having liquidation sales at all its stores. It has 16 stores in Indiana, but only two in the Region.
Founded by Roslyn Jaffe at a time when more women were entering the workplace en masse, Dressbarn sold dresses, shoes and accessories at affordable prices, describing its brand as "fashion at a value."
"We are proud of the important role that Dressbarn has played in the retail industry as a female-founded company offering affordable fashion for the working woman," Muta said in the letter to customers. "From our first store, opened in Stamford, Connecticut in 1962, to where the Dressbarn brand has evolved to today, it has been an honor to serve as a fashion destination for so many generations of women."
The brick-and-mortar retail industry has been struggling after e-commerce sales climbed to $517 billion last year, accounting for 14.3% of total retail sales, according to the U.S. Commerce Department. National retailers have closed multiple stores across Northwest Indiana in recent years, including Carson's, Sears, Kmart, MC Sports, Sports Authority and J.C. Penney.
Recap: A look at businesses that closed in NWI in 2018
Recap: A look at businesses that closed in Northwest Indiana in 2018
Some have been called 2017 the "retailpocalypse" because of the stunning number of brick-and-mortar stores that have been closing across the country.
More businesses were shuttered in the Region and south suburbs in 2018. Find out which closed their doors in 2018 here:
The business news you need
With a weekly newsletter looking back at local history.