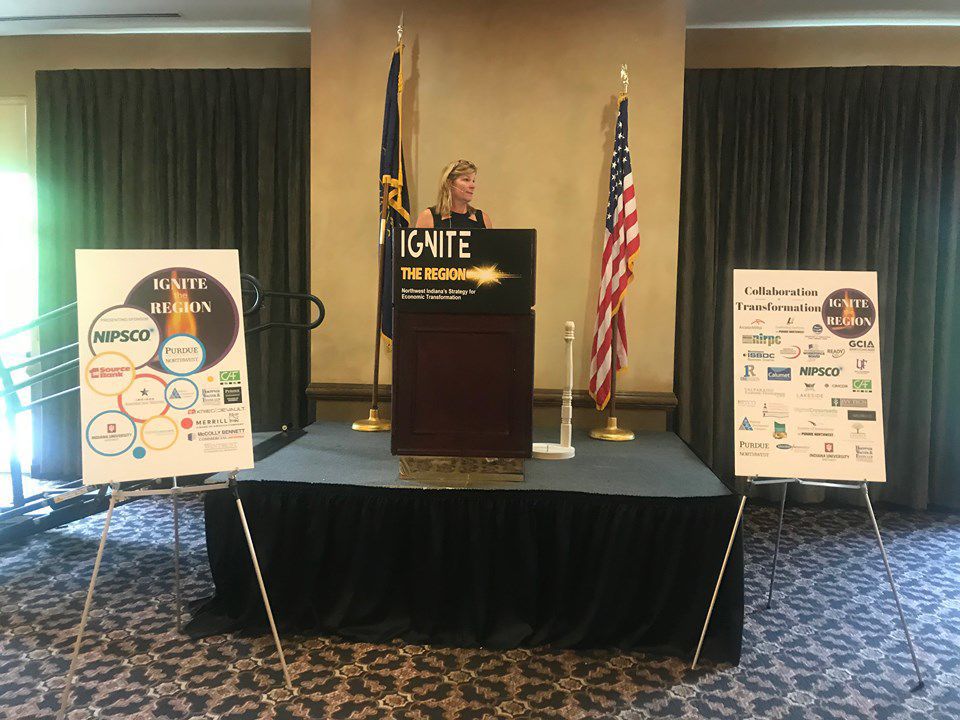 The Northwest Indiana Forum and its allies have been pursuing a multipronged approach to igniting economic development across the Region, including developing a young professionals digital ambassador program, opening an impact lab for startup companies at Purdue University Northwest, and calling existing businesses to see if they need help with hiring or expansion.
NWI Forum President and CEO Heather Ennis and steering committee members gave a packed house of businesspeople at the Avalon Manor in Hobart an update on the Ignite the Region plan, a sweeping "strategy for economic transformation" that seeks to diversify and supercharge the economy in Northwest Indiana's seven counties. The goal is to increase population growth, create higher-wage jobs, bring vibrant real estate development, foster local innovation and encourage new business formation.
The plan lays out a roadmap for how to attract new businesses, especially those in the agricultural value chain, heavy industry, tourism, intermodal and business services sectors. It calls for robust business development and marketing, creating entrepreneurship and innovation ecosystems, expanding the human talent pool, and attaining placemaking by adding amenities. 
"This is about action, not just talk," NIPSCO Director of Economic Development Don Babcock said. "This is big ideas for all of us. As you've seen on the billboards, this is a state of thinkers, innovators and makers. Many people in Northwest Indiana are innovators and creative people."
Matt Saltanovitz, director of the Northwest Region at the Indiana Economic Development Corp., said the state agency has traveled around the country to places like the Carolinas, Atlanta and Washington, D.C., and had 100 individual conversations with decision-makers who decide where businesses will invest, such as executives and site selectors. The IEDC's mobile team is planning 10 more trips this year, including to New York City, Los Angeles and Seattle, where it will present the case for investing in Indiana before a room of 150 decision-makers.
"We need to do continuous outreach to put Northwest Indiana on the radar," he said. "We need to be telling them about opportunities in Northwest Indiana, and how they're missing out if they're not doing business here."
New businesses bring jobs, more assessed valuation and more opportunities for existing businesses, Saltanovitz said. New companies also have a multiplier effect, resulting in new housing, retail, restaurants and doctor offices.
But it's also 10 times cheaper to retain existing businesses, Regional Development Co. President and Executive Director Erica Dombey said.
"The headlines of new busy attraction are sexy and everyone takes note," she said. "But 85% of the new jobs created are by businesses already in your city."
Multiple initiatives are underway to improve Northwest Indiana, including an effort to bring small farms and farmers markets to north Lake County and an effort to revitalize downtown Hammond.
"The numbers won't change overnight but we have this plan guiding our efforts. This is an unprecedented regional collaboration," Ennis said. "Find out what's happening. Get involved. Get engaged. Find out how you can get involved to 'Ignite the Region.'"
The business news you need
With a weekly newsletter looking back at local history.