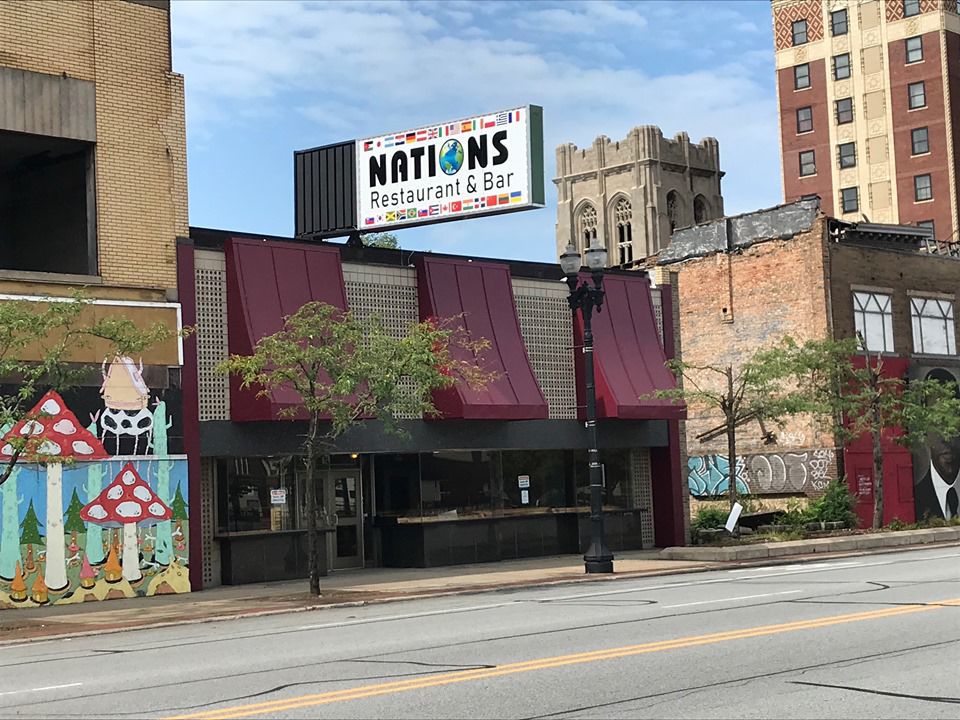 GARY — Entrepreneur John Allen, who runs the Foody's Restaurant in Midtown Gary, plans to open a new sit-down restaurant in downtown Gary next month, bringing international and fusion cuisine to a city that's been plagued by restaurant deserts. 
Allen has nearly completed an extensive renovation project at 624 Broadway, in a former eyeglass doctor's office that has sat empty for at least 25 years. He hopes to open Nations Restaurant and Bar, a 6,000-square-foot restaurant that would seat about 200 diners.
"It will be cross-cultural," he said. "We'll celebrate Nigerian independence, Cinco de Mayo, Polish independence and other international holidays from all the continents. People complain Gary has no Chinese restaurant, no Thai restaurant, not enough barbecue restaurants, not enough Louisiana Cajun restaurants, so we're going to bring all of that together under one roof. A visitor from France to the Indiana Dunes National Park came to Foody's because he said it was the only restaurant with vegetarian entrees he could find in Gary. It's very important to have a sit-down restaurant with this type of cuisine downtown."
Allen has been working to open the restaurant with private-sector funds, but faces a major obstacle: the Gary Housing Authority, which is now under the receivership of the U.S. Department of Housing and Urban Development, wants to raze the entire block of Broadway where his restaurant is located to make way for a future housing project.
"The entire block of boarded commercial properties has been vacant and blighted for a number of years," U.S. Department of Housing and Urban Development General Deputy Assistant Secretary Jereon M. Brown said. "The acquisition and development of the Broadway block is a key component of GHA's strategy to replace affordable housing in the city. It is also intended to remove the blight adjacent to two existing public housing developments thus also helping to stabilize Gary's downtown area. With the conversion or demolition of more than 1,000 units since HUD took possession, the acquisition and development of this Broadway block is a key component of GHA's strategy to replace affordable housing in Gary."
Brown said redevelopment projects can have collateral damage, in this case Allen's restaurant.
"The city has waged a battle against blight for years," Brown said. "We believe this is a major step if Gary is going to break the cycle of disinvestment and depopulation. Our goal has been to be as transparent as possible throughout the process. The mayor and city council have been briefed throughout the process and despite having to make some tough decisions, we believe this is the path forward."
Allen has gathered the signatures of more than 350 people who would like to see his restaurant make a go of it downtown. He said he had a hard time finding a suitable property for a restaurant in a blighted area where many storefronts have suffered extensive decay, such as caved-in roofs.
Miller resident Meg Roman said the Nations Restaurant was direly needed downtown. 
"This would be a sit-down restaurant when almost everywhere else is fast-food," she said. "He's somehow made a restaurant work in front of an abandoned high school, which really shouldn't work."
The city's restaurant shortage is well-documented. Renowned artist Theaster Gates and Bloomberg Philanthropies opened ArtHouse: A Social Kitchen in downtown Gary to train restaurant owners in a city of 80,000 people that only had 33 eateries.
Allen said he hopes to employ around 28 people to start, while serving food like fusion egg rolls or wraps with Latin influences. It would serve lunch and dinner, and the bar would be open until 1 a.m. on Saturday.
"There are 600 employees across the street working daily for Lake County," he said. "There's a big potential market that's not being served."
The Gary Housing Authority is having a public hearing on the condemnation of the property at 624 Broadway at 6 p.m. Thursday in the second floor of the Genesis Towers at 578 Broadway.