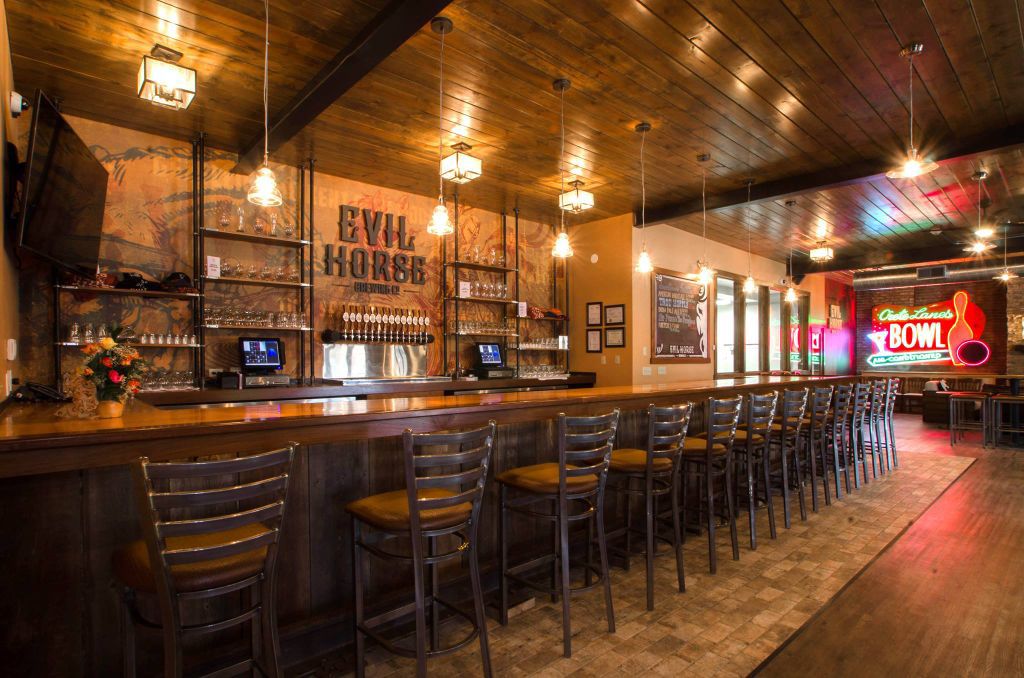 A new craft brewery revived a historic 103-year-old building in downtown Crete that's perhaps best known as the former Crete Bowling Lanes.
Evil Horse Brewing Co., named after a notoriously uncooperative horse that bucked off riders at the brewmaster's Beecher farm, opened Friday at 1338 Main Street in Crete. The new craft brewery tries to embody the same spirit of independence as that "evil" horse, said Michael Liccar, a partner in the business.
Liccar, brewmaster Steve Kamp and a group, who all attend Crete Church, launched the new craft brewery, which they hope will be a draw to downtown Crete. In keeping with the many horse farms in the area, they brew beers with equestrian-themed named such as Trot Hopple India Pale Ale, the Sergeant Reckless American Pale Ale, which is named after a horse that won two Purple Hearts in the Korean War and was featured in the Saturday Evening Post, and the  Downtown Hottie American Wheat Ale, named after a racehorse who placed first after throwing off her jockey at Belmont three years ago.
The owners of Evil Horse Brewing plan to donate 10 percent of the net income after taxes to local charities.
"Most of the partners are Christian guys, so tithing is a very important part of the business," Liccar said.
The brewery employs about 15, and is looking to grow. Evil Horse plans to bottle and distribute its beer throughout Chicago, the south suburbs and the western suburbs. It plans to eventually offer sixpacks in Northwest Indiana.
"Ideally, we'll be national at some point," Liccar said. "The long-term vision is that we'll ideally be national."
But the Evil Horse brand is about more than just craft beer. The brewery also makes mustache waxes and soaps. It's developing snacks like beer cheese and popcorn with unique flavors like asiago, wasabi and paprika. A distillery also is a future goal. 
Evil Horse opened its brewery in the recently refurbished Seggebruch building, which originally housed a grain, flour and feed business, and has since been a movie theater, roller rink, auto repair shop and barbershop.
The tasting room can handle about 150 people and also offers pre-packaged sandwiches like a Turkey Club from The Edge Coffee Shop in downtown Crete. Schererville-based Mixdesign Inc. helped design the interior, which features horse-themed decor, a 1950s-era Crete Lanes neon sign and bowling lanes that have been repurposed as bar and table tops.
Evil Horse will be open from 3 p.m. to 11 p.m. Tuesday through Thursday, 3 p.m. to 12 p.m. Friday, 12 p.m. to 12 p.m. Saturday.
The business news you need
With a weekly newsletter looking back at local history.