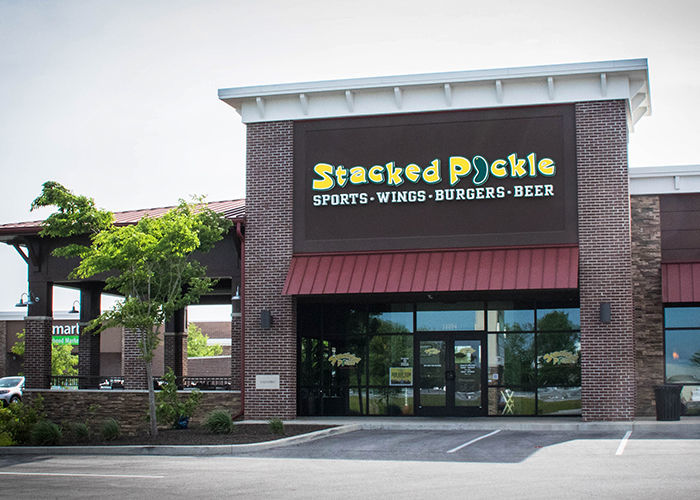 The Stacked Pickle restaurant chain that former Indianapolis Colts player Gary Brackett was trying to expand to Northwest Indiana and the south suburbs has fallen victim to the coronavirus pandemic.
The chain of sports-themed sit-down restaurants has been actively courting franchisees to open Stacked Pickle locations in Schererville, Lansing and across the Calumet Region. Instead, Stacked Pickle is closing its 10 existing locations, mostly in the Indianapolis area, after the public health crisis closed its dining rooms for weeks.
"It is with a very heavy heart that I have to announce that we have decided to shut down our Stacked Pickle restaurants," Brackett said in a message to customers. "I have spent the last six weeks working with my advisers and exploring a variety of options to continue operations when the applicable shelter-in-place orders are lifted. Unfortunately, the loss of several significant sporting events and a month and a half out of business, combined with on-going restrictions and uncertain duration of this crisis left us unable to find a viable financial path forward."
Brackett went into the restaurant business after playing as a linebacker on the Colts, winning a Super Bowl championship in the process.
"Over the last 10 years, we have built not only business relationships, but true friendships with our customers, employees and vendors," he said. "It has always been our goal to not just be another restaurant, but to be a destination for those looking for an affordable family meal, a quick drink or just a place to enjoy a big game or socialize with others. In other words, we wanted to be part of the community we served.
"I know this will come as a disappointment for everyone. However, having made a career of overcoming adversity and obstacles, I also know that we will all persevere. Personally, I look forward to seeing what the next chapter holds."
The restaurant chain served traditional fare, like burgers, wings, flatbread pizza and its namesake fried pickles in a family-friendly sports bar-like setting with many TVs for watching the game.