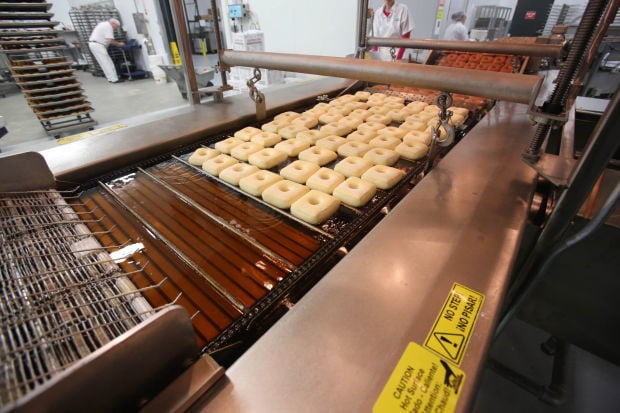 Valparaiso-based Family Express, which makes one of the Region's favorite doughnuts, is taking a new angle in its long-baking legal fight to continue to use the term square donuts.
The convenience store chain sued Terre Haute-based Square Donuts two years ago after the 51-year-old family owned doughnut shop refused to enter into an agreement to allow Family Express to keep using the square donuts name as it expanded further south into Indiana. Square Donuts has threatened legal action with cease-and-desist letters alleging trademark infringement since Family Express first introduced the four-sided doughnuts in 2005.
Family Express preemptively sued in U.S. District Court for the Northern District of Indiana Hammond Division, arguing "square donuts" is a literal description of the product that the Square Donuts chain cannot claim exclusive rights to. Its attorneys filed a request in court earlier this month demanding a trial by jury.
Family Express, which has more than 70 convenience stores in Northwest and central Indiana, is asking for a declaration that it has not infringed on Square Donuts' trademark rights, and that the Square Donuts trademark can't be protected under state or federal law.
"Family Express responded to Square Donuts' cease-and-desist demand," the company argued in its lawsuit. In a January 2006 letter, "counsel for Family Express explained to Square Donuts why Family Express believed that no infringement existed. Family Express stated that 'Square Donuts' was merely descriptive of square-shaped donuts, and therefore, Square Donuts did not and could not assert exclusive rights to the name."
Family Express said Square Donuts did not respond to the letter, "and Family Express thereafter devoted considerable time and expense to promoting, marketing and selling its square-shaped donuts in connection with the Square Donuts name throughout Northern Indiana."
Square Donuts owner Richard Comer Jr. got a federal trademark for the phrase square donuts in 2013, which his father started selling in 1968, but has not since done enough to protect the trademark on the widely used term, Family Express argued in court.
"Defendants allowed some entities or individuals to use their trademarks absent any license agreement," Family Express contended in a legal filing. "There is also significant third-party use of Square Donuts in connection with describing square-shaped donuts and for the purpose of associating and describing the third parties' sale and production of its bakery products, namely square-shaped donuts, throughout the United States, which defendants are aware of and continue to allow. Given this extensive third-party use, defendants are not entitled to maintain exclusive rights nor claim acquired distinctiveness."
In a response, Square Donuts asked the judge for a ruling.
"This case presents an actual controversy within the court's original jurisdiction," Square Donuts argued. "Defendants have asserted that Family Express' use of the name Square Donuts violates defendants' Square Donuts trademarks, has demanded that Family Express cease its use of the Square Donuts name, and has denied Family Express's request that the parties consent to contemporaneous use of Square Donuts in Indiana and rejected efforts to enter into a coexistence agreement with implied threats of litigation. The totality of the circumstances in this matter create an actual controversy requiring a declaratory judgment from this honorable court."
Square Donuts argues that Family Express' use of the term is likely to cause confusion among consumers and that it should be prohibited from using the term.
NWI doughnuts: Region bakeries reveal their best-selling doughy creations