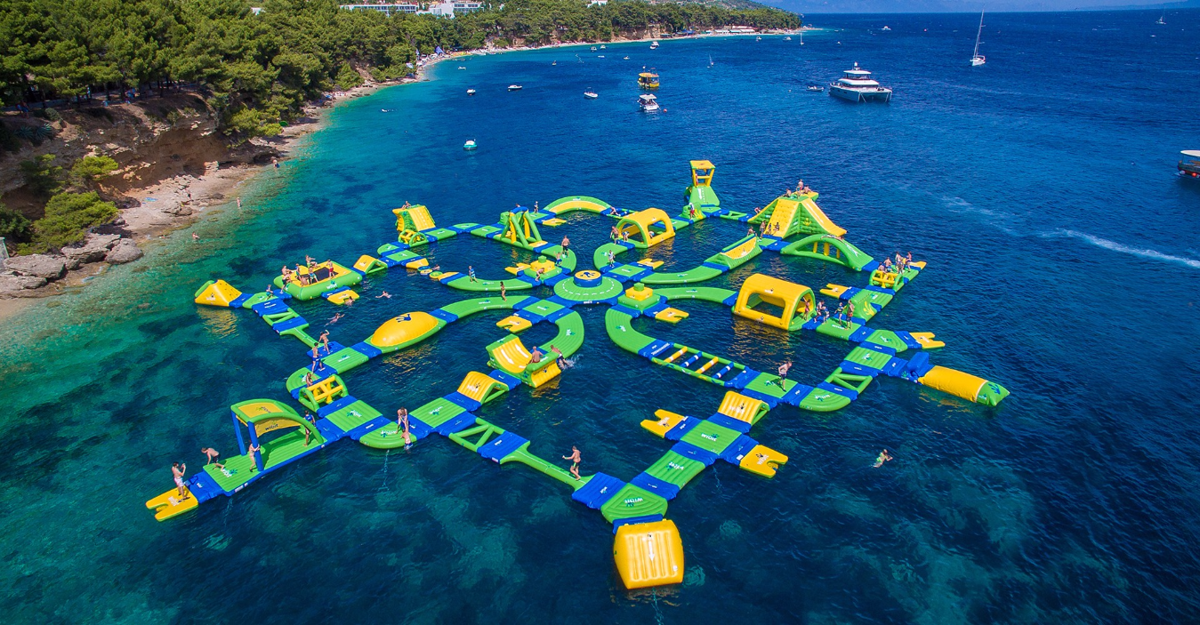 A floating water park — a first of its kind for Lake Michigan — is coming to Whiting's Whihala Beach this summer.
The German company Wibit plans to install an inflatable sports park in the water with slides, tunnels, trampolines, towers, cliffs, half pipes and other play features for all ages, from toddlers through adults. Wibit is investing $300,000 in the attraction, which is part of an ongoing effort by Whiting to attract more visitors to the beach, Mayor Joe Stahura said.
"We're moving toward final approvals," he said. "We want to improve the beach and bring more people to the park. We've been looking at zip lines and things of that nature."
Wibit said in a presentation it also plans to rent kayaks and paddleboards to visitors at the beach in Whiting.
The company has installed its brightly colored floating aquatic playgrounds all across Europe and all over the world, including in South America, Northern Africa, Cuba, Florida and along the Gulf Coast. They are similar to obstacle courses with components like monkey bars, wiggle bridges, and inflatable domes kids can bounce off of, launching themselves into the lake.
Visitors, for instance, can scamper around a floating roundabout, try to run across a steeply banked curve without slipping into the water, or jump on a flip feature, propelling their friends on the other side into shallow water not far from the shore.
Wibit's new floating water park in Whiting will be west of Whihala Beach's main swimming area, about halfway to Hammond's Horseshoe Casino, and will be able to accommodate about 120 to 140 people at a time.
"It's going to be huge in size," Stahura said. "It'll be big enough to have 100 kids playing there at the same time. It's going to be large in dimension."
It would, however, be nowhere near as big as Hobart's Deep River Water Park, the largest water park in the Region, which is also adding a new Kraken slide and a zip line adventure park this summer.
Wibit likely will charge about $10 to $12 for an all-day pass, though the final rate hasn't been set yet. Whiting will get a cut of 10 percent after the company recoups its initial investment. The play features are modular and can be changed from year to year, but must be anchored into the bottom of the lake.
"We still get parking revenue from cars," Stahura said. "We're looking to bring people into town, so hopefully they buy a hamburger or pizza before they head home."
If the city gets approval from the Indiana Department of Natural Resources, the new family attraction could be ready later this month, but the company doesn't expect the season to start until early June. It expects the park will be open during an eight- to 10-week window from June to August when the water in Lake Michigan isn't too unpleasantly cold, Stahura said.
Whiting hopes to add new attractions to bring people out to Whihala Beach and the Lakefront Park every year, and hopes to open a "super-playground" similar to Valparaiso's ValPlAYso in 2018. It could even include a splash pad, though city officials are debating whether a water feature is necessary so close to the lake.