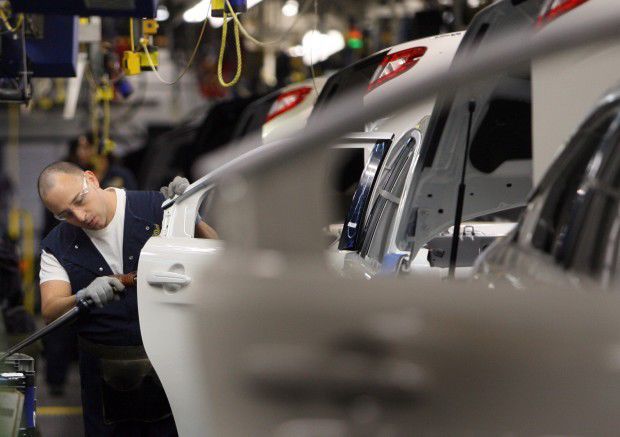 Sales of the Calumet Region-made Ford Explorer rose by 13.4 percent to 18,898 vehicles in September.
Ford reported its overall sales, which have been flagging in 2017 after coming off record highs, rose by 8.6 percent last month. The Explorer SUV, made at the Chicago Assembly Plant just across the state line in Hegewisch, saw a 14.9-percent gain in retail sales, its best performance in September in 13 years.
"Our September sales were strong across the board — including retail, commercial and government. We're pleased to say recovery in Houston and Florida is moving quickly, with all of our dealers in the area now back up," Ford Vice President Mark LaNeve said. "We couldn't be happier with the tireless effort from our dealers, employees and the countless first responders who are moving so quickly."
Ford makes the Explorer, Taurus, Police Interceptor Utility and Police Interceptor Sedan at the 93-year-old, 2.8 million-square-foot automotive plant at 12600 S. Torrence Ave. just south of the Calumet River, which gets input from the Chicago Stamping Plant in Chicago Heights, the Lear Corp. seat factory in Hammond and other local auto suppliers.
So far this year, Explorer sales have risen by 6.3 percent to 174,247 units. Taurus sales have fallen by 2.6 percent to 26,280 units through the first nine months of the year, and dropped by 6.6 percent to 2,356 units in September.
Police Interceptor Sedan sales cratered by 24.2 percent last month, while sales of the more popular Police Interceptor Utility SUV dipped by 6.9 percent. Police Interceptor Utility sales are up 1.1 percent so far this year, while Police Interceptor Sedan sales trail 2016's pace by 14.6 percent.
The business news you need
With a weekly newsletter looking back at local history.