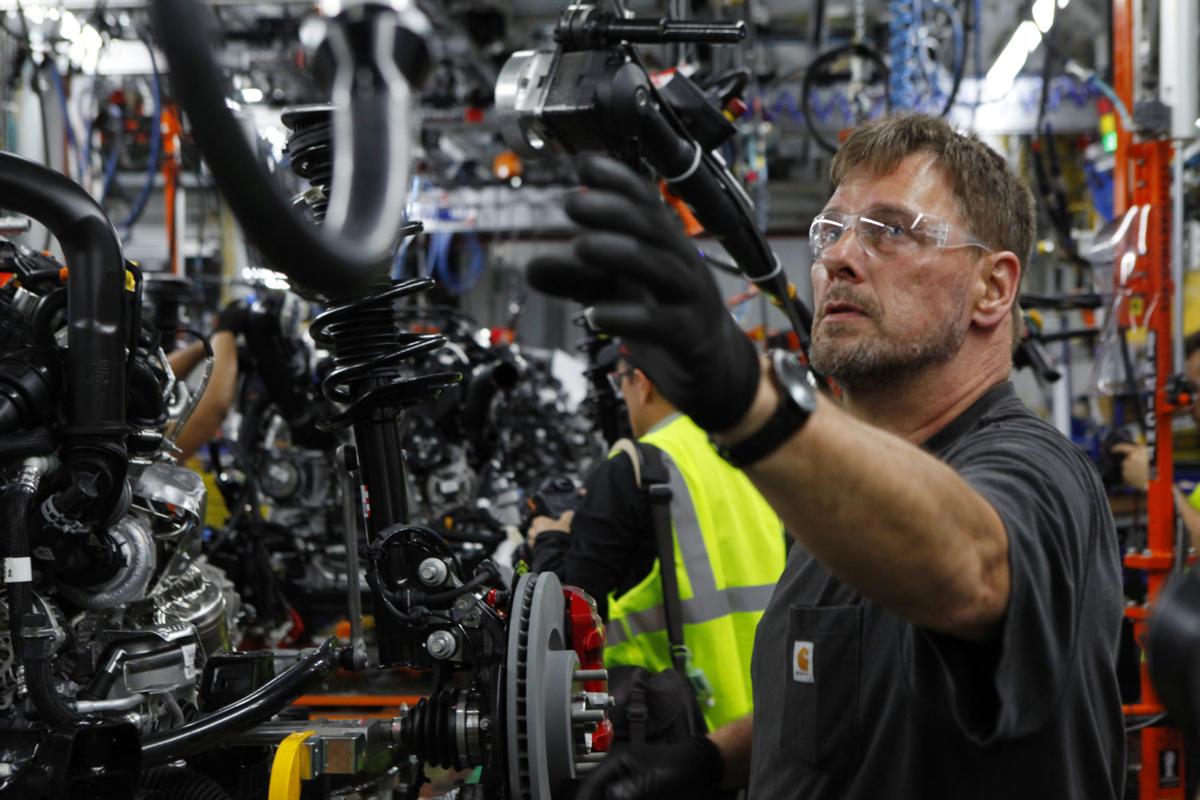 Ford is going to bring back two shifts of workers to the Chicago Assembly Plant as it starts resuming production across North America on May 18.
The Dearborn, Michigan-based automaker plans to recall 12,000 auto workers who can't work remotely as it takes a phased approach to reopening, with enhanced safety protocols aimed at slowing the spread of the coronavirus. The restart of auto plants would be a major boon for the Region's steel mills, which have warned of thousands of layoffs along Northwest Indiana's lakeshore as orders dried up.
ArcelorMittal and U.S. Steel reported collectively losing $1.5 billion in the first quarter after automotive plants, some of its best customers, shuttered around the country. U.S. Steel warned it may be forced to temporarily lay off as many as 6,500 of its 16,000 workers in North America as a result of a steel decline in volume.
Ford aims to restart vehicle production in North America with a gradual ramp-up process.
"We've been working intently with state and federal governments, our union partners and a cross-section of our workforce to reopen our North American facilities," said Jim Farley, Ford's chief operating officer. "We have reopened our facilities in China, successfully begun our phased restart in Europe and have been producing medical equipment in Michigan for more than six weeks and are using the lessons from all of that to ensure we are taking the right precautions to help keep our workforce here safe."
As part of the plan, Ford's parts depots will restart on May 11 and then assembly plants on May 18. That will include the Chicago Assembly Plant and Chicago Stamping Plant, Ford spokeswoman Kelli Felker said. The Lear seat-making factory in Hammond and other local parts suppliers also would have to reopen by then to make just-in-time automotive production possible again.
Auto plants that had three shifts will only have two as the supply chain gets back up to speed and new health and safety protocols go into effect. Ford will require employees and visitors to certify they don't have symptoms before coming into work each day. They also will have their temperature taken when they arrive and be sent home if it's too high.
Everyone in Ford plants will have to wear face masks, face shields or safety glasses with side shields for assembly line jobs where social distancing isn't possible. Every Ford employee will get a care kit that will include face masks and other items meant to keep them healthy.
Employees who can work remotely still will during the global pandemic, which has infected more than 3.8 million and killed more than 269,000 people worldwide.
"We've developed these safety protocols in coordination with our union partners, especially the UAW, and we all know it will take time to adjust to them," said Gary Johnson, Ford's chief manufacturing and labor officer. "We are in this together and plan to return to our normal operating patterns as soon as we are confident the system is ready to support."
Gallery: Regionites show off shaggy hairdos, DIY cuts during quarantine