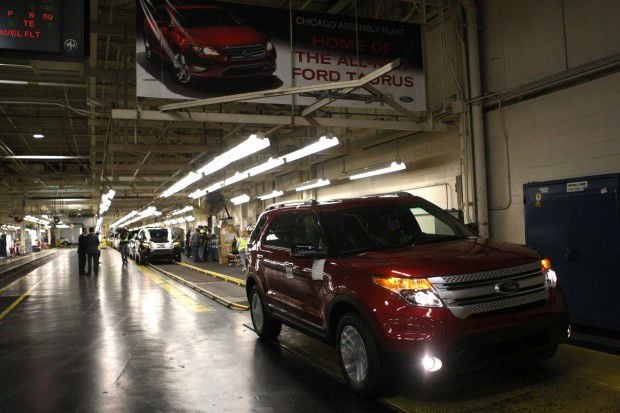 Ford's profit slipped 52 percent to $3.7 billion in 2018, but local workers will still share in the wealth.
United Auto Workers-represented employees at Ford's Chicago Assembly Plant in Hegewisch and the Chicago Stamping Plant in Chicago Heights will take home an average of $7,600 in profit sharing, the company announced Thursday.
Ford employs 4,000 full-time hourly workers at the Chicago Assembly Plant and another 1,100 full-time hourly workers at the Chicago Stamping Plant, so the profit-sharing will mean a $38.7 million infusion of cash into the local economy.
Ford Manufacturing & Labor Communications Manager Kelli Felker said the eligible hourly workers will take home their profit-sharing checks in mid-March.
Dearborn, Michigan-based Ford and the UAW agreed to the current profit-sharing plan during the last round of contract negotiations during 2015. The idea was to tie increases in compensation with the company's profitability so it wouldn't be saddled with as high labor costs when the automotive market swung down.
It's resulted in big windfalls every spring for local Ford workers, though they will take home less than the average profit-sharing checks of $9,000 they got last year.
"Eligible full-time UAW-represented hourly employees have already received an average of $40,000 in profit-sharing and bonuses during this contract, which took effect in 2015," Felker said. "That's in addition to today's news."