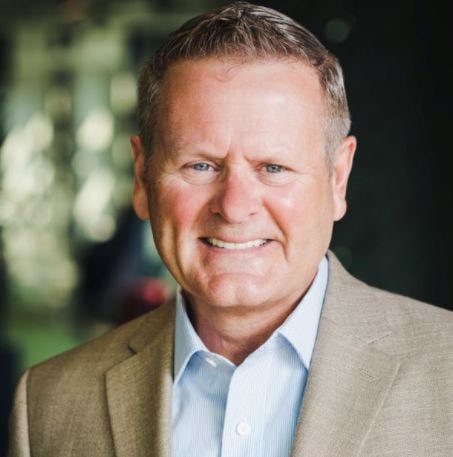 A longtime auto industry executive is now leading Conexus Indiana, a nonprofit that promotes the advanced manufacturing and logistics industries statewide.
Fred Cartwright, a former executive at General Motors and the Clemson University International Center for Automotive Research, will serve as president and CEO of the Indianapolis-based organization. He succeeds CEO J. Mark Howell, who is retiring after leading Conexus since 2017.
"Throughout my career, innovation has always found me," Cartwright said. "I've always had the opportunity to be on the leading edge of something. Innovation is central to building a strong economy and strong workforce. My focus is always on the future and I am energized by the opportunities to partner with industry, the public sector and universities around important issues that drive Indiana's economy and Hoosiers' prosperity."
Cartwright is an Indiana native who earned a bachelor's degree from the Rose-Hulman Institute of Technology in Terre Haute and a masters' degree from Butler University in Indianapolis.
He worked with Allison Transmission in Indianapolis, coming up for the business case for hybrid powertrains and leading the push to get production approval for transit buses. He became program manager and director of Allison Electric Drives and then went on the work for General Motors for 10 years in Detroit and Europe. 
Cartwright became director of technology planning and competitive intelligence for General Motors Powertrain, a role in which he helped negotiate a hybrid alliance between GM, BMW and DaimlerChrysler. He served as vice president for Alliances and New Business Development at General Motors Europe and as chairman of the board for VM Motori S.p.A., a diesel engine joint venture between General Motors and Fiat.
Cartwright, an Indianapolis resident, also ran the Clemson University International Center for Automotive Research, a $250 million technology research campus in South Carolina. He led a number of initiatives, including the creation of the $25 million One Research Drive multi-tenant co-working environment in Greensville.
"Indiana's advanced manufacturing and logistics industries are undergoing dramatic transformations as new technologies increase competitiveness, productivity and profitability," said Denny Oklak, Conexus Indiana board chairman. "We are thrilled to welcome Fred to Conexus Indiana to help guide our industry, talent and public-sector initiatives during one of the most significant times in history as technologies redefine how we make and move products."