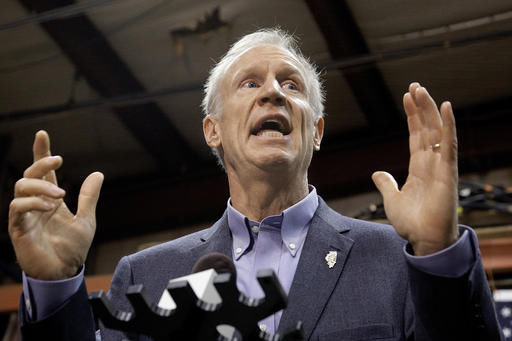 Former Illinois Gov. Bruce Rauner left office on Monday after losing the rumble of the rich guys to J.B. Pritzker, with Rauner apparently having failed to make good on his threat "to rip the economic guts out of Indiana."
Rauner made the remark while pitching his economic turnaround plan to the Chicago Tribune editorial board in April 2015, threatening to "come after Indiana big time."
Rauner told the editorial board he would attempt to lure businesses away from Indiana, Wisconsin and Texas, which all have tried to poach Illinois companies since the Land of Lincoln raised its corporate tax rate 2.2 percentage points to 7 percent to address the pension crisis in 2011.
Many manufacturers have since moved from Chicago's south suburbs across the state line to Northwest Indiana, including Modern Forge, Land O'Frost, T&B Tube Co., Daifuku Wynright, and Alliance Steel.
Despite Illinois's recent fiscal woes, the state has long been far more economically successful than Indiana, as is immediately obvious to anyone who has ever laid eyes upon its rows of glistening skyscrapers or strolled by the haute high-end shops that line the Magnificent Mile.
Illinois' gross domestic product in 2017 was $822 billion, more than double Indiana's gross domestic product of $352 billion, according to the Federal Reserve Bank of St. Louis. The real median income in Illinois was $64,609 in 2017, as compared to $58,873 in Indiana.
Illinois is home to 300,400 millionaire households, Indiana just 128,600, according to Kiplinger's magazine. Forbes magazine estimates Illinois has 17 billionaires, compared to just four in Indiana.
The Land of Lincoln is home to 37 Fortune 500 company headquarters, Indiana just seven.
The Hoosier state might not be as large or prosperous as its more established western neighbor, which has a city with an economy larger than Switzerland's, and would be one of the top 25 in the world if it were its own country. But did Rauner succeed in "ripping Indiana's economic guts out?"
Indiana's unemployment rate stood at 4.9 percent in April 2015 when he made the threat, according to the Indiana Department of Workforce Development. Today, the jobless rate has fallen to 3.3 percent. 
Total private employment in the Hoosier state hit a preliminary record of 2.7 million in November, which is about 25,900 above the previous peak that was reached in December 2017.
And the Indiana Economic Development Corp. announced another record year of business attraction, luring 293 new businesses in 2018 that pledged $7 billion in investment and more than 30,000 new jobs.
Indiana University estimates the state's economy has grown by an average of 4.2 percent over the last several years and forecasts that it should grow by 3.2 percent this year.