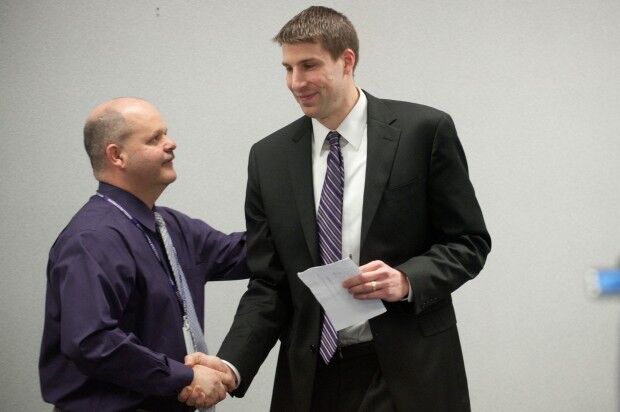 A former professional basketball player is opening a new basketball training facility in Crown Point.
TJ Lux, who led Merrillville High School to the state championship game in 1995 and went on to play professionally for six years in Europe, owns and operates the new Courtside by dlux at 1440 E. Joliet St. in Crown Point.
The new youth basketball facility will offer training, instruction, team development, and Amateur Athletic Union play when it opens on Jan. 11. It will offer development camps and memberships that include training with small groups and large teams, as well as "self-guided opportunities to shoot and work on ballhandling skills."
"Courtside is an old-school gym that provides top level, personalized instruction utilizing state-of-the-art training tools and experienced instructors," the business said in a news release. "They will provide skills camps and developmental leagues, with measurable results while reminding their players each to 'Get Better, Be Great.'"
Lux also owns and operates The Exercise Coach personal training facilities in Crown Point and Dyer.
He is currently the assistant boys varsity coach at Crown Point High School and was the head coach at Merrillville High School from 2011 to 2019, leading the team to three conference titles, three sectional titles and two regional titles while amassing a 132-67 record during his tenure of eight years. More than 20 of his players went on to play Division I collegiate basketball.
Lux was The Times' 1995 Northwest Indiana Student-Athlete of the Year when he led Merrillville to be state runner-up with a 27-2 record. Later named to the Indiana Basketball Hall of Fame, he played at the college level for Northern Illinois University, where he set records for points and rebounds and earned All-Conference and All-American credentials. 
His new training facility is open to both boys and girls between 3rd and 8th grades. It's now accepting registration for 3-on-3 play between January and March.
Region restaurants that closed in 2020
Region restaurants that closed in 2020
2020 has been a hard year for restaurants in the Region with the coronavirus pandemic and the lockdowns and restrictions that followed. Here's a look at the restaurants, brewpubs and chain eateries Northwest Indiana lost in one of the toughest years in recent memory: