Frank Patton had his light bulb moment sitting around Briar Ridge Country Club seven years ago discussing a 50-mile truck bypass for Chicago called the Illiana Expressway.
If state transportation planners thought a 50-mile toll road was the solution to Chicago truck congestion, why couldn't the same be done for railroads?
So he turned to his friend Ed Paesel, executive director of the South Surburban Mayors and Managers Association.
"And I looked at Ed Paesel and said, 'Does this make any sense?' And Ed looked at me and he smiled and he said, 'It makes all the sense in the world.' And that's when it started."
Six years later the concept of a rail bypass for Chicago has grown to much more than just one man's light bulb moment while talking to half a dozen colleagues at a Schererville country club.
In the past few weeks, thousands of people have flocked to sometimes raucous rallies and public meetings in Indiana, Illinois and Wisconsin. Protest groups have formed. And politicians are either throwing in their lot with protesters or trying to hide from the idea of a 278-mile, double-tracked rail line cutting through bucolic rural countryside in three states.
"I haven't seen one good thing about it," said Lake County Commissioner Gerry Scheub, whose district includes a good portion of the proposed route. "It's not only the effect on the environment and the effect on the school kids in that area, but you are also killing development in that area. No one will build a new home near a railroad track."

Click here to view a larger version of the map.


An inadvertent rail baron
Frank Patton doesn't look like a railroad man.
His fashion style can best be described as vaguely rumpled. His suit coat looks like it was thrown on as an afterthought, his tie quickly loosens. He walks with a rolling, preoccupied gait reminiscent of Columbo, the every-man detective hero played by Peter Falk in the popular 1970s TV series.
And he doesn't talk like a railroad man.
Instead, the 73-year-old Will County resident talks more like an excited computer geek, albeit older than most, trying to convert the uninformed to what will surely be the next big thing.
And that's exactly who Frank Patton is.
While working at Lehman Bros. in the late 1960s, he decided computers were the future and wanted to get in on the ground floor. He took two Cobalt computer programming classes at a community college and left Lehman Bros. in 1970 to start a software services company to serve the financial industry. 
That gig lasted 32 years until he sold his firm, Portfolio Dynamics. Then he did another startup, Sharedecisions, which developed behavioral models and took on assignments from the likes of Rush Medical College and the Institute for Cancer Prevention. That company still is managed by Patton, but active development of new projects stopped in 2007.
Paesel and others recognize the irony that Patton originally proposed the rail line as a way to raise private funds to pay for the Illiana Expressway. Today, the proposed expressway has faded from view and it's the rail line, which would operate like a toll road for trains, that is taking the first steps toward becoming a reality.
"He got to different levels and met certain objectives, and he always did that, and then he got people to invest," Paesel said. "And he always really seems to do his homework."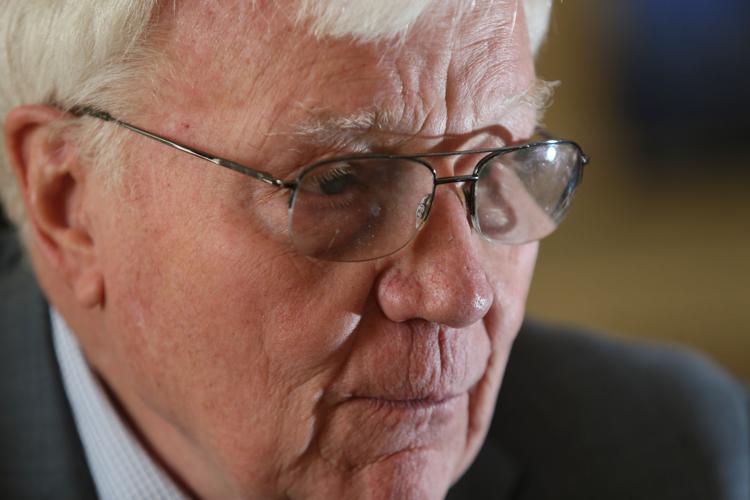 So how did Frank Patton make the leap from computer programmer to founding father of what, at an estimated price of $8 billion, could be the largest rail project in the United States in more than 100 years?
On a recent morning touring some of the Indiana portion of the proposed route, Patton wove a tale that included his near-death experience with a golf ball-size tumor between his brain and spinal cord, his one-time presidency and membership in Chicago's prestigious Union League Club, and his experience as a computer programmer and entrepreneur.
The long recovery from the cancer discovered in 2007 gave him the time and space to explore new ideas. The Union League Club gave him the connections. And his programming experience the step-by-step persistence necessary.
But he also feels he's a different man than when he spent his days heading up projects at Portfolio Dynamics for client banks and insurance companies.
"I told my wife, Kathy, 'You know it's funny, but I don't think when I was doing all the computer stuff that I had the something I do now,' " Patton said.
But he has a hard time putting his finger on just what that something is. He mentions the tumor treatments and the ideas of humanistic psychologist Abraham Maslow.
Just before stepping out into a cornfield to show where the tracks will run, he sums it all up.
You have free articles remaining.
Keep reading for FREE!
Enjoy more articles by signing up or logging in. No credit card required.
"I just love working on this railroad. I don't know what it was, but you get the feeling the cylinders are all clicking. And it's fun. It's fun."
Gallery: You can hear a train a comin'
Great Lakes Basin Transportation has proposed building a 278-mile Chicago bypass rail line running from Milton, Wisconsin to LaPorte, Indiana.
Lately, others have been looking to join in on the fun.
On March 18, the federal Surface Transportation Board issued a notice of intent that it would prepare an environmental impact statement on the Great Lakes Basin Rail Line. In order to determine the scope of its environmental study, the federal agency scheduled 10 public meetings along the proposed rail route and established a comment period through June 15.
That notice was made possible in part by Great Lakes Basin Transportation Inc. rounding up 14 investors to pay the estimated $30 million to $50 million cost of the study.
"These guys are along for the ride," Patton said of his unnamed investors. "I mean, how many chances do you get in life to build a railroad?"
On the management side, Patton has recruited Jim Wilson as Great Lakes Basin Transportation president. Wilson spent 18 years with the Santa Fe Railway, working his way up from brakeman to assistant vice president of operations. He spent the next two decades doing operations and technology projects for Ernst & Young and Infosys Technologies.
And there are believers locally.
Leigh Morris, a former chairman of the Northwest Indiana Regional Development Authority, said the 278-mile rail line would hold important economic development benefits for both Chicago and Northwest Indiana.
"This could really have a tremendous positive impact on this region and our ability to move goods in and around that Chicago bottleneck," he said.
Morris was in the meeting room at Briar Ridge Country Club when Patton first proposed his big idea. He also is a fellow Chicago Union League member, and has observed Frank and the reactions to his rail plan.
The success Canadian National Railway has had with running trains around Chicago on the EJ&E line, which it purchased in 2008, has people thinking, he said.
"That has caused other rail companies to say, 'Maybe, we should be a little more interested in Frank's idea,' " Morris said. "Maybe he's not such a screwball after all."
Driving to Lowell a week-and-a-half ago, Patton played down his years providing accounting and research solutions for big banks and prestigious research institutes. He wanted people from Lowell and others coming out to the hearings and protest rallies to know that he is just like them.
He lives in the same kind of bucolic setting as they do, with his home just over the state line in Will County. He points out he drives a 2010 Chevy Impala. He just had the dings rubbed out. He goes to Grace Lutheran Church on the Indiana side of the border, where he was once president. His daughter went to school in Munster. He buys his groceries in Indiana.
He's not a member of Briar Ridge Country Club, he says. It was just a convenient place for his bistate think tank to meet.
He knows protesters have fastened on the rail line's maximum capacity of 110 trains per day outlined in documents filed with the Surface Transportation Board. But that's "30 years from now" if things pan out, he says. Traffic could start at 30 trains per day, or 50, he's not sure.
Plans are already being modified to satisfy residents' concerns, Patton said. That includes moving the rail line's route farther away from schools such as Lowell Middle School on Cline Avenue.
Concerns farmers have about stranded plots, drainage and crossings are also being addressed, he said. Only recently did Great Lakes Basin Rail Line get information on plot lines, he said.
"If someone says we are cutting their farm in half, No. 1 we didn't do it on purpose, and No. 2 we can modify it," he said.
However, he cautions residents won't see those changes reflected in route maps posted at the websites established for the project for some time on the advice of the Surface Transportation Board. 
He also talks of "off-the-record" conversations as far back as 2009 with big railroads and more recently of developing a page-and-a-half of services those railroads want the Great Lakes Basin Rail Line to offer. Non-disclosure agreements prevent him from saying more.
And he promises nearby residents the "longest quiet-zone railroad ever built," meaning trains will not be able to blast their horns at crossings. Eventually, he says he wants to talk to every single landowner along the rail line's route, starting on May 1.
"These people don't realize it," he said, "but frankly I'm the best friend they have."