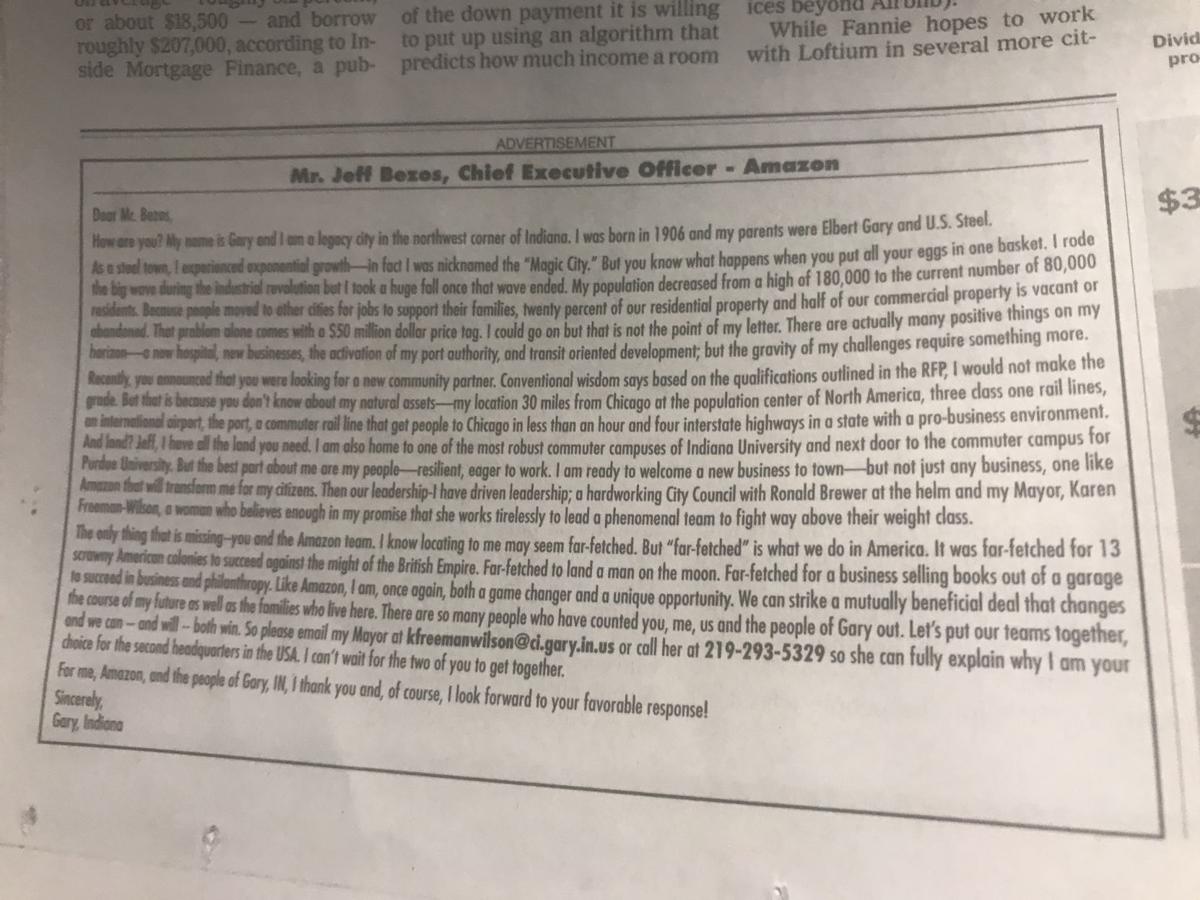 More than 100 cities across the country are reportedly vying for Amazon's second headquarters, a holy grail of economic development that would bring 50,000 high-paying corporate jobs and an estimated $5 billion in investment.
According to other news reports on the company's search, the online retailer has outgrown Seattle, occupying 19 percent of the office market there, more, by far, than any company in any city in the U.S. Chicago, Boston, Austin, Denver and New York City all are vying for the second headquarters of what Yahoo Finance says is the fourth-most valuable publicly traded company in the world, which will be a "full equal" of the original corporate headquarters in Seattle.
Gary is making a bid the city acknowledges is "far-fetched."
The city took out an ad in Monday's New York Times business section addressed directly to "Mr. Jeff Bezos, Chief Executive Officer - Amazon" making the case for Gary. It plans to follow up with a formal competitive bid, Gary spokeswoman LaLosa Burns said.
Making the pitch
"Recently, you announced that you were looking for a new community partner," the city government wrote in the ad. "Conventional wisdom says based on the qualifications outlined in the RFP, I would not make the grade. But that is because you don't know about my natural assets—my location 30 miles from Chicago at the population center of North America, three class one rail lines, an international airport, the port, a commuter rail line that get people to Chicago in less than an hour and four interstate highways in a state with a pro-business environment. And land? Jeff, I have all the land you need."
If Amazon were to locate its second corporate headquarters in Gary, it would need land to build since the smattering of high-rise buildings downtown have nowhere near enough office space to absorb Amazon, which occupies 8.1 million square feet of office space in Seattle. All of Lake County, and neighboring Porter County, only had about 226,026 square feet of available office space in January, according to Merrillville-based Commercial In-Sites.
Currently, the only Fortune 500 corporate headquarters located anywhere in Northwest Indiana is NiSource in Merrillville.
Amazon said it is seeking "a metropolitan area with more than one million people, a stable and business-friendly environment, urban or suburban locations with the potential to attract and retain strong technical talent and communities that think big and creatively when considering locations and real estate options." While Gary is part of the Chicago metropolitan area with a population of 9.4 million, the ongoing trend has been for large corporations like McDonald's, Hillshire Brands and Motorola Solutions to move their headquarters from the suburban fringes into downtown to draw more younger, millennial workers.
Gary acknowledges in the ad it may not be the apparent first choice for the biggest retailer in the United States by market capitalization.
"I know locating to me may seem far-fetched," the ad states. "But 'far-fetched' is what we do in America. It was far-fetched for 13 scrawny American colonies to succeed against the might of the British Empire. Far-fetched to land a man on the moon. Far-fetched for a business selling books out of a garage to succeed in business and philanthropy. Like Amazon, I am, once again, both a game changer and a unique opportunity. We can strike a mutually beneficial deal that changes the course of my future as well as the families who live here. There are so many people who have counted you, me, us and the people of Gary out."
Indiana making bid
Gary Mayor Karen Freeman-Wilson listed both her email address and phone number in the ad, urging Bezos to reach out to her directly. In case Bezos, the owner of the rival Washington Post newspaper, didn't pick up today's New York Times, Freeman-Wilson also tweeted a copy of the ad to him.
The city spent $9,555 on the ad, which reached the New York Times' print audience of more than half a million readers across the country.
"There was thought given in regard to the Washington Post, but decided on the NY Times based on the business nature of the ad and coverage area," Burns said.
The state of Indiana is working on a competitive bid for the headquarters. 
"Indiana has a tremendous opportunity to be seriously considered in this process. We are doing what Amazon has asked us to do: coordinating efforts with all interested regions of the state to put our best bid forward," Gov. Eric Holcomb said in a statement. "I've called on the Indiana Economic Development Corporation to lead this collaborative effort that will culminate with a bid submission that includes local and state incentives as well as recommended best sites. Our process has been underway since the day Amazon made its intentions known, and I'm glad that regional leaders are organizing their efforts so we submit the best package to Amazon by the Oct. 19 deadline."
National media has speculated Amazon, which is seeking major incentives, would likely seek out a large city with a deep pool of workforce talent and a major airport like Chicago, Toronto, Atlanta, Denver, Boston, New York City or Washington D.C., or a tech hub like Austin or Raleigh, North Carolina.
The business news you need
With a weekly newsletter looking back at local history.