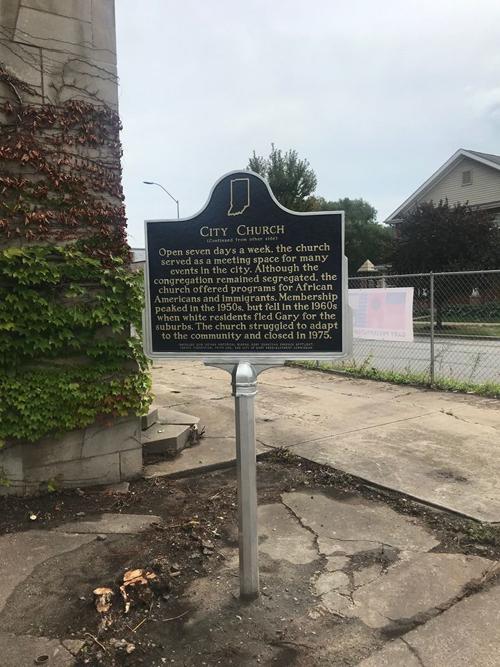 A new historical marker was installed this weekend outside Gary's City Methodist Church, the towering Gothic Revival building downtown that's been disused since 1975 and has become a symbol of urban decay that's attracted photographers and urban explorers from all over the world.
More than 40 people, including dignitaries like a Tuskegee Airman, attended a ceremony Saturday in which an Indiana state historical marker – just the 12th in Lake County – was placed outside the long-abandoned church at 577 Washington St. FAITH CDC, Gary Downtown Emerson Neighborhood Spotlight and the Indiana Historical Bureau helped secure the plaque as the city of Gary works to turn the ornate Methodist cathedral into a European-style ruins gardens.
"They looked at that as a potentially catalytic project," Gary Executive Director of Redevelopment AJ Byntar said. "It's kind of a symbol of the city, what it was once and what it will be in the future to give people an additional gathering space that shows we have had some decay but we are preserving our past. Looking to the future, we are reusing these old buildings when we can."
The marker explains the history of the church, which pastor Dr. William Grant Seaman built in the fledgling city of Gary at a time when it was filled with brothels and taverns. 
Opened in 1926, the church was partly funded by U.S. Steel and included a gym, music studio, cafeteria and adjoining 1,000-seat theater called Seaman Hall. The massive church with elaborate stonework once held the largest Methodist congregation of the Midwest and was later home to Indiana University Northwest after Gary suffered a rapid decline that resulted from deindustrialization and white flight.
"Open seven days a week, the church served as a meeting space for many events in the city," the marker reads. "Although the congregation remained segregated, the church offered programs for African-Americans and immigrants. Membership peaked in the 1950s, but fell in the 1960s when white residents fled Gary for the suburbs. The church struggled to adapt to the community and closed in 1975."