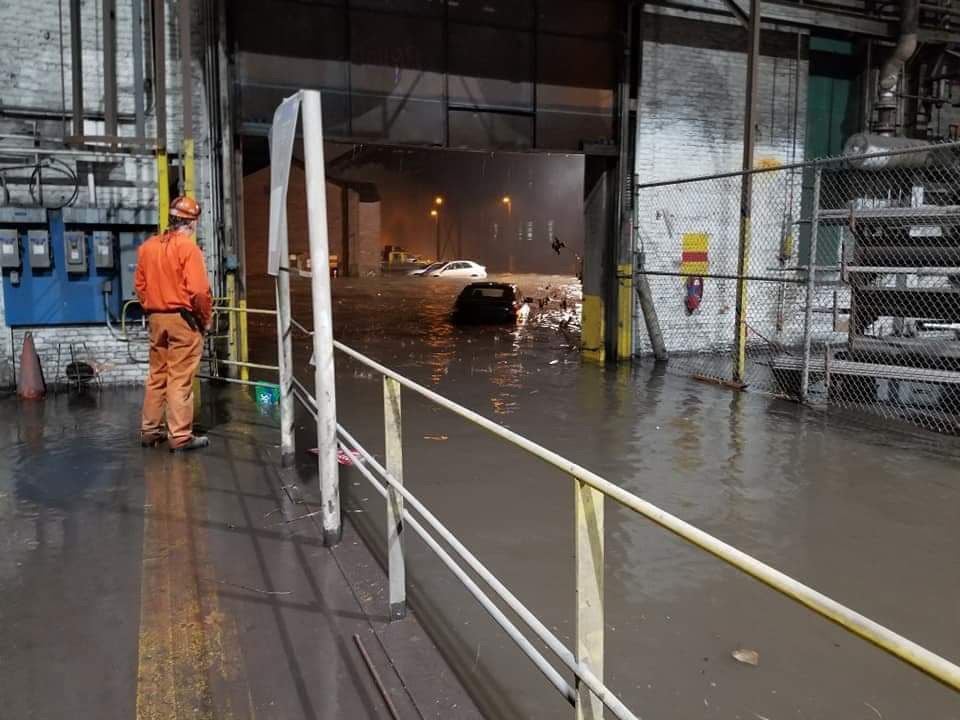 U.S. Steel has restarted the largest blast furnace at Gary Works after extensive flooding last week. 
The steelmaker brought back online the No. 14 blast furnace, which can make up to 9,200 tons of metal in a day and historically has accounted for as much as 45% of the pig iron produced at the largest integrated steel mill in North America.
"Following the service water leak U.S. Steel reported on Nov. 26 and 27 at our Gary Works, we have restored service to the largest of three active blast furnaces," U.S. Steel spokeswoman Amanda Malkowski said. "Another furnace is currently in the process of coming back online. The third is expected to be online later this week."
Gary Works at 1 N. Broadway on the Lake Michigan lakefront has four blast furnaces — which normally run around the clock, 7 days a week – but the No. 8 blast furnace has been idled because of the dreary market conditions.
The steelmaker was forced to shut down all its blast furnaces last week in an extremely rare move because of a leak in a 36-inch water line that brings water from Lake Michigan to cool furnaces and other steel-making equipment. The resulting flooding got into employees' cars and "presented a risk of catastrophic equipment damage and potential threat to human health."
"We do not expect customers to be adversely impacted by this event," Malkowski said.
Steel mill employees observed a sheen in Gary Works' outfall into the Grand Calumet River by its mouth in Lake Michigan, a source of drinking water to millions of people across the Chicago metropolitan area and greatest Midwest, but were able to capture it with an absorbent boom.
U.S. Steel said its tests have shown no chemical discharged in excess of what the state permits, but the Indiana Department of Environmental Management has asked for ongoing testing to be sure.
"Additional water sampling is ongoing to ensure compliance with environmental regulatory requirements, though we have not noted any exceedances in our testing to date," Malkowski said. "The safety of our people, the surrounding community, the environment and our assets remain our top priority as we resume iron and steel production at Gary."
U.S. Steel Gary Works Environmental Control Director Joseph Hanning wrote in a letter to the state that the steelmaker has been doing daily samples of its outfall, which are tested by a third-party laboratory for any dangerous chemicals like ammonia and cyanide.
"U.S. Steel continues to work toward restoring operations and determining full incident details," Hanning wrote in the letter to the Indiana Department of Environmental Management. "A thorough investigation of the root cause of the failure will take place and preventative action items will be developed at that time. U.S. Steel will be better prepared to address these action items in the coming weeks."
The business news you need
With a weekly newsletter looking back at local history.