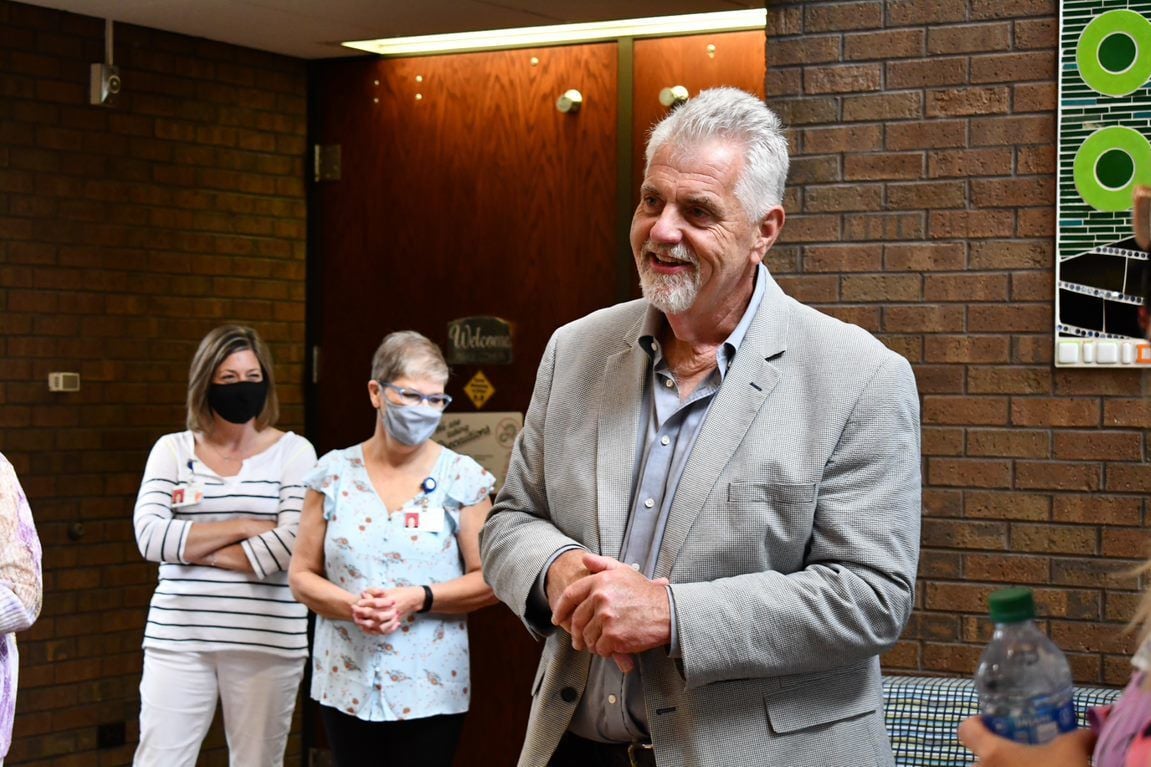 Regional Care Group, Indiana's largest network of community-based health care and social services agencies, honored Geminus co-founder and local human services pioneer Robert "Bob" Krumwied by renaming the Geminus building the Krumwied building at a dedication this week.
Krumwied came up with the idea for Geminus, which provides early childhood education and family social services, as well as substance abuse prevention and suicide prevention services.
"It is a privilege to honor a person who brought our community a revolutionary health care concept — that a person's mental, physical and social health care central to quality of life," said Terry Quinn, chairman of the Regional Care Group board of directors. "Bob united our focus on whole-person health, and worked to create access to services that could not only help individuals recover from substance misuse or manage a mental illness, but also help them survive and thrive in life."
Geminus was founded in 1992 as a management company for Tri-City Community Mental Health Center and Southlake Center for Mental Health, which are now known as Regional Health Systems.
Krumwied served as president and CEO of Geminus and a president and CEO of Regional Health Systems from 1989 to 2019.
"Bob wasn't afraid to take on the challenges of social health care programs," said Don Levinson, vice chair of the Geminus board of directors. "He believed that if we help ease the impact of mental health, addictions, health care or social issues in one person's life, it will impact the community surrounding the individual."
Krumwied is credited with transforming Geminus from a management company to a social service provider that provides Head Start, Early Head Start, residential services, domestic violence intervention and truancy prevention services, among many more. Part of the Regional Care Group, Geminus employs more than 500 workers while providing support for various government programs at the local, state and federal level.
"I had a front-row seat to work with talented and empathetic staff who helped Hoosiers get much-needed assistance where it worked best for them — in their home community," Krumwied said. "It's been wonderful to be a part of a journey that will continue to grow and change community-based health."
He's credited with helping countless people, including the homeless and low-income adults with mental health issues who were at risk or being displaced or homeless. He helped bring the first psychiatry residency program to Northern Indiana and is a recipient of the Sagamore of the Wabash, Indiana's highest civilian honor.
"Bob's commitment to whole-person health gave thousands of Hoosiers hope and a chance at lifelong resiliency," said Bill Trowbridge, CEO of Regional Care Group. "I'm glad the Geminus building will serve as a reminder of his achievements and our purpose."