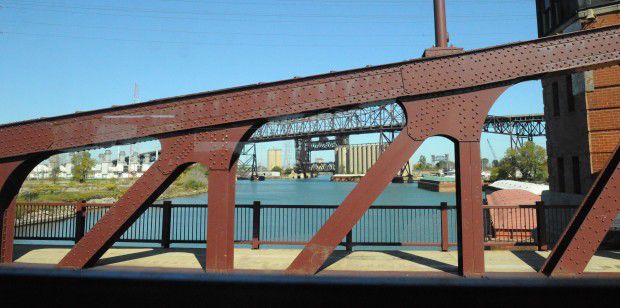 The metal recycling company General Iron Industries plans to relocate to Chicago's Southeast Side, just across the state line, raising concerns from community residents about hazardous waste and pollution.
General Iron plans to build a high-tech metal shredder operation at Reserve Management Group's existing Chicago location, a 175-acre property on the east side of the Calumet River at South Burley Avenue and 116th Street. It's relocating its longtime Lincoln Park operation along the north branch of the Chicago River just north of Goose Island along the Clybourn Corridor.
"General Iron looks forward to the next steps in the transition of the business to a new state-of-the-art facility in a new Chicago location, while ensuring continuity of this critical service of recycling for the city," company president Marilyn Labkon said.
The 110-year-old family-owned company, which processes about 60,000 tons of scrap metal a month, expects to have the new operation on the banks of the Calumet River open by 2020.
"As part of RMG's continuing commitment to our employees, customers and the environment, we are excited to join forces with General Iron and their team," RMG CEO Steve Joseph said. "This strategic partnership will create unique capabilities, positioning RMG and General Iron to expand the value and expertise that both companies provide to our customers and surrounding communities."
Southeast Side residents have expressed concerns that the plant would be another dirty industry in a neighborhood that's been plagued by petcoke and other environmental issues, especially since the U.S. Environmental Protection Agency recently cited General Air for air pollution violations and the city temporarily shuttered its scrapyard in 2015 after an extra-alarm hazmat fire.
"The Southeast Side doesn't need a car shredder up the street from our high school," said Peggy Salazar, executive director of the Southeast Side Environmental Task Force. "As long as the city fails to fix the rules that give polluters the right to come to neighborhoods that are already overburdened with pollution, dirty industry will continue to accumulate next to our homes, schools, and parks."
Southeast Side activists pointed to how Minneapolis pushed a car shredder 40 miles outside of city limits, and California wants to regulate them as hazardous waste facilities.
"The community is exhausted from fighting one polluter after another, and the city is not doing its part," said Gina Ramirez, co-chair of the Southeast Side Coalition to Ban Petcoke. "Families living in the Southeast Side are being treated like we're second class. Before touting Chicago as a global leader on environmental issues, the city has to get its own house in order."
The business news you need
With a weekly newsletter looking back at local history.