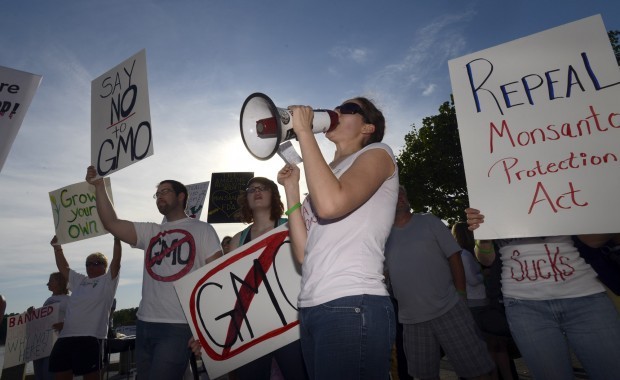 For Eagle Creek Township grain farmer Bob Little and others like him, genetically modified seeds for corn and other foods represent earth-friendly progress that enhances life on the planet.
"Look at a bowl of cornflakes. If I were given a choice between a GMO (genetically modified organism product) and one not, I'd personally choose the GMO product because there are no microtoxins. I have a lot of confidence in GMO," Little said.
Less insecticide is needed, which means there is less risk for the environment with GMO seeds, Little said. "In corn, species invade and get in ears and produce molds and microtoxins. There is less incidence of that with GMO," he said.
People rallied in May in 436 U.S. cities and 52 countries to "March Against Monsanto," an industry leader in producing GMOs, to voice opposition to the practice. Organizers pushed for labeling food products derived from them.
Genetically modified plants are grown from seeds engineered to resist herbicides as well as insecticides, add nutritional value and improve crop yields.
Although GMOs, which came on the market in the U.S. in 1996, are researched, tested and approved by federal agencies, critics say they can hurt the environment and lead to serious health issues. The American Academy of Environmental Medicine cites animal studies showing organ damage, gastrointestinal and immune system disorders, accelerated aging, and infertility among animals fed GMO grain.
According to the Academy, human studies show how genetically modified food can leave material behind, possibly causing long-term problems. The toxic insecticide produced by GM corn was found in the blood of pregnant women and their unborn fetuses.
Because of potential health issues, more than 60 countries around the world, including Australia and Japan and all the countries in the European Union, impose significant restrictions or outright bans on producing and selling GMOs.
Little, who also sells for Pioneer Seed, said, "GMOs are a great benefit to everybody. Our food supply is much bigger, and, I believe, we have a safer food supply as well." He said farmers would be unable to produce enough grain to "feed the world" were it not for genetic modification that increases production.
Tom Keithley, a West Creek Township farmer and Lake County Farm Bureau President, said research has resulted in GMOs that feed the world a better product. "They add betacarotene into rice for Third World countries," he said. Other vitamins supplement GMO products.
In light of the protests, Keithley said, "The farmers' side needs to be presented."
Keithley said the ability to directly target pests through genetic modification rather than spraying pesticides into the air and killing all insects in their path is a boost to the environment.
Little said Americans' growing skepticism of large corporations made Monsanto a ready target for the protests.
"The companies have not done the best job of telling the public and explaining genetic modification," Little said.
Canola oil is a popular and heart-healthy product that would have never made it onto grocery shellves, were it not for GMO research. It's naturally  bitter taste was removed genetically.
Little said recently a genetic trait was added to soybeans that results in a more-healthful oil, too.
Keithley said agricultural production using GMOs is market-driven.
"We want to raise food the consumer will buy," he said.
While the protesters' numbers represent a small percentage of the world population, they have networked effectively, Little said. He has been warned by Pioneer that activists are targeting farmers for "pfishing," the fraudulent practice of sending emails purporting to be from legitimate companies to induce individuals to reveal personal information.
"It's getting kind of rough out there," Keithley said.