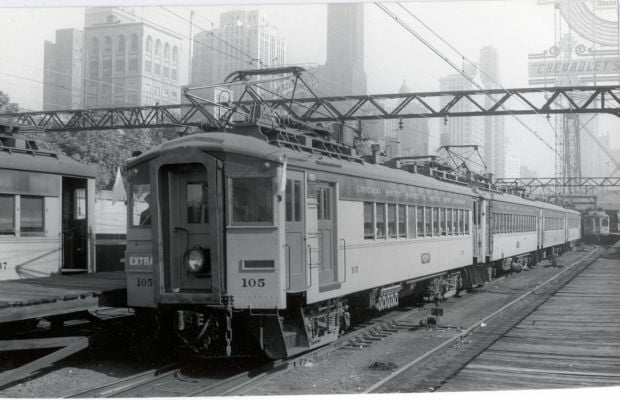 It once brought strong-armed men from their homes to the steel mills. It brought city slickers from Chicago for a day at the beach. It took a generation off to war and brought them back.
The South Shore, for much of its history a down-at-the-heels interurban railroad, has had an outsized impact on Northwest Indiana's psyche and spirit, reflecting the region's expansion and downturns, triumphs and misfortunes.
"It has been around and through so much," said Steve McShane, curator of the Calumet Regional Archives, in 2008, when the commuter rail celebrated its 100th birthday. Most count the line's birth from the day it spanned the 68 miles from South Bend to Hammond.
The railroad has a rich and fabled history, McShane said. Some highlights include the following:
* 1901 – The Chicago and Indiana Air Line Railroad is capitalized at $250,000. The original charter calls for construction of a line from South Bend to Chicago. The new rail's name implies a "straight line" with no curves and moderate grades for high-speed operation. A 3-mile trolley line begins service in East Chicago.
* 1904 – C&I changes its name to Chicago, South Shore & South Bend Railway.
* 1908 – South Shore passenger service from South Bend is extended to Hammond. Streetcar service starts between Gary and Tolleston.
* 1909 – Service is extended to Pullman in Chicago. Wickliffe (future Ogden Dunes) stop is installed.
* 1911 – The Prairie Club of Chicago uses the South Shore for regular excursions into the wilds of Northwest Indiana's Lake Michigan shoreline. A goal to establish a national park along Lake Michigan falls short, but the group succeeds in establishing a Dunes state park. It is left to a later generation to establish the Indiana Dunes National Lakeshore in the 1960s.
* 1912 – South Shore service is extended to Chicago's Loop, with seven daily trains in each direction making the trip in one hour, 15 minutes.
* 1925 – Chicago utilities tycoon Samuel Insull takes over the bankrupt line. Insull begins a massive reconstruction project, investing $2.8 million in rehabilitation, improvements and new equipment. The new line becomes known as "Insull's Super-Interurban."
* 1927 – Insull orders 20 additional Pullman cars, and deluxe service between South Bend and Chicago begins, including dining during breakfast, lunch and dinner hours aboard such trains as the "Notre Dame," "St. Joe Valley," "Ft. Dearborn," "Duneland, "Marquette," "Randolph" and "Chicago Theatre" limiteds.
* 1928 – The rail line transports winter sports fans to the first of five annual international meets at a ski jump built by the Ogden Dunes Ski Club, which attracts up to 20,000 spectators each year, though the jump is demolished after the 1932 event.
* 1932 – Continuing financial declines brought on by the Great Depression force cuts in passenger service, including eliminating the dining and parlor cars.
* 1942 – As the country adapts to war time, ridership booms and freight revenue reaches $1.8 million. By 1945, ridership peaks at 6 million riders per year. But with the growth of automobile travel and the opening of major interstate highways in the 1950s, its fortunes again flag.
* 1956 – Congress passes the Federal Aid Highway Act, authorizing the National Interstate and Defense Highway (Interstate) System, signaling the beginning of the decline of intercity mass transit in the U.S.
* 1958 – A nationwide recession results in commuter rail losses, which reach $175,000 by 1960, though ridership holds steady at nearly 4 million.
*1966 – Congress authorizes the Indiana Dunes National Lakeshore as part of a compromise to secure federal funds for the Port of Indiana.
* 1971 – The Chicago South Shore and South Bend Railroad is one of six with "long distance" passenger service to decline joining AMTRAK.
* 1977 – The railroad's private operator attempts to discontinue all passenger service, which is approved in March but postponed for 10 months. Then-Gov. Otis Bowen on April 21 signs landmark legislation forming the Northern Indiana Commuter Transportation District, a four-county commuter rail authority to maintain and improve rail service in St. Joseph, LaPorte, Porter and Lake counties, between South Bend and Chicago.
* 1984 – Gary Metro Center is built as an elevated stop to replace its ground-level station.
* 2000 – NICTD approves preferred alignments for Westlake Corridor service to Lowell in Lake County and Valparaiso in Porter County.
* 2007 – NICTD orders its first bi-level rail cars, 14 units that go into service in 2009.
* 2008 – South Shore rail celebrates a century of service.
* 2012 – An $18 million, three-year project is completed implementing bi-directional signaling between South Bend and Kensington (Chicago) and a new overhead catenary, originally designed in the 1920s, between Michigan City and Kensington. More than 100 miles of the catenary, or overhead wire, that supplies electricity to propel the train, is replaced.
It seems every boom on the railroad was followed by a bust. It went bankrupt in 1924 and again in both 1933 and 1938 and fell on hard times on and off several times after that.
Nonetheless, of all the interurbans that crisscrossed the Midwest at one time, the South Shore is the only one currently still in service. To create passengers for the South Shore in the 1920s, industrial titan Insull commissioned a series of posters to highlight the destinations reachable by the interurban. Commissions of similar posters was revived in the 1990s by the Northwest Indiana Forum, a private economic development group, and continues today.
"During the Progressive Era, they saw these outdoor excursions as a way to escape the demoralizing effects of the urban areas," McShane said.
At one time, it would be hard to find a resident of a northern Lake County city who had not ridden on the South Shore, usually on a regular basis.
South Shore General Manager Gerald Hanas, who has been with the railroad since the late 1970s, is the first to acknowledge the ride today is a bumpy one.
When NICTD got involved in the 1970s, the railroad's passenger cars dated back to 1926, Hanas said. There were days in the winter when only one or two trains operated per day. Converted coal stoves cast what little heat there was in winter. Gas air conditioners struggled through the summer to give riders a whiff of cool air.
"It was pretty nip and tuck," Hanas said. "We like to say if we did it all again, we would just shut the railroad down for four years."
It took a mighty act of political will to save the passenger railroad in the late 1970s. In a coordinated act of determination – similar to what U.S. Rep. Pete Visclosky, D-Merrillville, is now spearheading to garner money to extend the commuter rail line south in Lake County to Lowell or at least Dyer and east in Porter County to Valparaiso – communities and legislators pulled together and came up with federal revenue-sharing funds to resuscitate the railroad. Indiana also kicked in funds, and federal matching funds were obtained.
The South Shore is on solid footing today, annually carrying nearly 4 million passengers annually and splitting its revenue about evenly between fares and government subsidies.
More than $124 million has been invested in upgrading its system over the past decade, the largest capital investment since business magnate Insull built up the line in the 1920s.
Some see the push to extend the South Shore commuter line as another chapter in the railroad's ability to adapt to changing times, albeit not always smoothly.
"It's interesting the South Shore has recognized the demographic shift to suburban areas," McShane said. "The idea seems to be to go where the people are."
Times Staff Writer Keith Benman contributed to this report.
The business news you need
With a weekly newsletter looking back at local history.