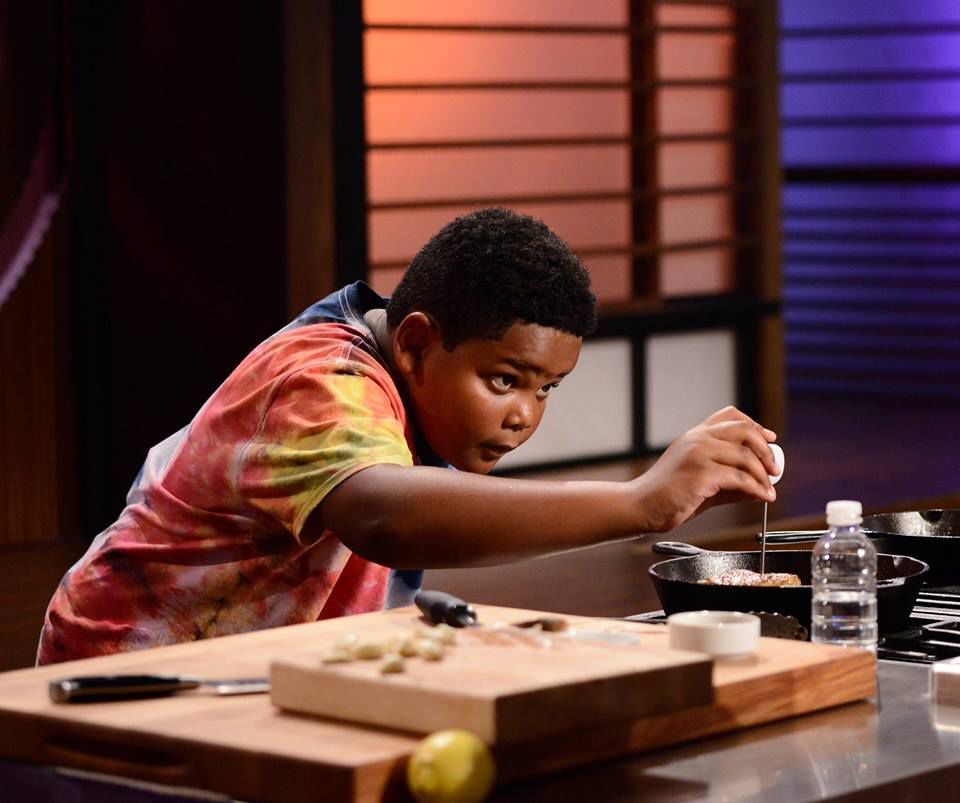 Celebrity chef Gordon Ramsay donated $50,000 Friday to help with the medical bills of former "MasterChef Junior" contestant Ben Watkins, a Northwest Indiana boy suffering from aggressive tumors after losing his parents in a murder-suicide three years ago.
Ben, 13, is currently undergoing treatment for the rare condition angiomatoid fibrous histiocytoma at Lurie Children's Hospital of Chicago.
"It's unbelievable that he did that. We're just speechless," said Anthony Edwards, Ben's uncle and caretaker along with his grandmother, Donna Edwards. 
Ramsay messaged Ben, who appeared on Season 6 of the Fox show, a day earlier but did not mention the donation, Anthony Edwards said.
"He wished him a fast recovery and told him to treat it like a mystery box on 'MasterChef Junior,' he said. "He told him to dig in and beat it."
Then on Friday, Edwards got a call from Trent McCain, a Gary attorney who's running a GoFundMe for Ben's college education and medical expenses. McCain informed him that Ramsay had just donated $50,000 to help Ben in his time of need.
"It's just an unbelievable gesture," Anthony Edwards said. "We can't believe it."
Gordon Ramsay's publicist did not immediately return a request for comment. His $50,000 donation is listed by name on Ben's public GoFundMe page.
Ben, a beloved figured in the Miller community where he used to cook and run the cash register at Ben's Bodacious BBQ, lost his parents Leila Edwards and Mike Watkins to domestic violence three years ago and had been battling aggressive tumors for the last two years.
He started chemotherapy last week at Lurie Children's Hospital and was only supposed to be there for three or four days, but is now recovering in the intensive care unit after undergoing emergency surgery Sunday, Anthony Edwards said.
"He had some complications with the treatment and had some blood in his lung," he said. "They had to put a tube in his lung to drain it."
Watkins is supposed to undergo chemotherapy treatment for a few days every three weeks at the hospital to shrink a tumor the size of a softball by his lung, spine and shoulder so that surgeons can remove it. The first session of chemo caused fluid to build in his lungs.
It turned out to be blood.
"His breathing was labored so they did an X-ray of his chest," Anthony Edwards said. "There was blood in his lung and they had to drain it for about an hour. The surgery was successful. They think the tumor might be dying and burst the blood vessel next to it."
Ben is now heavily medicated and under careful observation at the ICU. It's not known how long he will have to stay there.
"We don't know," Anthony Edwards said. "They want him to reach certain benchmarks before they feel comfortable letting him return home. He has been up at times and alert. We've watched a little Netflix and played Monopoly the past couple nights. He's still pretty positive."
People in Northwest Indiana and around the country have rallied around Ben, donating more than $174,000 to a GoFundMe that was initially set up to pay for his college after he was orphaned and that now will also help with his mounting medical expenses.
"We just want to thank everybody for their thoughts and prayers and donations," Anthony Edwards said.