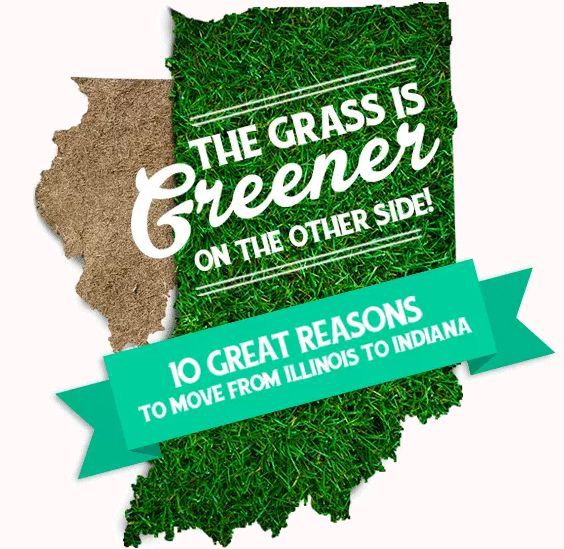 Illinois residents are starting to see mobile ads about how the grass is greener in Indiana: taxes are lower, housing is more affordable and commutes to the Loop are faster than from suburbs like Naperville.
The South Shore Convention and Visitors Authority, with the backing of private-sector Region institutions like Centier, NIPSCO and the Greater Northwest Indiana Association of Realtors, has launched the Grass is Greener campaign to encourage northern Illinois residents, especially those in the Chicago area, to consider moving from Illinois to Northwest Indiana. Online ads targeting young married couples with children under 5 years old and empty nesters direct them to movetoindiana.com, which touts the Region's lower cost of living, four-star schools, affordable in-state universities and many green spaces that could soon include a national park.
People who have moved from Illinois to Indiana offer testimonials about why they moved, such as "astronomically lower property taxes" and faster commutes to their jobs in the city.
"Northwest Indiana is very appealing with great school districts," SSCVA President and CEO Speros Batistatos said. "We can keep people connected to jobs in Chicago. We're not looking to bash our next door neighbors, just stress how our neighborhoods offer substantially more space for less cost. People who work in the city and have their careers in Illinois can find lower taxes, a bigger yard, a quality of life and savings in commuting time in Indiana. It's a positive message about how this corner of the state has many positives."
Indiana has launched campaigns to lure Illinois businesses in the past, most notably the Indiana Economic Development Corp.'s "Illinoyed?" and "Stillannoyed?" campaigns that tried to capitalize off tax hikes and underfunded pension liabilities in the Land of Lincoln. But none have focused on luring Illinois residents across the state line, though south suburban residents have been flocking over for years and west Lake County roads are choked with Illinois license plates.
GNIAR used to run ads during the 1990s attempting to entice Illinois residents to move to Northwest Indiana, and individual real estate agents and home builders have since taken out billboards near the state line, CEO Peter Novak said.
But the Grass is Greener campaign is unprecedented in terms of buy-in from private-sector Region institutions like Centier, Schillings, Purdue University Northwest and The Times Media Co., Batistatos said. All but $17,000 from the $75,000 of the initial campaign came from private-sector donors.
"This is almost entirely private sector-funded by private-sector players," he said. "The more people moving through here, the better it is for the economy. It's good for everyone in Northwest Indiana, ether in Gary, Lowell or Rensselaer. We're just pushing the concept of Northwest Indiana, and letting the municipalities make a case for themselves."
Wisconsin recently did a $1 million advertising campaign targeting Chicago's millennials with ads in trains, bars and gyms, and Homewood released a graphic novel that attempted to persuade young city residents they would prefer the south suburb, because it has free parking and it's allegedly less stressful to buy avocados there. Unlike those marketing blitzes, Northwest Indiana's Grass is Greener campaign targets those looking at housing in suburban Chicago.
The campaign aims to capitalize off of developments occurring along the South Shore, including the South Shore Line's double-track project, the West Lake expansion, the Marquette Plan conversions of industrial land along the lakefront to park space and the proposed transformation of the Indiana Dunes National Lakeshore to a national park, Batistatos said.
"We have a lot of very good things happening along the South Shore," he said. "We've been seeing more people move here who didn't realize it was this close and what benefits it has. We're actively canvassing more video testimonials from real people to talk about why they moved here and why they're living here."
There's been a broad-based interest from the local business community in the marketing campaign because of the need to grow the Northwest Indiana economy and reverse years of population decline in an area that's long been dominated by heavy industry, Batistatos said.
"We certainly support any effort to grow the Region's population in principle," Peoples Bank President and CEO Ben Bochnowksi said.
The SSCVA was first interested in developing a marketing campaign attracting tourists to a "first date" with Indiana, but that evolved into an effort to convince more people to move to Indiana, a project it's been working on for the last six months. The tourist agency may eventually expand it to target Illinois residents who attended Indiana universities such as the University of Notre Dame, Purdue University, Valparaiso University, Indiana University, Wabash College, and Indiana State University.
"Down the road, we want to take a look at those who have great memories of their time in Indiana," Batistatos said. "This could have an impact on anyone looking to sell your home, such as if you're downsizing. It will drive up the value of your home because of simple supply and demand. More money in the area means more velocity of money that will be spent at Strack & Van Til, Schilling Lumber and other companies. More people moving here is good for every aspect of the economy."
So far the campaign has had triple the expected response based on average click through rates, Times General Manager Joe Battistoni said.
"Clearly our message is resonating," he said. "There's never been a better time to move to Northwest Indiana and the campaign is only adding fuel to the fire."
Migration from Illinois, especially the South Side and south suburban border towns like Lansing and Calumet City, has been going on for decades and intensified since the Illinois tax hikes that took place in 2011, Novak said.
"There's been more interest in Northwest Indiana because of property tax caps, lower median selling prices and getting more for your dollar," he said.
But much of the interest has originated from people who have learned about Northwest Indiana by chance, such as from a co-worker in the Loop.
"People think it's just corn fields and a long commute," Novak said. "They don't realize they get a better value for their homes, and can get downtown quicker from Dyer or St. John than from the western suburbs or even some of the hot south suburbs."
People used to only move for jobs, such as those in the steel mills along the South Shore, Novak said. But lately more people have been moving for quality of life reasons such as lower costs, the many bike trails and highly rated school systems.
"People who are working in downtown Chicago can get more house for their money and still have a fairly decent commute," he said. "Those who cross over from Illinois can maintain the benefits of working in the city with quality of life, like better school systems, more space and numerous bike trails."
The campaign could help reverse the Region's ongoing population decline that's accompanied the drop in employment at the steel mills, drive up home prices and keep younger residents in the area, Novak said.
"In the long run, we want to be able to attract talented people who might look at other areas," Novak said. "I've got kids who are 11, 9 and 6 years old. While it's ultimately up to them where they live, if they explore and think about other places to live, I selfishly want to make Northwest Indiana an attractive place to live. … We haven't done enough to capitalize off our proximity to Chicago. While we're not just a bedroom community to Chicago, we haven't done enough to stress that as a selling point."
The business news you need
With a weekly newsletter looking back at local history.