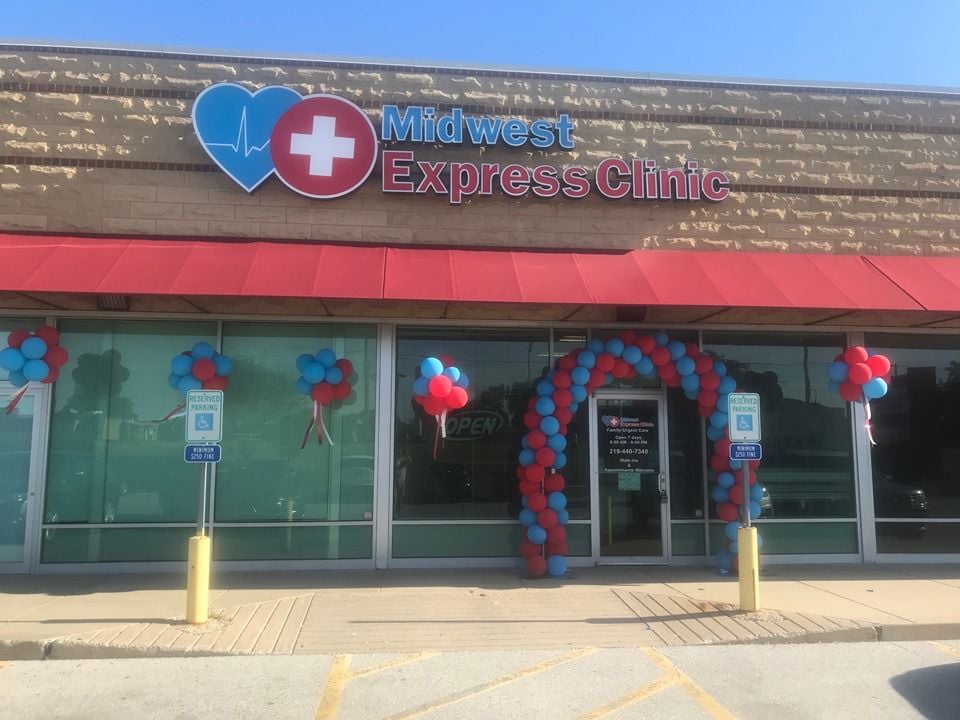 Midwest Express Clinic has proven to be a local entrepreneurial success story in a crowded space since first opening in Munster seven years ago.
The local chain of walk-in express clinics, which aims to be "the most convenient and easiest urgent care option in Northwest Indiana," just opened its 10th health care facility at 875 Joliet St. in Dyer. Midwest Express Clinic plans to open another location in Skokie, Illinois, next month, and a 2,700-square-foot clinic at 5043 E. 81st Ave. next door to the El Salto on U.S. 30 in Hobart, which has a Merrillville mailing address but is within Hobart city limits, in October.
"We're nearly opening a clinic a month for the rest of the year," Midwest Express Clinic operations manager Kate Cunningham said. "We want to establish a name for ourselves in Northwest Indiana and Chicagoland. We want to be a household name where people see our name on a street corner and think of convenience."
Midwest Express Clinic seeks to offer a quick, convenient option where busy people can see a doctor or nurse practitioner as an alternative to high-cost emergency rooms or appointments with primary care physicians that typically have to be scheduled weeks in advance.
The average patient at a Midwest Express Clinic gets treated in under 45 minutes to an hour.
"Most in the younger generation don't even have primary care physicians," Cunningham said. "Being able to go in and out to get care is super appealing to those with growing families or who have a busy lifestyle. Providing low-cost, quality is care is what we feel is contributing to our growth."
Midwest Express Clinic has locations across the Region and greater Chicagoland, including in Munster, Hammond, Schererville, Crown Point, Blue Island, Willowbrook, Bourbonnais and Mount Greenwood, that are open from 9 a.m. to 9 p.m. seven days a week, 365 days a year. The newly opened clinics in Dyer and River Forest, Illinois, are only open until 5 p.m.
Each clinic employs six to 10 people, including the doctors and nurse practitioners who see the patients. The fast-growing company now employs more than 90 people.
It puts a heavy emphasis on convenience and recently added a virtual check-in on its website in which people upload an ID and insurance cards to reserve a spot in line in advance to cut down on the wait.
"We really try to be patient-oriented," Midwest Express Clinic partner Sangeet Shah said. "We want to make everything easy for them. If they don't have a primary care doctor, they can follow up with us. We always recommend that, anyway, to provide that continuity of care. That gives us a great opportunity to identify any other issue with a patient, like hypertension or diabetes. We're able to do a little more than what people think of as just 'urgent care.'"
It strives to keep patients' costs down, charging $15 for flu shots, $10 for B12 shots, and $25 for school or sports physicals. Shah said the average out-of-pocket cost was $40 to $50 per patient, as compared to $250 to $500 for an emergency room visit. 
The clinics treat people for colds, flus, coughs, cuts, scrapes, sprains, strains, burns, bug bites, rashes and even broken bones. Other services include women's care, family care, physicals, drug tests, x-rays, EKGs and lab screenings.
"Most things, we can do the same as (a specialist) but we can do it with more ease and convenience," Midwest Express Clinic Director of Clinical Utilization Review Heather Gutierrez said. "You don't have to wait a few weeks to get in or come in at a bad hour."
The clinics have labs on-site and can return test results for strep, flu and other diseases quickly, often within minutes.
"We have a lot of capabilities on-site," Shah said. "We have extended hours and we're always able to service patients between 9 a.m. and 9 p.m. We just want to make things easy."
The chain plans to continue to expand across Northwest Indiana and greater Chicagoland. Shah said it was looking at future clinics in Cedar Lake, Portage and Valparaiso.
"Patients demand care and access to care," he said. "We're able to open in different communities, including areas of the Region that are booming or really underserved. If you look at demographics and health care needs, we don't see the demand changing. Primary care is disappearing, emergency rooms are expensive and deductibles are only going up. People have been coming to us over the years for those reasons."