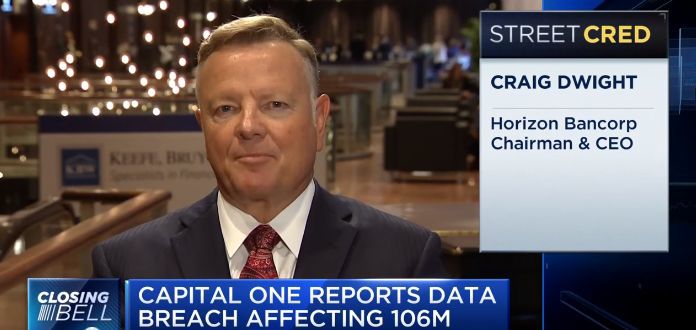 Horizon Bank CEO Craig Dwight appeared on CNBC to discuss the Capital One data breach affecting 106 million people, his bank's strong earnings and the economy.
Dwight, who runs the Michigan City-based bank that serves Indiana and Michigan, said on "Closing Bell" that banks and other financial institutions needed more government support to combat data hackers.
"We all stay up late at night worrying about cyber breaches," he said. "Just last night, I signed up for the Equifax data security from their breach that happened a few years ago, and unfortunately we just had another one. I do think we need government support to help defend against these actions going on across the world, and it's unfortunate to hear about Capital One's breach."
He said he was confident Horizon Bank was protecting customer data, but noted that Capital One probably was, too.
"We all think we're doing the best job we can," Dwight said. "I'm a small bank, $5 billion in assets, headquartered in Indiana and Michigan. We have a great technology team. We've got all kinds of cyber walls and cybersecurity. But does anyone really know how well they're protected when you've got state-sponsored cyber attacks taking place? Even though this happened in the United States, you've got a lot of attacks taking place every day."
When asked about proposed Federal Reserve interest rate cuts, Dwight said Horizon's strong performance in the second quarter and the strong earnings of other community banks did not "paint a picture of a U.S. economy that requires a rate cut."
"We reported record earnings for the second quarter," he said. "What was supporting our records growth was the consumer side of the balance sheet, and consumer loans. Commercial loans actually fell down during the second quarter, but consumer and mortgages actually have had a strong rebound primarily due to lower interest rates as well as the low unemployment rates for consumers. They're still spending their money."
Dwight predicted consolidation would continue to take place in the banking industry.
"About 5% of the banks are sold every single year," he said. "For Indiana, Michigan and Ohio banks, we expect about 22 looks every year. We've completed 14 acquisitions over the last 17 years, and seven over the last four years. We are very active in the mergers and acquisitions game, and that will be a very important part of our growth going forward. We like to have about 50% of our growth through mergers and acquisitions, and about 50% organically."
Dwight predicted agricultural production would be down and crop prices up come harvest season. Consumer lending has been strong in home equity, auto lending and home repair, despite some layoffs in the automotive industry, he said.
"Consumers, as long as they continue working, will continue to spend," Dwight said. "In the mortgage finance, with low-interest rates, we should see a bigger uptick in mortgage volume this year."