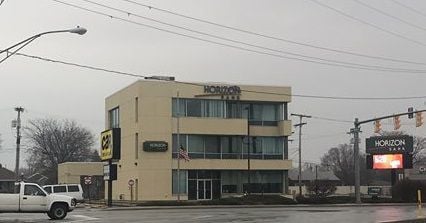 Horizon Bank turned a profit of $16.6 million in the second quarter, which was the highest in its 146-year history and up more than 17% from the $14.1 million it made during the second quarter of last year.
The Michigan City-based bank earned $0.37 per share during the three-month period from April through June.
"Horizon's total assets continued to grow reaching approximately $5.1 billion at June 30, 2019, as a result of the Salin acquisition and organic loan growth since the beginning of the year," Chairman and CEO Craig Dwight said. "We have experienced organic loan growth at an annualized rate of 5.7% during the first six months of 2019. Along with approximately $568.9 million in loans acquired from Salin, loan growth in the markets of Fort Wayne, Grand Rapids, Indianapolis and Kalamazoo totaled $99.7 million as of June 30, 2019."
The bank made $27.5 million in profit, or $0.65 in earnings per share, during the first half of the year. That's the highest net earnings for the first six months in company history and up from $26.8 million, or $0.70 in earnings per share, for the first six months of 2018, as the bank grew through acquisition, which resulted in the closing of some redundant branches. 
"During the second quarter of 2019, Horizon continued to maximize operational leverage as a result of increased mass and scale," Dwight said. "Although the anticipated cost savings from the Salin acquisition have not been fully realized, our team has been able to leverage new technologies and develop operational efficiencies. In our efforts to improve efficiencies, we closed three legacy full-service branches on April 19, 2019 and we consolidated our existing Fort Wayne loan production office with the acquired Salin locations. We also closed five Salin full-service branches which were in close proximity to an existing Horizon office or that did not meet our branch hurdle rates in conjunction with our data conversion on April 26, 2019. We also plan to consolidate our Midland, Michigan full-service branches into one location on September 6, 2019."
The bank, which is the third-largest in Northwest Indiana by deposits, delivered a 1.32% return on average assets during the second quarter, as compared to 1.41% during the second quarter of 2018.
"We continue to look for opportunities to provide value for our shareholders," Dwight said. "On June 18, 2019, our Board of Directors approved a 20% dividend increase from 10 cents to 12 cents per share. This was followed by the Board of Directors authorizing a stock repurchase program of up to 2,250,000 shares of Horizon's issued and outstanding common stock on July 16, 2019. We believe that at current price levels, Horizon's shares are an attractive investment and our repurchase program reflects our continuing confidence in Horizon's financial strength. Given our strong balance sheet, we believe we can implement this program and continue to retain sufficient liquidity and capital to execute business strategies."
The business news you need
With a weekly newsletter looking back at local history.