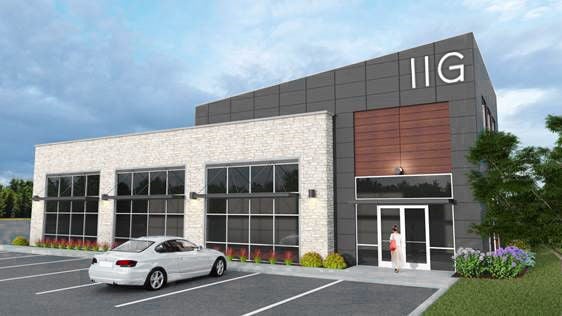 A Dyer firm that designs interiors for hotels all over the country, including for leading brands like Marriott and Hyatt, is building a new headquarters in Crown Point.
Interior Image Group President and owner Patti Tritschler said IIG was leasing its current 5,000-square-foot space at 2150 Gettler St. on the grounds of Franciscan Health Dyer in Dyer, which the hospital now wants to take over.
So IIG recently broke ground on a new 8,000-square-foot office building in the Beacon Hill development at 109th Avenue and Broadway in Crown Point. The firm teamed up with an architect from Cedar Lake to design the building as a way to showcase its work to visiting clients.
"We continue to grow," Tritschler said. "We've been growing nationally and increased our employment."
IIG had about 17 employees in 2017 and now has more than 30 at its Northwest Indiana headquarters and a smaller satellite office in South Florida, where it employs around five interior designers.
Tritschler, who founded IIG in 2004, has done business in Northwest Indiana for 25 years and wanted to keep the company's headquarters in the Region.
"I firmly believe that Northwest Indiana has a lot of talent, with Purdue and the other colleges," she said. "Graduates flock to cities like Chicago or Indianapolis but we want to give them opportunities to be creative right here."
IIG picked a spot in Beacon Hill, which is adding new businesses like Starbucks, Gloria Jean's and Tomato Bar, as amenities for its younger workforce and places to entertain clients.
"We'll be close to cool restaurants," she said. "Crown Point has a strong vision. Broadway and the historical square and full of things people can experience. The new YMCA and Bulldog Park are more areas for people to explore in the city."
IIG will occupy the entire building, which will feature a pitched roof and a stone facade with Japanese wood. The interior will be filled with many finishes and products from IIG's vendors to showcase the firm's design capabilities. The company designs boutique hotels across the country, as well as corporate projects like Hilton's Tapestry at the Indianapolis 500 and AC Hotel in downtown Burbank, California.
"With renovations and lifestyle brands, we've seen extreme growth," Tritschler said. "We have clients all over the country in the hospitality industry."