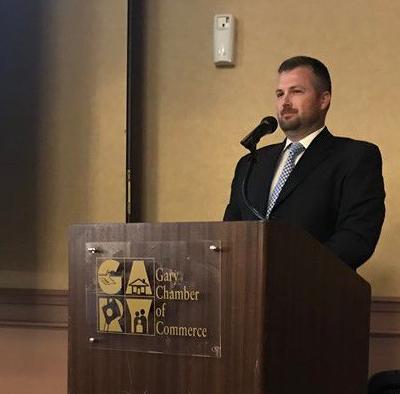 Over the past decade, Indiana-American Water has invested $200 million in replacing aging infrastructure in Northwest Indiana, where it supplies water to about 250,000 people.
Matthew Prine, the president of Indiana-American Water and Michigan-American Water, said the privately-owned utility has pumped $92.2 million into water mains and hydrants, $68.1 million into pumping, treatment, storage and operations facilities, and $38.2 million in meters and service in the Calumet Region over the last 10 years.
Prince said the investments have largely been in Gary.
"We don't believe the best days of Gary and behind it," he said. "We believe the best days are ahead. We don't invest that amount of money in underground infrastructure without hope and belief in the economic development."
He told the Gary Chamber of Commerce at its monthly luncheon at the Majestic Star Casino that as much as $1 trillion will need to be spent nationwide over the next 25 years to replace or update aging water infrastructure, including pipes that were meant to last 50 to 75 years but are now more than a century old. The Indiana Finance Authority estimates the Hoosier state has as much as $2.3 billion in infrastructure needs. In recent years, Indiana-American has been working to replace lead service lines.
Indiana-American is one of the largest water and wastewater utilities in the state, employing 360 workers and supplying water to 1.3 million residents in 50 cities and towns, including Gary, Portage, Merrillville, Hobart, Chesterton, South Haven, Porter, Winfield, Shorewood, Burns Harbor and Dune Acres. It's also a region supplier to Schererville, Crown Point and Lake Station, drawing most of its water from Lake Michigan.
"Lake Michigan is one of the single greatest resources of naturally softened water in the United States," he said. "It's a resource many states envy."
The state-regulated Indiana-American sells water for about $0.01 per gallon, which does not generate enough in many communities to address all the aging infrastructure, Prine said. It potentially could result in a host of problems, including reduced flow, low water pressure, main breaks, property damage and risk for contamination: "all which costs more in the aggregate than simply going in an replacing the infrastructure we have," he said.
U.S. families now spend less than 1% of their income on their water bill, but infrastructure needs are growing, Prine said. The American Water Works Association recommends 1% of water pipes get replaced every year, but that presumes pipe will last 100 years.
"Some pipe lasts more than 100 years," he said. "Prior to World War I, we built things really solid, we built them really well. A lot of that steel came from this very community. After the war, we had efficiency gains and found lower-cost alternatives. That pipe now needs to be replaced at the same time as the pipe that was put in at the early part of the century."
Indiana-American is working to replace lead service lines, as research has shown any disturbance can result in unsafe exposure to lead. The utility has filed a plan with the state to replace the lines, including those partly owned by the customer, at no upfront expense to customers who otherwise would be stuck with bills that could range from $3,000 to $8,000 per home.
Instead, the costs will be spread out amongst the entire customer base.
"We estimate we've got 50,000 lead service lines across the state," he said. "That's about 17% of our homes. And 70% of those are in Northwest Indiana. It was the result of local ordinance that drove the use of lead. Lead was great material, it's malleable, it's preferred by plumbers. But at the end of the day we were unaware at the time of its negative environmental and health effects."
Indiana-American aims to replace all lead service lines within the next 10-24 years as part of bigger infrastructure replacement projects.
"I can tell you the sooner, the better," he said.