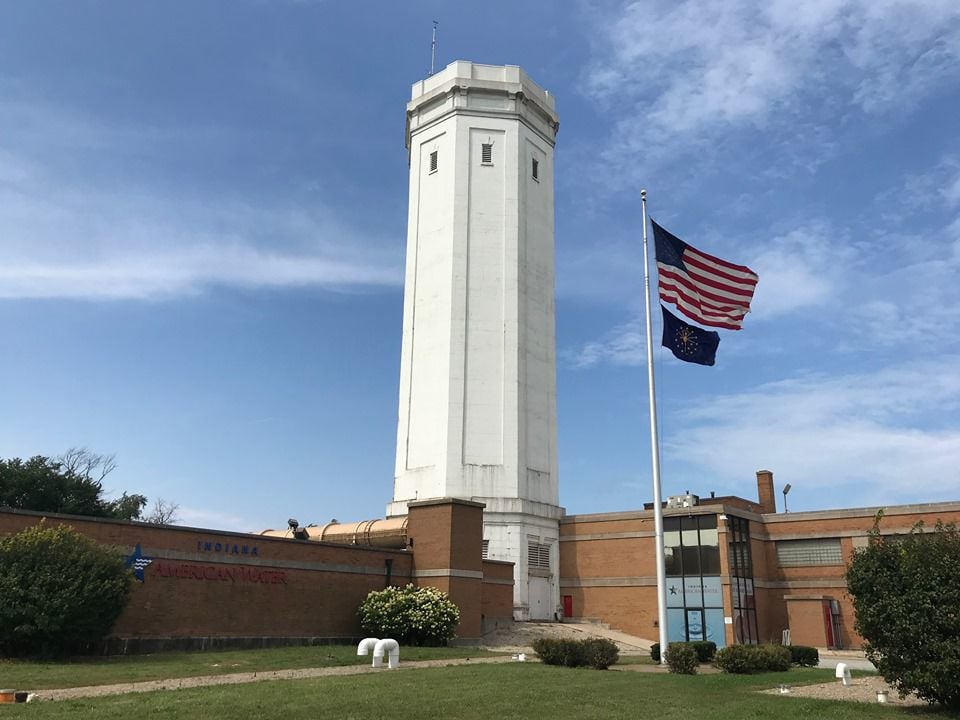 Indiana-American Water wants to tear down a historic 133-foot water tower that's been part of Gary's skyline since 1909.
The utility is in the process of building a new water tower downtown, and has proposed demolishing the municipal water tower that Chicago engineer John W. Alvord designed for the burgeoning city shortly after it was founded by U.S. Steel in 1906.
The long-since-defunct Gary Heat, Light and Water Co. encased the water tower in an unusual concrete block shell that "transformed the utilitarian tower into an octagonal landmark, complete with decorative cornice and parapet wall," according to Indiana Landmarks.
The distinctive white building can be seen from miles around and included a large bell that was once rung in the event of fires or other emergencies.
"The waterworks buildings became the centerpiece of the surrounding Jefferson Park, Gary's first public park. In 1911, the city lit a fire atop the tower in the hour leading up to the July 4 fireworks, signaling the radically transformed landscape," according to Indiana Landmarks. "Indiana American Water Co. continues to use the site and tower, now one of the earliest structures on the city's skyline."
The water tower is no longer in use for its original purpose.
"The 110-year-old riveted steel storage tank is beyond its useful life and can no longer be used," Indiana-American spokesman Joe Loughmiller said. "Analysis has also determined that the existing tank has insufficient capacity to efficiently backwash our filters at the Borman Park water treatment plant. In January 2019, Indiana-American Water began construction of a new 500,000-gallon elevated water tank to replace the existing 290,000-gallon filter backwash tank."
Loughmiller said significant funds have gone to maintain the steel water tank and its concrete envelope during the last 110 years, but inspection reports found "significant safety and operational deficiencies in the structures that would require extensive amounts of time and funds to correct."
"Because of the proximity of the tank/tower to our other facilities and operations at the Borman Park water treatment facility in Gary, the deterioration of the tower's façade and foundation present a danger to our employees and facilities at this site," Loughmiller said. "Falling debris and crumbling foundations directly threaten the safety of Indiana-American personnel operating the plant, as well as the plant itself, which is critical to the provision of safe and reliable drinking water to the city of Gary and its residents as well as the residents and business of Indiana-American's entire Northwest Indiana operations. This safety concern exists regardless of whether Indiana-American ceases to use the tower for filter backwashing as it has been used to this point."
The utility said it is not economically viable to preserve the tower. It's estimated that it would cost $1 million to rehabilitate the foundation while it would cost $900,000 to tear the water tower down.
"The tower was not designed for backwashing and 'work-arounds' and 'fixes' the company has employed to date cease to be viable solutions for the ongoing operation of the tank," Loughmiller said.
"Providing safe and reliable drinking water does not come without cost and that cost is reflected in the rates Indiana-American Water charges," he continued. "Indiana-American endeavors to keep costs down as much as reasonably possible, knowing that if we did not, it would produce higher rates.
"The serious threat to health and safety, coupled with the expense of keeping up maintenance of a tower that does not serve a purpose for provision of water utility service to Northwest Indiana citizens is not prudent."
Indiana Landmarks Northwest Indiana Executive Director Brad Miller said it was an iconic building and a landmark in the Steel City for more than a century.
"It's one of the remaining pieces of the city skyline that's been disassembled for so many years," he said. "They used to shoot fireworks off there in the early days of the city. It's really a true landmark."
Claire Nowak-Boyd, an urban planner and former executive director of Preservation Detroit, saw the tower on the Gary Preservation Tour over the weekend and said there are options for a life beyond utility use.
"The water tower is a beautiful symbol of Gary. It's one of those places that people show you when you visit Gary, because they are proud of its beauty and what it says about where they're from. It has great potential to live on as a landmark, especially with its location across from a park," she said. "I'm used to hearing about historic buildings that have been out of use for decades being demolished in Gary, but the proposal to tear down this tidy landmark that is currently in use surprised me. People love this structure, and it is in decent shape. Getting rid of it simply because it's no longer serving its original purpose is shortsighted and doesn't take the community's history or cultural identity into account."