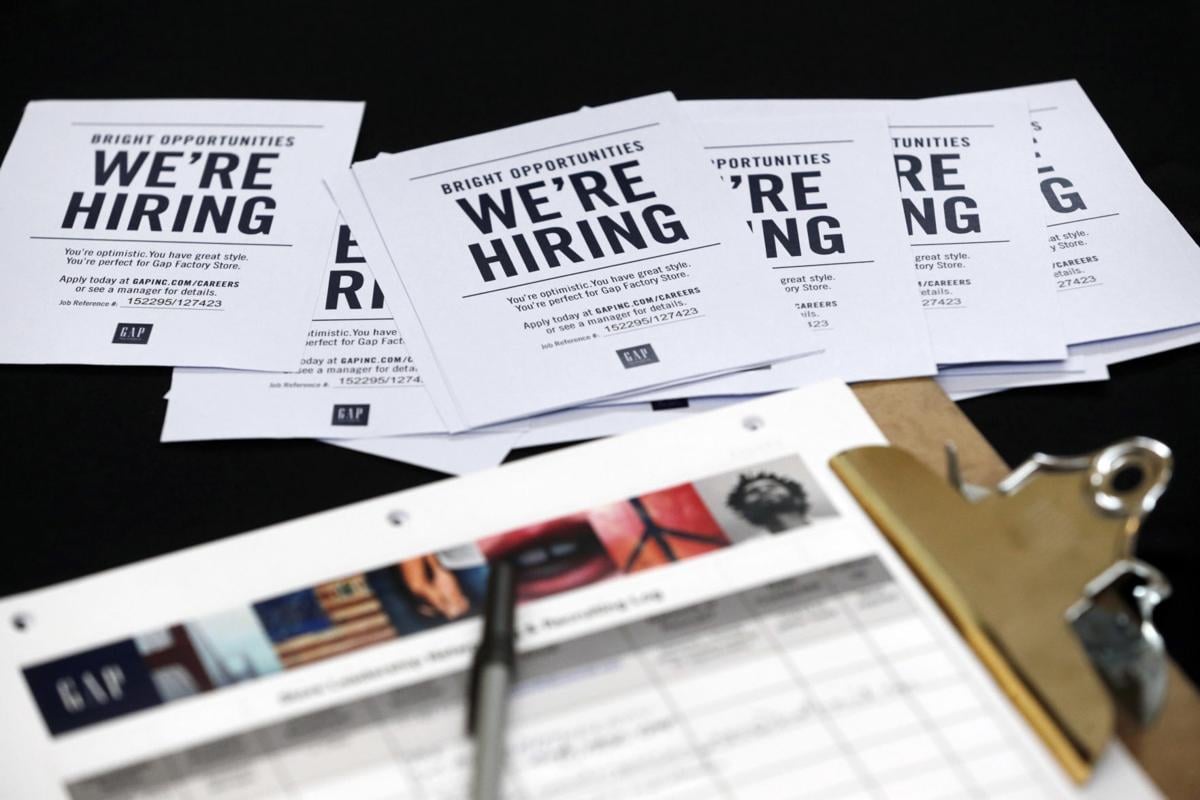 Unemployed people in Indiana will no longer get an extra $300 in weekly payments that the federal government offered as relief since near the start of the coronavirus pandemic.
As many as one in five Hoosier workers were unemployed at the start of the pandemic. But now more than 4.8 million COVID-19 vaccine shots have been given in Indiana, and the state's unemployment rate stands at 3.9%.
Following the lead of more than a dozen other states, Gov. Eric Holcomb announced Indiana will drop out of the federal pandemic employment benefits plan as of June 19. That includes the $300 bonus, the extended unemployment beyond the traditional 26 weeks, the $100 extra a week for those who earn more than $5,000 in self-employment income, and pandemic assistance for the self-employed, independent contractors and gig workers who normally wouldn't qualify.
"There are help wanted signs posted all over Indiana, and while our economy took a hit last year, it is roaring like an Indy 500 race car engine now. I am hearing from multiple sector employers that they want and need to hire more Hoosiers to grow," Holcomb said. "We have a myriad of work options in every region of our state with many more coming online every week."
The long-term unemployed will only get state unemployment insurance of 47% of their normal wage up to $390 a week for up to 26 weeks after the state ends its participation in the federal program. As of June 1, those seeking employment must show they are actively seeking full-time work, such as by applying for jobs, completing an online workshop or attending a job fair.
An estimated 220,000 Hoosiers will lose unemployment or get their unemployment benefits reduced, including about 170,000 getting the extra $300 federal payments on top of the state's average jobless benefit of $280.
"Eliminating these pandemic programs will not be a silver bullet for employers to find employees, but we currently have about 116,000 available jobs in the state that need filled now," Holcomb said. "I've spoken to leaders in the recreational vehicle industry who tell me they could hire thousands of people today, and in the last couple weeks, we've seen companies like Amazon, Apple, Toyota, and Milwaukee Tool announce thousands of new career opportunities for Hoosiers."
Unemployment is still in double digits in Gary and East Chicago, and a relatively high 6.9% across the Gary metro.
But Holcomb said more Hoosiers have reentered the workforce with a workforce participation rate of 63.1% in March, nearly what it was before the pandemic.
The enhanced unemployment benefits were designed to be temporary relief for displaced workers during the COVID-19 pandemic, Indiana University Northwest Associate Professor of Economics Micah Pollak said.
"As the economy and labor market begin to recover it's was simply a matter of time before it was phased out," Pollak said. "I would have liked to see it remain in effect for a little while longer, maybe until the end of June or July. As a federal program, I believe it didn't cost the state anything and was providing economic relief to families. Ending it now has no real advantage as there is no evidence that expanded and extended unemployment benefits discourages workers. In fact, the evidence we have is that it encourages them to remain in the labor market longer."
Now hiring signs are widespread across Northwest Indiana, particularly at fast food restaurants. Some employers have reported difficulty in finding workers.
Lake County Parks for instance has been so short of workers it has had to pull people away from regular job duties, such as by tasking them to do food and cleaning at the Bellaboo's Play and Discovery Center in Lake Station.
Communications Director Emily Trisler said the staffing shortage has been a major subject of discussion among local park directors, who have been scrambling to find enough workers and figure out how to get by if they can't.
"Grass doesn't stop growing just because there's no one to mow it," she said. "I think there are probably 100 reasons why people aren't applying this year in particular. We've tried to address them as best we can: creating the safest working spaces, raising starting wages, being super flexible in our scheduling, hiring all experience levels, offering incentives, all of the things that we can do while still staying afloat."
The National Federation of Independent Business said Indiana has a record number of open jobs employers cannot fill. An estimated 44% of small businesses surveyed in Indiana said they were unable to find enough qualified workers to fill vacancies in April, which is 22 points higher than the 48-year historical average and the third consecutive month of record unfilled job openings.
"Small business owners are pleased that the governor has heard what they have been saying for months," said Barbara Quandt, NFIB senior state director. "We just completed a survey of Hoosier small business owners and nearly 40% said that enhanced unemployment benefits are discouraging people in Indiana from returning to work. Small business owners can't find people to hire because they are making more money sitting on the sidelines, thanks to the federal unemployment benefits. Our small business owners want to reopen and they want to grow the economy. However, they can't do that if they can't hire Hoosiers and create jobs. Today's actions by the governor will help our economy get back on track as we recover from the pandemic."
Many people across Northwest Indiana have suffered from prolonged periods of unemployment or reductions in their income during the pandemic, such as from cuts in hours at work.
The Food Bank of Northwest Indiana had a 60% increase in demand for food assistance last year.
"During the first months of the pandemic, approximately 4 in 10 people were seeking charitable food assistance for the first time, including past Food Bank donors and volunteers. In previous years, the Food Bank served on average 25,000 individuals through their programs and partner agencies, however last year that number soared to more than 600,000 people," Lake County United Way Community Engagement Director Megan Sikes said. "The Salvation Army also reported to us that they saw an increase of 66% since the start of the pandemic in terms of households needing assistance with rent, mortgage, and utility payments. They saw a 500% increase in the number of households seeking food assistance."
Gary resident Tracey Allen has been relying on unemployment benefits ever since her sister's daycare closed, forcing her to stay home to take care of her 8-year-old daughter.
"This is affecting average people," she said. "The childcare places don't have any spots and the state's not giving us childcare."
She called a job placement agency to see what they have available. 
"I was told they had temp jobs that paid $10 an hour," she said. "My car bill is $500 a month. I have to pay for NIPSCO, water, internet and my phone. Food stamps only go so far. It's a struggle. My car needs work and I can't get it fixed. They're going to come repo my car if I can't make the payments. You need a car to work and live in Gary. There's no other way to get around. Not everyone can afford the bus every day. And the bus doesn't run at night." 
Allen said was disappointed in the news. She said the temp agency also only had 12-hour shifts when she had to take care of her daughter at home.
"They always forget about us in Indianapolis," she said. "They don't care how hard it will be for us."