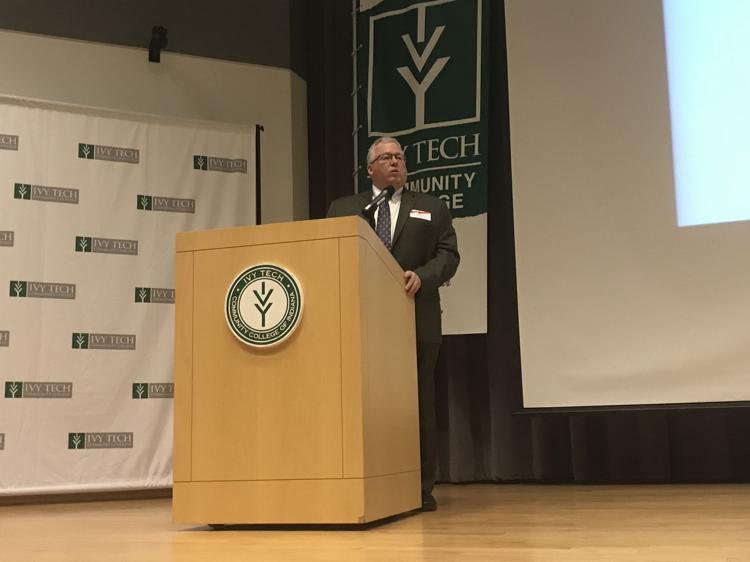 ArcelorMittal has made deep cuts at ArcelorMittal Indiana Harbor in East Chicago, reducing 35 percent of the capacity and basically taking the equivalent of a smaller steel mill offline.
The sprawling mill on Lake Michigan, cobbled together from the former LTV and Inland mills, can now only produce 6.5 million tons of steel per year as the result of recent Action 2020 cutbacks, down from 10 million tons a year a decade ago.
"We have basically shut down permanently two blast furnaces, a steel shop, a hot strip mill, a pickle tandem complex and then a reduction of one coating line," ArcelorMittal Vice President and Indiana Harbor General Manager Wendell Carter said at the Northwest Indiana Business Roundtable's and Construction Advancement Foundation's 2017 Business & Economic Outlook at Ivy Tech in Valparaiso on Friday. "That is the equivalent of our Cleveland operations. Our Cleveland operations still continue." 
But the cuts have made the mill in East Chicago more competitive, by letting it run blast furnaces and other production facilities more efficiently and cost-effectively. Now in a stronger position, ArcelorMittal Indiana Harbor is hiring 75 more steelworkers this year. Carter anticipates ArcelorMittal will hire 300 more steelworkers across Northwest Indiana next year.
"Don't be concerned about companies like ArcelorMittal or U.S. Steel with their Carnegie Way attempting to be competitive, to improve ourselves so that we can be sustainable for the long run," he said. "Nobody lost a job through any effort that we took at ArcelorMittal. We lived off the fat of the land for years and reduced the facilities to supply the current demand, and reduced our workers through the attrition that is ongoing."
ArcelorMittal now needs to add staff but can't afford to train the workers itself, so Carter wants prospective job candidates to enroll in the Steelworker for the Future program that's available at Ivy Tech and other schools.
"The issue is we got to find the right 300 people," Carter said. "We are choosy. We can't just hire people off the street with just high school diplomas any more."
Steelworker jobs at ArcelorMittal mills pay around $90,000 initially with overtime. Eventually, workers can earn $140,000 to $160,000.
"Steel's not dead in Northwest Indiana," NIPSCO Director of Economic Development Don Babcock said. "There are still opportunities."