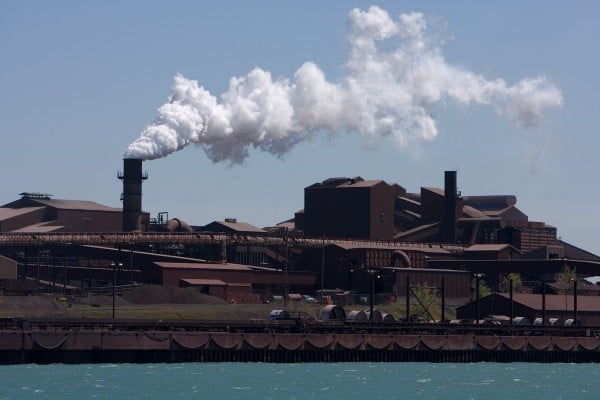 Indiana continued its three-decade-long run as the nation's top steel-producing state last year.
The Hoosier state has topped the nation in steel production every year since 1980, American Iron and Steel Institute spokeswoman Rachel Gilbert said. Much of the domestic industry consolidated in Northwest Indiana after a severe recession in the global steel industry in the 1970s, because its ports made it the most cost-effective location to receive iron ore and other raw materials that are required during the input-intensive steelmaking process. 
The domestic industry's geographic footprint has contracted to the point where the American Iron and Steel Institute no longer breaks down production data at the state level. 
But the Great Lakes region, mostly Indiana and the Chicago area, led the nation after cranking out out 34.05 million tons of steel in 2013, according to an American Iron and Steel Institute estimate. The more geographically diffuse southern region finished second nationally with 33.1 million tons.
Nationally, U.S. steel mills churned out 94.7 million tons of steel last year, the lowest amount since 2010. Production remains well under the level it had reached for most of the 2000s.
Full-year shipments, or the amount of steel that U.S. steelmakers actually sold last year, were estimated at about 95.4 million net tons, a 0.5 percent decrease from 2012.
Annual production declined in the United States last year, but output increased internationally by 3.5 percent, according to the World Steel Association. Crude steel production rose to 1.6 billion tons, largely because of growth in Asia and the Middle East.
Crude steel output rose by 6.8 percent in the Middle East and by 8 percent in Asia, but dropped in every other region of the world, as compared to 2012, according to World Steel Association estimates.
The United States ranked third internationally in steel production, trailing China's 770 million tons and Japan's 110.6 million tons. China's share of the world's overall steel production rose to 48.5 percent, as compared to 46.7 percent in 2012.
America's international market share fell to 5.4 percent last year, as compared to 5.7 percent in 2012.