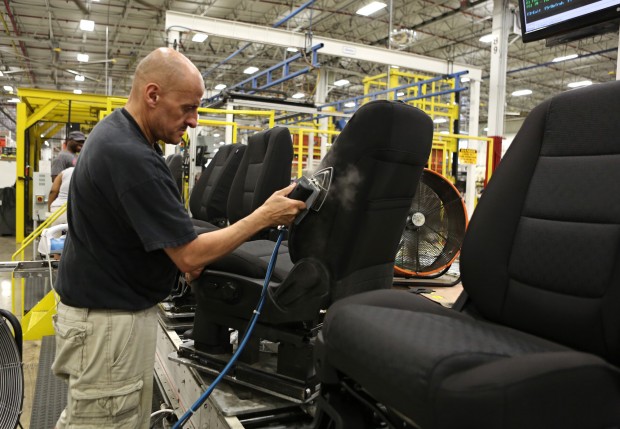 Indiana's automotive industry has raced ahead to second place nationally and is not letting off the gas.
Automakers recently have made a string of major investments in the state, such as consolidating all global production of the Toyota Highlander in Princeton and making Civic hybrids in Honda's 5-year-old plant in Greensburg instead of Japan.
General Motors pumped hundreds of millions of dollars into its Fort Wayne Assembly Plant so it can make pickup trucks that chug less gas, and Chrysler is pouring $1.6 billion into its Kokomo factories so they can crank out more fuel-efficient transmissions. Subaru plans to hire 900 more workers to start making the Impreza at its Lafayette facility.
Indiana has become the second-biggest state in terms of automotive gross domestic product, or the total value of all motor vehicles, bodies, trailers and parts produced, according to the U.S. Bureau of Economic Analysis.
The state perennially placed third in that category. Since at least 1997, Indiana had trailed neighbor Ohio, which is twice as populous and shares a border with southeastern Michigan, the cradle of automaking.
When domestic automakers begged for federal bailouts and leniency from bankruptcy judges a few years ago, Indiana pulled ahead of Ohio in the total value of automotive products made each year and also took third place away from Kentucky in terms of jobs at automotive assembly plants, according to the U.S. Bureau of Labor Statistics.
The Hoosier state has since held on to second place, producing $9.9 billion in automotive goods compared with Ohio's $6.9 billion in 2011, the most recent year for which data was available. Indiana trails only Michigan, which churned out $18.8 billion in cars and car parts.
"There certainly has been significant new investment," said Matt Conrad, director of the Indiana Automotive Council.
Indiana's automotive industry has swollen in size over the last decade. The state made 591,000 cars and light trucks in 2000, and produced more than 880,000 vehicles in 2011, according to the Automotive Communities Partnership.
Automotive News estimates that 1 out of every 10 new cars on the road today was made in Indiana. Cars, not crops, are the state's No. 1 export by value, according to the Indiana Business Research Center.
"We are a substantial player in the world market in terms of production and parts," said Jerry Conover, director of the Indiana Business Research Center at Indiana University's Kelley School of Business.
The sector has been adding more jobs every year for the last four years, and the state has announced so far this year that more than 3,000 additional automotive jobs are on the way.
But the question remains of whether the momentum will be enough to carry Indiana's automotive industry back to its employment levels from a decade ago, when carmakers and auto parts suppliers employed more than 92,000 people across the state.
Job opportunities are more plentiful today at automotive assembly plants, which have 2,200 more employees statewide than they did in 2003. But despite recent job gains, Indiana auto parts suppliers still employ 30 percent fewer workers than they did a decade ago.
Massive job losses ravaged the sector during the economic downturn, and auto parts suppliers hemorrhaged more than 22,000 jobs in Indiana between 2007 and 2009.
After the worst of the carnage, people started to buy cars again. Ford, which operates the Chicago Assembly Plant in Hegewisch and the Chicago Stamping Plant in Chicago Heights, just reported its best July sales since 2006.
Auto parts suppliers — such as Lear Corp. and Contract Services Group in Hammond — have hired back workers and added shifts. Factory parking lots that were vacant seas of asphalt just a few years ago have filled up, and assembly lines have started rolling around the clock again.
However, job gains have been gradual at parts suppliers, since that sector has become increasingly competitive, Conover said. Parts makers have had to streamline costs and have learned how to increase their output with fewer workers, so jobs will come back slowly.
Indiana has been landing new jobs at assembly plants, while neighboring states have not, Conover said. Michigan employs half as many automotive assembly workers as it did a decade ago, and Ohio has only 58.5 percent as many jobs at assembly plants as it did in 2002.
Over the same period, automotive assembly jobs have increased by 21.4 percent in Indiana. Automakers have chosen to invest or expand operations in the state because of a friendly business climate, generous tax incentives and a skilled workforce that knows how to build vehicles, Conover said.
Three of Indiana's automotive plants have announced about $804 million in new investment and 2,350 more jobs so far this year, according to the Indiana Economic Development Corp., which serves as the state's department of commerce. More than half a dozen suppliers that feed the automakers nuts, bolts and other car parts also said they plan to spend more than $115 million during the next few years to bulk up their Indiana operations and add more than 600 jobs over the next few years.
So does Indiana even have a chance to supplant Michigan as the top automotive state?
"A lot of the dollar value of the output in Michigan is because they have the headquarters, the design and engineering, and the research and development," Conover said. "The largest part of gross domestic product is the compensation of workers. While autoworkers are better paid than most production jobs, it would be hard to ever make up for the higher-paying professional jobs in the Detroit area."