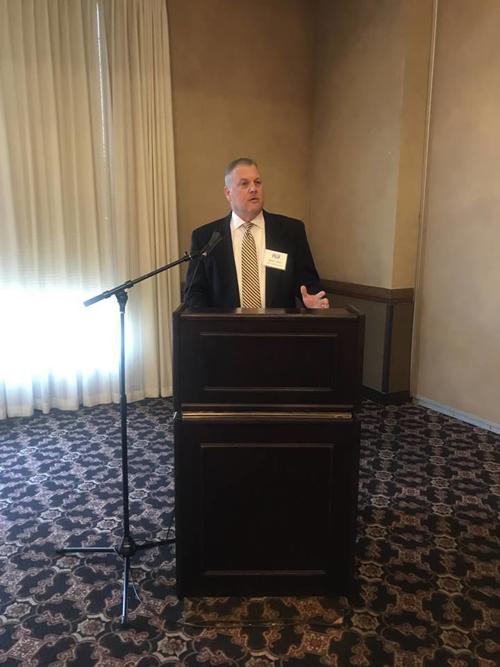 Many people might think of Indiana as a landlocked Midwestern state, but it's actually a hub of international shipping.
"You might be surprised to know Indiana is the 17th state in maritime shipping by tonnage," new Ports of Indiana CEO Vanta Coda II said in his first public appearance Thursday in Northwest Indiana. "Indiana is a maritime state."
Coda addressed the ports' contribution to the state's economy at a Northwest Indiana World Trade Alliance meeting at Avalon Manor in Hobart.
"Indiana opened its first port in Burns Harbor 49 years ago," he said. "Indiana is fairly new to ports, when some states have ports that date back to the 1700s."
Ports of Indiana manages 2,800 acres at the deepwater Lake Michigan port in Burns Harbor and Portage and at its two ports on the Ohio River. The self-funded port authority has an estimated economic impact of $7.8 billion on the state's economy, supporting more than 60,000 jobs and contributing $328 million in state and local taxes.
The Hoosier state's port system handles two million tons of steel, 600 barges, 83,000 railcars, and 578,000 trucks every year, Coda said. Dockworkers at the Port of Indiana-Burns Harbor load and unload 75 international vessels, 375 barges, 9,000 railcars and 350,000 trucks per year.
"The Port of Indiana-Burns Harbor is home to 22 steel companies that add value to the commodity that's passing through," Coda said. "It might not have the highest sheer tonnage but it's the most intensive in the value chain and probably accounts for 60% of our economic impact."
The port in Porter County's lakeshore also has 75 acres of land available for future expansion.
The state's ports ship many products like steel, grain, salt, fertilizer, cement, limestone, slag, and ethanol to markets across North America and the world.
"Indiana makes things, grows things and moves things to the rest of America," Coda said.
The Ports of Indiana has secured federal funds for investments, including about $20 million at Burns Harbor over the next few years.
"We have infrastructure that's nearing the end of its useful life," he said. "There aren't earmarks anymore. Now it's a competitive grant system where you have to bring a compelling story and dollars to the table. Indiana is a donor state that only gets 72 cents to 75 cents of every federal tax dollar returned to us, so we're not shy about chasing these grants."
Indiana's ports system will offer Hoosiers many job opportunities for years to come since shortages of rail workers and truckers are expected, Coda said.
"The maritime industry is desperate for people," he said. "Transportation moves 24/7 and we recognize there needs to be a quality of life balance. It's a grand career choice for people who don't like to sit behind a desk like a hothouse plant and want to be outside in the outdoors... I have the benefit of never growing up. I get to play with trains, ships and barges."
Port of Indiana-Burns Harbor Director Ian Hirt said his port was investing $20 million in five major projects, including a truck marshaling yard. The port also is working on environmental initiatives, including grading itself in sustainability in the voluntary Green Marine program, working with South Shore Clean Cities to introduce more alternative energy sources and planting about 50 to 100 trees next week.
The business news you need
With a weekly newsletter looking back at local history.