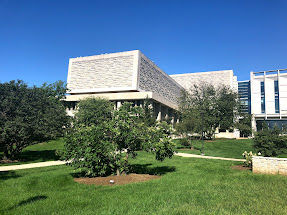 If you're considering a master of business administration degree to advance your career, two programs in Indiana rank among the best in the country.
College Consensus aggregates school rankings from Bloomberg, Forbes, U.S. News & World Report and other publications, saying it's more comprehensive to look at multiple sources. It just released its top MBA programs for 2022, ranking two business schools in Indiana in the top 20.
The Indiana University Kelley School of Business ranked No. 6 in the country. The Mendoza College of Business at the University of Notre Dame placed No. 20.
IU ranked highly for helping students change careers, having an academic emphasis and using a "proven two-year curriculum that lets learners tailor their education to their futures, with leadership, teamwork and global opportunities built into the program."
"Once they understand business basics, they specialize, designing their academic schedule of electives beginning in the second semester of their first year — a considerable advantage in their internships and career focus. A Kelley MBA is their MBA from day one — their major, their academy, and a minor or dual degree if they choose, all leading to the career they want," College Consensus said in its ranking. "And featuring faculty, career coaches and mentors to help get them there. All MBA students start with the integrated core their first semester. This intense 15-week program is led by a team of Kelley's best faculty members, providing a solid, coordinated base in business fundamentals and how they operate together. Courses within this degree include Business Communication, Marketing, Critical Thinking, Economic Foundations, and Operations Strategy. This MBA packs a powerful punch."
Notre Dame was praised for having a "stellar" MBA program, offering an accelerated one-year degree for those who already have a career in business.
"It's designed as an intense and engaging year at Notre Dame that builds upon students' education while preparing them to grow the good in business. During their time in the one-year MBA, students can focus their studies in one of nine unique specializations, over half of which are STEM-designated," College Consensus said in its ranking. "Most students enrolled in the one-year MBA possess a business background and are interested in accelerating a career already in progress. They bring unique perspectives and approximately five years of experience that enrich their classroom experience. These are men and women from diverse cultural and ethnic backgrounds. Pushing pause on young careers could be the most strategic move they make to set ethical foundations for business decision-making while enhancing their long-term prospects. This MBA at Notre Dame is time-tested elite business education."
The University of Michigan Stephen M. Ross School of Business ranked No. 1 nationally.