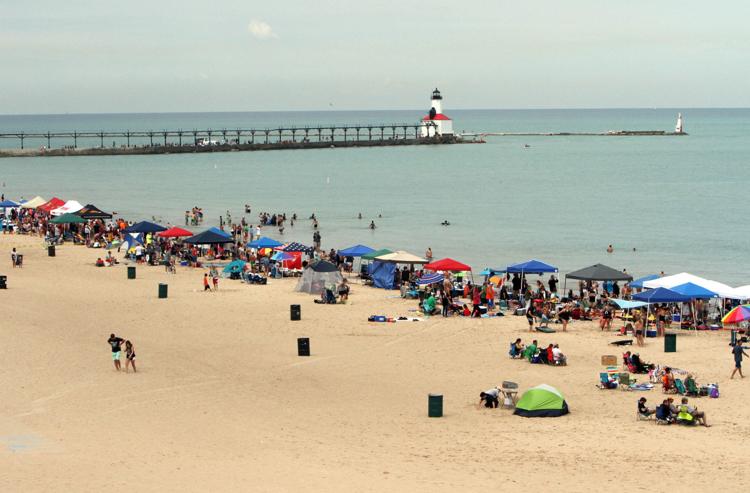 A Lake Michigan cruise boat could set sail out of Michigan City this summer, giving people the chance to sip wine while watching the sun set aboard a boat on the Great Lake.
The Michigan City Port Authority board voted to allow a tour boat — similar to those docked at Navy Pier — to operate out of the Washington Park Marina on the Lake Michigan shore. A 70-foot, 150-seat ship would take fun-seekers out on sightseeing tours along the Lake Michigan coastline, on dinner cruises and to destinations like New Buffalo, Michigan, according to Michigan City Port Authority Harbormaster Tim Frame.
The unidentified operator has the city's approval to move forward with the plan and went to Boston to look at a used cruise boat after the U.S. Coast Guard shot down his plan to buy one in Detroit, because it turned out to have been made in Canada, Frame said. The operator has not yet signed a contract but is hoping to be up and running by this summer.
If all goes as planned, the cruise ship should embark on its maiden voyage by Memorial Day and run through Oct. 31 when weather permits, Frame said. In addition to daily excursions, the boat also could be rented out for weddings and corporate functions.
"We're looking at this to bring in tourism, to give people something else to do on the lakefront," Frame said. "There will be wine and beer and dinner. He'll start with dinner cruises and sightseeing and expand from there."
Cruise boats commonly visited or moored in Michigan City as recently as the 1920s or 1930s, but none have operated out of the lakeside city in modern history, Frame said. It would also be a one-of-its-kind attraction in Northwest Indiana.
"It's a nice feature," Frame said. "It's been quite awhile since we've had anything like this."
Chicago's Navy Pier has the Spirit of Chicago, Odyssey Navy Pier Cruises, Mystic Blue and other vessels. The Lake Michigan coastline in Michigan is littered with recreational cruise boats like the Star of Saugatuck, the Holland Princess and Cat's Meow Cruises in South Haven. But most of the boats along Northwest Indiana's shoreline are private vessels or large industrial ships, like lake freighters hauling iron ore to the steel mills.
A cruise ship would help with Michigan City's ongoing efforts to make its lakefront an attraction, Mayor Ron Meer said. The city built the new North Pointe Pavillion at Washington Park and brought in the Fire & Water restaurant with a rooftop bar and sweeping views of the lake. It's also planning $5 million in additional improvements that will increase the parking and make it easier to navigate.
The cruise ship would be docked near the entrance of Washington Park, Meer said. It is expected to operate seven days a week during the spring, summer and fall. The boat would create an unknown number of jobs, including for a captain, crew and ticket takers.
"It's pretty exciting," Meer said. "It'll go to New Buffalo and Mount Baldy. It will offer sunset cruises and other special cruises. I think it will be a big draw to the lakefront, and we're going to market the heck out of it."