Lake Michigan is Northwest Indiana's front porch and main attraction.
It's a place where people go to bask in the sun, bat around volleyballs, savor romantic sunsets and even propose marriage.
However, it has not traditionally been a place to dine — until recently.
While the Michigan shoreline is lined with lakefront restaurants and you pay a premium for a Lake Michigan view in Chicago, Northwest Indiana has historically lacked places to eat anything more than a hot dog on the shores of that vast, roiling Great Lake.
For years, people like NIPSCO economic developer Don Babcock have been saying the Region needs lakefront restaurants and now it's finally happening.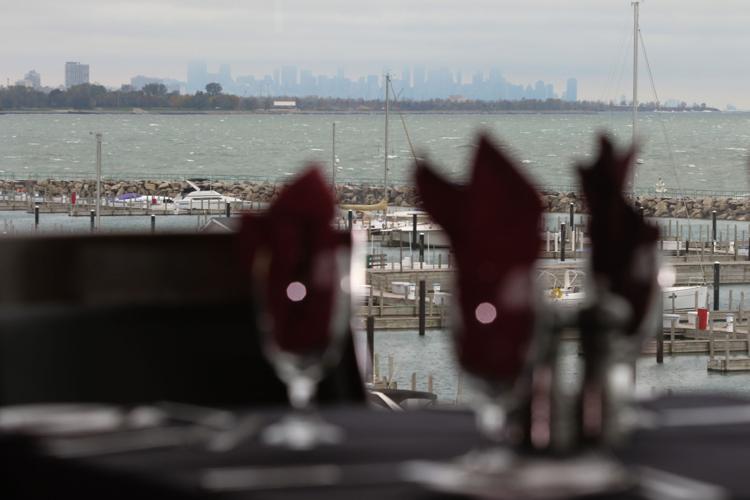 A new crop of lakefront eateries is popping up right on the beach, with magnificent views of Lake Michigan and the Chicago skyline. Carmella's Cafe opened in Gary's Miller Beach neighborhood in Marquette Park three years ago, elevating a former concession stand into a cafe with spinach pies, salmon burgers and Friday night sunset jazz concerts. Fire & Water just opened in the new two-story pavilion on Michigan City's lakefront, where you can sip cocktails on a rooftop deck. And elegant sit-down restaurants are planned in Whiting's Lakefront Park and the Indiana Dunes State Park.
A forerunner of all of those was Jack Binion's Steakhouse at Horseshoe Casino, in Hammond. It has offered filet mignon, creamed spinach and a Wine Spectator award-winning selection of vinos overlooking Lake Michigan for more than a decade. Matey's Bar and Restaurant in Michigan City also has seasonally open upper decks that offer bargoers views of the lakefront area.
Northwest Indiana has historically lacked the lakefront dining options of say Milwaukee or the Michigan coastline because most of the shore belongs to heavy industry, private homeowners or parks departments. Parks have had concession stands with limited menus, but now they're getting real sit-down restaurants. Officials say it reflects a broader shift from treating the lakefront as a place to make oil and steel or lay out on the beach to a more multifaceted recreational amenity with trails and banquet halls and rooftop bars.
"There's been a change in attitude in Northwest Indiana," Michigan City Mayor Ron Meer said.
Public land vs. private use
It is public officials' willingness to accommodate dining operations on park lands that is leading to the current wave of lakefront restaurant openings. The move is not coming without controversy.
Duneland residents turned out in force at public hearings to protest the liquor license application for a pavilion redevelopment project in the Indiana Dunes State Park. Developer Chuck Williams, operating as Pavilion Partners, wants to build a new restaurant and rooftop bar in the 86-year-old bathhouse at the state park and add on a banquet facility.
Pavilion Partners in 2015 was twice denied an alcohol sales permit by the Porter County Alcoholic Beverage Commission. That sparked the passage of state legislation last year that allows the state's Department of Natural Resources to obtain "state park" alcohol permits without having to follow most of the procedures typically required to get state permission to sell beer, wine or liquor.
In a second complication, the DNR and the National Park Service have been engaged in back and forth on whether new park land will have to be found to replace the recreational space taken up by the redeveloped pavilion, which NPS contends is essentially being converted to a private use.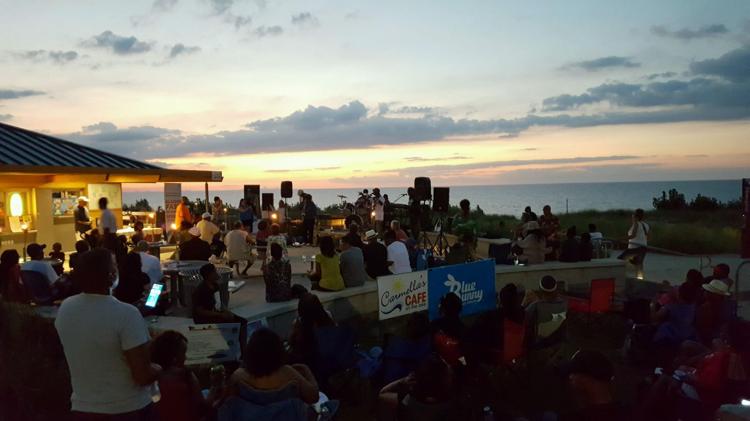 Michigan City has long had a number of restaurants near the lake that "offer a lakeside experience" like Bridge's Waterside Grill on the canal, Galveston Steakhouse and The Duneland Beach Inn. But diners don't have a direct view of Lake Michigan.
There had been talk for years of having a restaurant on the beach, so the city made sure to include one when it built a new $3.4 million pavilion at Washington Park with a rooftop observation deck.
"We wanted to make food and drink available for sunset dining and things of that nature," Meer said. "Our state-of-the-art pavilion has beautiful views, and it's been a real asset since we constructed it in the middle of the lakefront."
It's part of a broader effort to lure more tourists to town, Meer said.
"The lakefront is a big draw," he said. "Lake Michigan is part of our gateway implementation strategy where we're putting millions into our downtown."
Michigan City soon will tear down the police station and former News-Dispatch building on West Second Street because they occupy prime real estate right by the lakefront. The city hopes they're redeveloped, possibly into retail, a hotel and upscale residential housing.
"Again, there's been a change in attitude across Northwest Indiana," Meer said. "We've finally realized the lakefront is the treasure of Northwest Indiana."
Diners at Fire & Water, which is open in the pavilion from Memorial Day to Labor Day, have an unsurpassed view of Lake Michigan, Meer said.
"You have the whole lake view in every direction," he said. "You have the lighthouse activity, the boats going out, the volleyball tournaments on the beach. There's soccer in summer. People are out flying kites, depending on the wind conditions."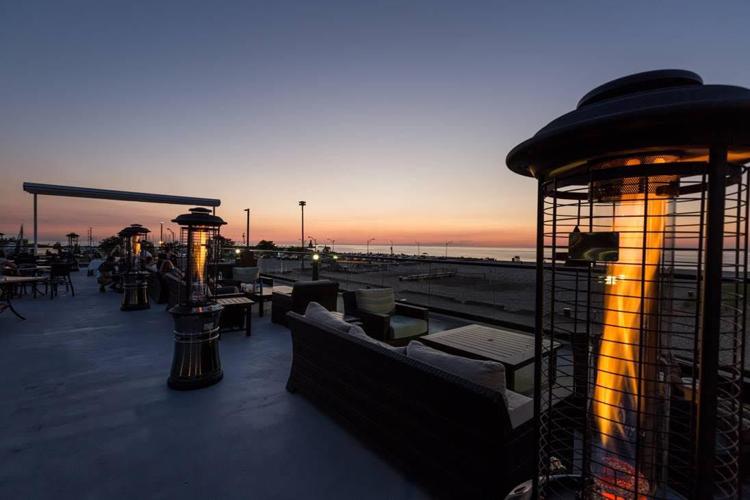 The Fire & Water name comes from the water of Lake Michigan and the fire from the kitchen, owner Moe Mroueh said. The restaurant offers "beach-style foods" like fish tacos, jerk chicken, burgers, and coconut shrimp, as well as craft beer and cocktails.
Upstairs, on the second floor observation deck, it has wait service and more of a fine dining feel, Mroueh said.
"It's probably one of the closest to the water," he said. "It's kind of cool. You're on vacation, on the beach. It's definitely a great setting for relaxing, to take the family, too. The water is amazing. It's an ocean — it's our ocean."
People especially like to have drinks on the rooftop during sunsets.
"You can see Chicago," he said. "Our sunsets are amazing."
Carmela's Cafe in Miller Beach brings in visitors from throughout the Region for its 6 p.m. Friday jazz shows during the summer months. People can watch the sun set while listening to smooth jazz played by Gary natives, including Michael Jackson's cousin, Keith Jackson, while savoring food like salmon burgers.
"We hosted live music every Friday from May until October," owner Carmella Saraceno said. "We bring together cross cultures on a Friday night, and that's something that's needed. We've had hula hoops for the kids, and fire twirlers for the adults. We've got to teach the next generation how to be inclusive. I think of this as a site-specific installation. Food is just a tool. Music is just a tool."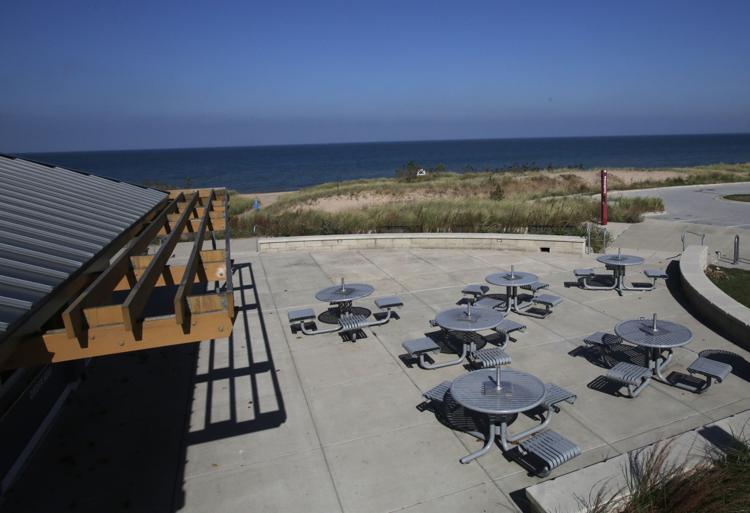 The cafe in Marquette Park draws visitors from all over the world, who are bound for the Indiana State Dunes National Lakeshore and end up in neighboring Gary. But Saraceno, a Chicago artist, thinks the area could benefit from more marketing, such as signs on the Indiana Toll Road saying "experience Miller Beach" or "Marquette Park: Your Vacation Starts Here."
"You don't need a $600,000 house on the lake to enjoy the lake," she said. "When you're on the patio, you feel like you're in the backyard of a lake house. It's really a special place."
After what she described as a tough summer, Saraceno hopes to draw more visitors next year by getting permission from the city to sell liquor.
Storm held silver lining for Whiting
Whiting also included a banquet facility in its longtime plan for a restaurant at its recently renovated Lakefront Park.
The city was looking at a small cafe inside a former gun club, but then a catastrophic storm on Halloween 2014 uprooted 14 trees, buckled the concrete boardwalk and washed thousand-pound rocks into the lake. During the cleanup and restoration, engineers discovered the gun club building sat too low, making it vulnerable to waves during the next storm.
So the city tore it down.
"That's when the restaurant evolved into something larger," Whiting Mayor Joe Stahura said. "We saw the opportunity for a higher-end lakefront banquet facility and a bigger restaurant than was in the initial plan to maximize that opportunity."
Whiting is looking at partnering with Jonathan Byrd's Hospitality and Restaurant Group, a family-owned catering company that's well-known in the Indianapolis area and operated Jonathan Byrd's Cafeteria in Greenwood for decades. The city will seek public input on developing plans at a 6 p.m. Wednesday public forum at the Whiting Family YMCA, 1938 Clark St.
A banquet facility could potentially be on the first floor of a two-story building, providing a venue for mid-sized wedding receptions, business gatherings and National Mascot Hall of Fame functions. A restaurant that would be nice but affordable would seat up to 225 or 250 on the second floor.
"We were going to do a small bistro that would be open with limited hours," Stahura said. "But with the gun club tore down, there's no limitation to what we could do."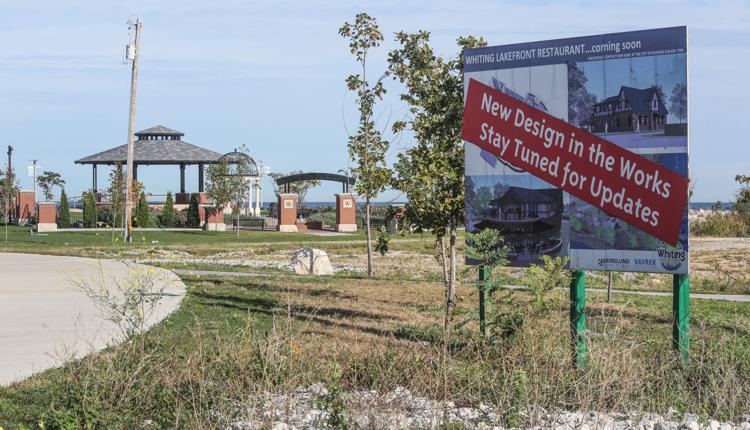 The park underwent a complete transformation in a redevelopment project a few years ago, thanks to a cash infusion from the Northwest Indiana Regional Development Authority.
The restaurant would serve at least some seafood, have a nautical or Cape Cod theme befitting its surroundings, and be open year-round. Stahura thinks people would want to dine there even in winter because the frozen lake is something to behold, especially with the view of the Chicago skyline.
Whiting hopes it would be a destination that would draw people from across the area, similar to how the popular Lighthouse Restaurant draws visitors to Cedar Lake. Stahura has looked to see if the Whiting eatery could be named Lighthouse II or if it could resurrect the well-known Phil Smidt's brand, but neither of those options has panned out so far.
The restaurant and banquet facility could be open in Whiting's Lakefront Park as soon as 2018. Stahura said the project reflects the broader shift to looking at the Lake Michigan shoreline as an asset for Northwest Indiana and a place people can enjoy more frequently.
"It's a change in attitude," he said. "The RDA decided to invest in additional improvements and now it makes sense. If it wasn't for the redevelopment, there wouldn't be a ton of traffic. But now it's a destination."