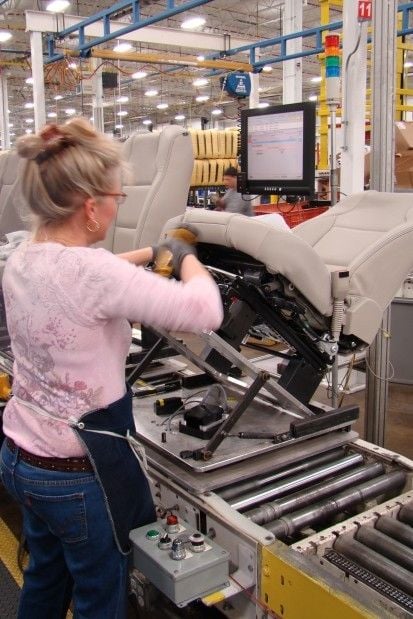 THIS STORY WAS PUBLISHED IN 2015, WHEN THE JOB FAIR TOOK PLACE.
HAMMOND | Auto parts supplier Lear Corp. is looking to fill 200 openings at a job fair Thursday.
The Southfield, Mich.-based auto parts supplier will have a job fair from 11 a.m. to 3 p.m. Thursday at the Hammond Civic Center, 5825 Sohl Ave., in partnership with Mayor Thomas McDermott Jr. and the Mayor's Office of Economic Development. The company is looking to fill multiple positions at its seat factories in Hammond and Portage.
Job seekers should bring resumes and be prepared to fill out applications. They must be at least 18 years old and have a high school diploma or GED, as well as one to two years of manufacturing experience.
"The job fair in Hammond is to support the new Portage location," Lear spokeswoman Monica Terry said. "We are looking to fill approximately 200 new jobs. The positions are manufacturing jobs, specifically sub-assemblers. This is a part component for complete assembly of a seat which will be sourced to the Hammond Plant. "
Lear provides seats for the Ford's Chicago Assembly Plant, which makes the Taurus, the Lincoln MKS, Police Interceptors, and the best-selling Ford Explorer sport-utility vehicle. The automotive parts supplier outgrew its 100,000-square-foot Hammond location on 165th Street, which was originally designed to only make seats for sedans.
So Lear is moving seat subassembly work to a 93,000-square-foot facility in the AmeriPlex at the Port business park in Portage. The company invested $5.1 million in the expansion.
Workers at the new plant in Portage are supposed to make an average of $12.28 an hour, or about $25,000 a year, according to paperwork filed with the city. The employees will get a full range of benefits, such as health insurance, after 90 days of probation.
Starting pay is $11 an hour, which is the rate the company negotiated with the United Auto Workers Local 2335 last year.
The business news you need
With a weekly newsletter looking back at local history.