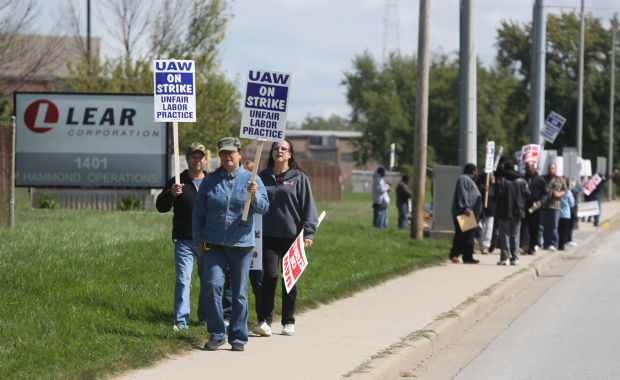 Lear workers in Hammond and Portage have agreed to a new contract after twice rejecting company offers union negotiators brought to them for approval.
Auto workers who make seats for Ford's Chicago Assembly Plant in nearby Hegewisch voted 359 in favor of the new contract to 333 against, with 14 voided ballots, United Auto Workers Local 2335 President Jamie Luna said.
Luna declined to provide further details.
After workers voted to authorize a strike and rejected two previous Lear proposals by 74 percent and then 67 percent, the contract passed by a razor-thin margin of 50.8 percent. Union contracts in the Region are often ratified with the support of 80 percent or more of union workers, if not near unanimity.
After the first two failed votes, with only about half the workers casting ballots, the successful election took place at Lear plants during the workday instead of at specially called meetings, including one at U.S. Steel Yard.
UAW Local 2335 said workers will get raises but did not offer further details. Lear has not replied to requests for information.
Lear's Northwest Indiana operations supply Ford's 2.8 million-square-foot automotive plant on the banks of the Calumet River on the South Side, which is mainly known for producing the Ford Explorer.
UAW Local 2335 workers briefly went on strike during the last round of negotiations in 2014, and ended up securing a four-year contract with up to $21.58 an hour for workers, who had been making as little as $13 an hour.
But there were concerns about a two-tier system in which auto workers at Lear's seat subassembly plant at AmeriPlex at the Port business park in Portage were paid less to do the same work, which fueled discontent during the recent contract talks.
Portage workers have been upset about not receiving as much pay, bonuses or overtime as their peers in Hammond.
Both plants will soon be consolidated at a new $30 million plant in Hammond that's now under construction. It will employ an estimated 875 workers just south of the South Shore Line station in East Chicago. Construction is far along, and Lear signs have recently gone up on the building.
The business news you need
With a weekly newsletter looking back at local history.