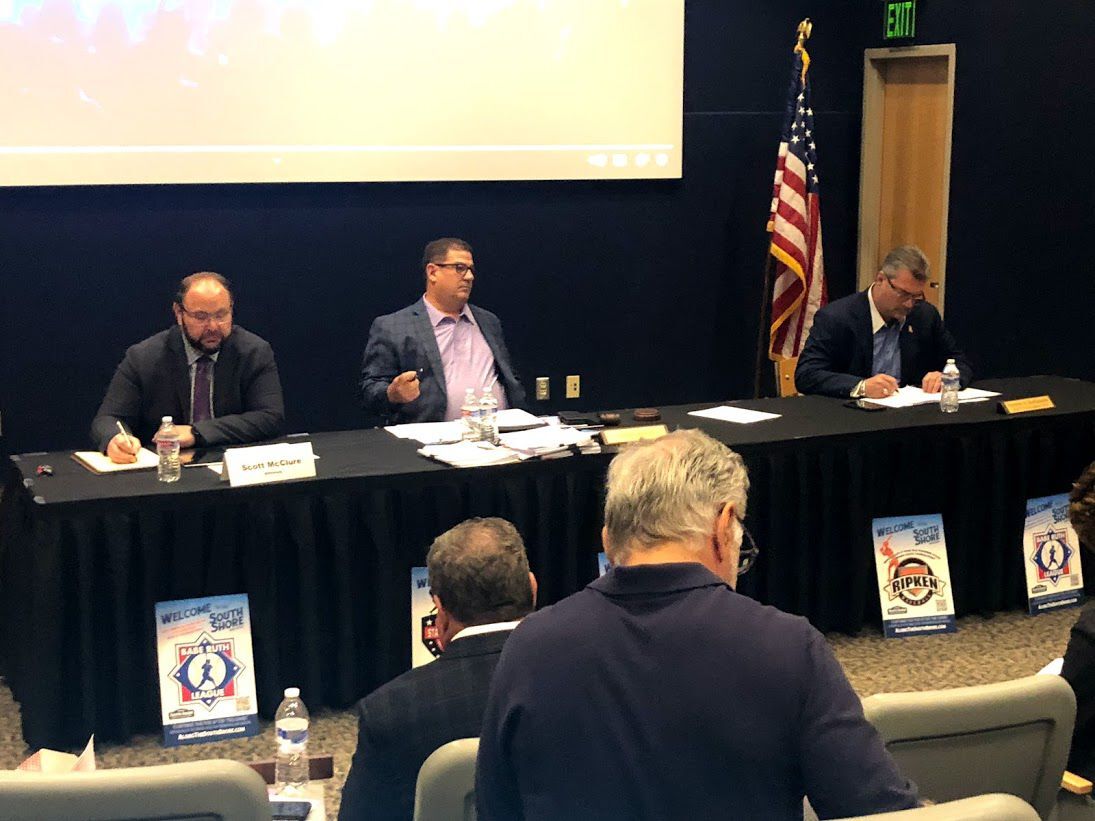 HAMMOND — Longtime South Shore Convention and Visitors Authority President and CEO Speros Batistatos was removed from his position at a board meeting Thursday.
Batistatos, who began with the SSCVA more than three decades ago, has been in conflict with its board of directors for weeks, after board members raised concerns during contract negotiations about his total compensation, which exceeds $330,000 between salary and benefits.
The board voted 12-2 Thursday to remove Batistatos from his role in the day-to-day operations of Lake County's tourism agency, which is funded largely by hotel taxes and promotes visitation, conventions and sporting events across Lake County and greater Northwest Indiana, which it has long marketed as the South Shore. He will continue to be paid until his contract runs out at the end of December or his attorney reaches an agreement with the SSCVA.
"In an effort to allow the opportunity to address the board's concerns with respect to Speros Batistatos' compensation and to allow the board's council time to discuss with his council a number of outstanding issues, I request a motion that Speros Batistatos be relieved of his day-to-day responsibilities effective immediately," Board Chairman Andy Qunell said. "While he will not be required to provide any services in his position as the president and CEO of the Lake County Convention and Visitors Bureau, he will be paid during this time frame and remain in this status until whichever is earlier: Dec. 31, 2021, the end of his appointment agreement, or until the board's council and his council successfully resolve the outstanding issues associated with his role as president and CEO of the Lake County Convention and Visitors Bureau."
Batistatos retained an attorney after the board voted not to renew his contract, which expires at the end of the year, and negotiations for a contract renewal stalled.
In recent weeks, Batistatos has accused the board of violating state and federal laws, charging for instance they violated Indiana's Open Door Law by meeting in private to discuss a tourism grant program.
The board voted Tuesday to name South Shore Convention and Visitors Authority Chief Financial Officer Cathy Svetanoff interim president and CEO after she said she would serve in the executive role on an interim basis. Board Vice Chairman Brent Brashier said Svetanoff's appointment made sense in the interim because she "paid the bills."
Batistatos, who started his long career in hospitality at the Star Plaza Theatre in Merrillville and also led the Atlantic City Convention & Visitors Authority in New Jersey, left the meeting after the vote. Qunell met with SSCVA staff after the meeting to restrict Batistatos' access to email and the SSCVA headquarters in Hammond's Indiana Welcome Center, which he had originally spearheaded the construction of in the early 1990s.
"As we all know, these past couple weeks and months have been a little hectic and tumultuous," Qunell said. "I want to thank this board for the support you've given and what you've done in the community. I'd like to thank the staff for what you guys are doing. It's always a pleasure to come here and see what you guys are doing."
Board Secretary Chareice White said the board hoped to move forward.
"This has been a very challenging time for all of us," she said. "It's challenging for the staff to keep everything rolling with your leadership. It has been a challenge but I just want to say thank you to the staff. We look forward to continuing to work with you."
Qunell, Svetanoff and SSCVA Board Attorney Scott McClure all declined to comment. Batistatos could not be reached for comment, and his attorney did not immediately respond to a request for comment.
The Hammond-based tourism agency will continue to work to promote Northwest Indiana attractions and bring visitors to the Region, such as by promoting upcoming youth baseball tournaments, Qunell said.
"At the South Shore Convention and Visitors Authority, we take great pride in leading the tourism and hospitality industry in Northwest Indiana and in aiding our many partners by helping develop and support attractions throughout the region," Qunell said in a statement. "We have enjoyed great success in making Northwest Indiana a true destination for visitors from around the world, and we continue our work to improve the quality of life for all of our residents and business partners."