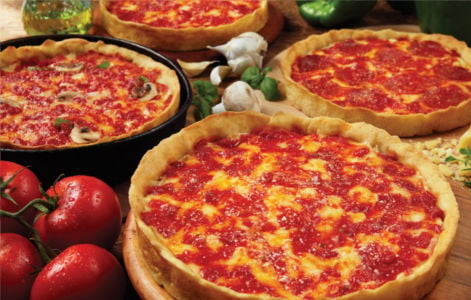 If you're hungry for Lou Malnati's legendary deep dish pizza and don't feel like venturing up to the city, you won't have to wait much longer.
Lou Malnati's Pizzeria is targeting a July 15 opening for its first Northwest Indiana location at 36 U.S. 41 in Schererville, but that date isn't set in stone.
"Opening date depends on passing permits and staff training," Lou Malnati's spokeswoman Mindy Kaplan said. "Right now we are shooting for a July 15 opening, but that is not final until we pass all permitting. We really won't have a finalized opening date until about a week before we open."
Lou Malnati's definitely intends to be open in the former Gayety's Chocolate & Ice Cream in the Town Square Shopping Center in the first half of July, sometime after Independence Day.
"The date is not set yet, but should be within the first two weeks of July, however not before July 4," Lou Malnati's Brand Manager Meggie Lindberg said.
Lou Malnati's is considered one of the top Chicago deep dish pizza places along with Giordano's, Gino's East, Pequod's, and Uno's. Though best known for stacking fresh mozzarella cheese, tomato sauce and other ingredients high on a butter crust, it also serves thin crust pizza, pasta, wings, salads and desserts.
Its signature Lou deep dish blankets mozzarella, romano and cheddar cheese atop spinach mix, mushrooms and sliced Roma tomatoes.
The Schererville location will be carry-out and delivery only, without any seats for dining in.
The pizzeria, which has been expanding rapidly over the last few years, expects to hire about 30 to 40 employees in Schererville. It boasts that many of its employees stay there a decade or more, a rarity in the restaurant business.
Founded in the suburb of Lincolnwood in 1971, Lou Malnati's has grown to have 56 locations in Chicagoland and another three in Arizona.
Other pizzerias in Schererville that serve deep dish include Giordano's, Rosati's Pizza, Aurelio's Pizza, and Giuseppe's Pizza.
Here are 15 Region spots to score premier pizza